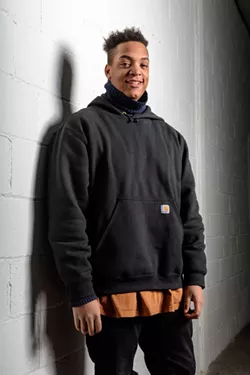 Kaleb Waterman says he's the worst intern anyone will ever have. "I'll never get anything done," he says. "I'll just be talking and picking up on what everyone else is doing." Between time spent practicing piano, producing music, and attending school, Waterman got involved in a studio internship with Seth Anderson at his church in Madison Heights. The meetings were awkward at first; he would spend hours in the studio with Anderson, the two sitting in complete silence. However it was no coincidence that he suddenly started acing all his production classes at Schoolcraft, so he figured he must have been doing something right.
After a period of time, Waterman received word from his videographer friend Joshua Magee of a similar intern opportunity at a church in Detroit. He made arrangements to meet at Astro Coffee with Garret Koehler, interviewing for and landing an internship at what would soon be known as Assemble Sound. Waterman eventually encountered a familiar face — Seth Anderson, who had been working with Koehler from the beginning to make Assemble a reality. It had all come full circle.
At age 4, his sister Kelsey began to show him how to play the piano, and by age 8 he was taking lessons and becoming classically trained. Piano has always been Waterman's niche, the one thing that was there for him that he could retreat to and help him concentrate.


Now 20 years-old and a full-fledged artist in residency at Assemble Sound, Waterman has become a known commodity in the city. As part of Assemble's collaborative Sunday Songs series this past summer, he made his grand debut on the track "Someday." A soulful, uplifting number featuring LexLander, MotorKam, and his own sister Kaylan Waterman of The Normandies, this was his first track formally released as Kaleb the Intern. Waterman went on to provide keys on "Gotta Push On" by Griz, which has garnered over one million streams on Spotify already.
Collaboration is Waterman's currency, and he plans on working with a plethora of other artists in the new year. First and foremost, he will be releasing a mixtape as Kaleb the Intern featuring fellow Detroit artists Jay Vinchi, MotorKam, LexLander, and many more. He's also working on new material with three other artists featured in our list of the top bands to watch in 2017 — Oshea Davaun, Caz Aglets, and Wurl Sott0.
— John Struman
Back to 2017 Detroit bands to watch