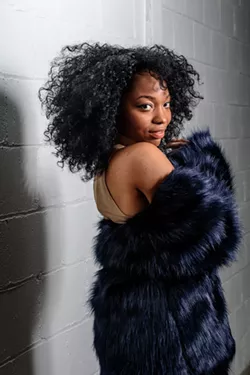 From a young age, Jade Lathan was certain that she was meant to be an entertainer. Known for her vocal and dance talents in high school, Lathan was later accepted into the music program at Wayne State University. She has spent her entire life surrounded by music, from singing in church at age 5 to singing on American Idol just three years ago. Seeing how far she's come, Lathan strives to serve as a role model for her many sisters and a niece, showing them how crucial it is to follow your dreams.
Lathan documents her journey through life with her impressive brand of progressive R&B and house music. Although her first independent project titled On This Road surfaced a few years back, the singer has appeared on several records since then, including features on Sheefy McFly's Edward Elektro and Kopelli's Gentleman Jack. Additionally, Lathan has played approximately 100 shows, including a standout performance with Electric Six at Saint Andrew's Hall and a tour with experimental pop band Lord Scrummage.


Seeing the success of other artists from the city has provides Lathan with the motivation to keep her nose to the grindstone, knowing it will soon pay off. "Living in Detroit and being in the music scene, I've gotten to witness so many artists progress and achieve their goals with music, whether it be touring internationally or getting signed by their favorite artist," she says. It's impossible to reach that level on your own, and the singer continues to collaborate with other artists to expand her musical arsenal. "Another big factor that contributes to my musical identity are the producers I've had the pleasure of working with from the city. No matter if it's a classic hip-hop and R&B sound, deep house, or a heavy-hitting techno groove; it brings the best out of me as an artist."
Looking forward, Jade Lathan has a fairly stacked year. She and Detroit producer Nick Speed plan to release visuals for their new single, "GUALA." Lathan is gearing up to release a brand new record, titled Hopeful Romantic. Stay tuned for more details.
— John Struman
Back to 2017 Detroit bands to watch