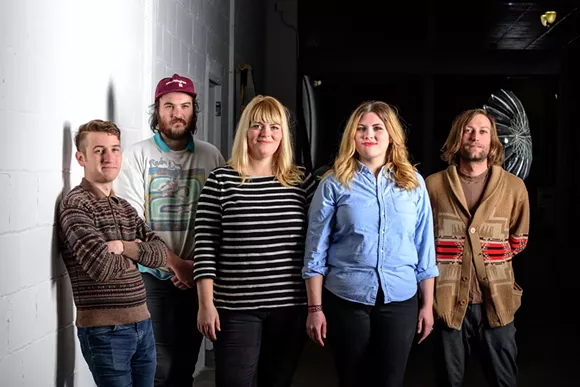 The Drinkard Sisters have been playing out as a duo since 2012, but they hadn't officially released anything until earlier this month. A cassette, it's the first release on new label Ylang Analog, and features just the two of them — Caitlin and Bonnie Drinkard, who are actually sisters — captured singing around a microphone in Caitlin's living room. The music is stripped down, minimalist acoustic country folk; the kind of thing that somehow seems to sound better the colder the temperature is outside, perhaps a literal embodiment of all the warmth to be heard in the sisters' deeply lovely voices.
The band Drinkard Sisters also exists as a full on, co-ed group, which includes Nick Landstrom on drums, Dan Clark on guitar, and Ryan Harroun on bass. This configuration was assembled to play Mittenfest on New Year's Day last year as a one-off thing, but it was so much fun that they decided to make the band permanent. Now here they are, trying to find a practice space that isn't Caitlin's dining room, writing more songs, and gearing up for Hamtramck Music Festival, which is likely to be their next gigas a full band. Oh, and they just finished recording a full album with Warren Defever. Maybe 2017 won't be so bad, after all.


The sonic equivalent of kindness, the music of the Drinkard Sisters is supposed to make people feel good, and it does. It is little wonder, then, that Caitlin is inspired by another musician who found perfect harmonies with family: "I saw Brian Wilson at the Fox in September and he asked the audience, 'Did you guys come for shitty vibrations?' and everybody screamed back 'Noooo!' and that's basically what drives me to make music. I want to contribute the opposite of shitty vibrations to the world around me by making music that feels good on the ears and resonates in the heart. Plus playing music with your friends is really fun and we are, if nothing else, a fun-loving bunch."
— Ana Gavrilovska
Back to 2017 Detroit bands to watch