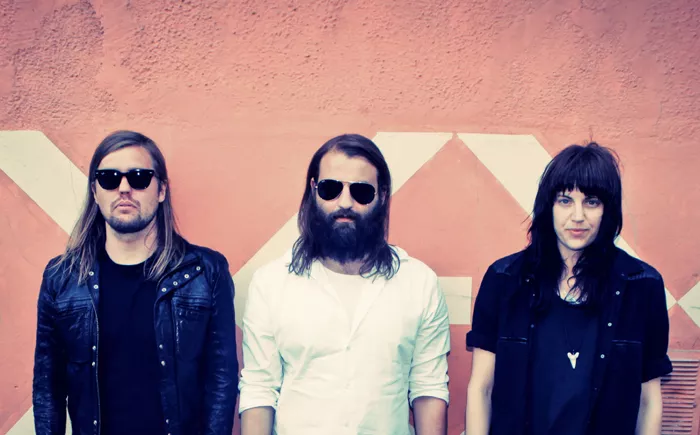 Southampton-based British hard rock group Band of Skulls has been gradually creeping out of obscurity since 2004, eventually putting out the Baby Darling Doll Face Honey debut album in '09. That was the breakthrough, and it led to tracks appearing on the Guitar Hero game and the Twilight TV show. The third album, Himalayan, dropped in March, solidifying Band of Skulls' standing as one of the hottest UK names in the United States right now. We grabbed bassist Emma Richardson to find out more.
1) Have you played in Detroit before?
Yeah, a couple of times. We played the Magic Stick awhile back, and the last time we were there we played St. Andrew's Hall, which is where we're going back to this time. It was a great gig last time. Every time we've played in Detroit, people seem to get it. There's usually a mosh pit.
2) What has the American reaction been to the new album?
It's been great so far. People know the words. They've obviously bought the record and listened to it. The crowd knows the songs well already, which is great for us because we put quite a lot of new material in the set. It's going down really well.
3) Is there much happening on the British scene right now?
It feels like there are a few more bands that are getting picked up on, especially rock stuff. It's becoming a little more popular in the mainstream again. It always goes in circles. At the moment, it's new and exciting again, and radio is jumping on it. There're a few bands that are getting noticed, which is great. There's a great two-piece called Royal Blood, a heavy rock band. There's a band called Drenge who are pretty cool, another two-piece actually. There's a band called the Fat White Family, and you have to see them live — they're amazing.
4) What are your plans for the set in Detroit?
We mix it up. We shuffle in and out some new stuff, play some old stuff — it's good to change it up. Sometimes we keep it the same for a couple of nights to see how it works, and then switch something out. It keeps it exciting for us. It's never really the same every night — each specific song changes, as well.
5) What's next after this tour?
We're on tour until June, and then we head out to Australia and do a bunch of shows out there, and then we go back to the UK to play the Glastonbury Festival, which we're all looking forward to. That's a legendary festival. We'll be playing a bunch of festivals over the summer. We're playing Reading and Leeds, and also a heavier festival called Sonisphere at Knebworth. That should be a good bill to be on.
Band of Skulls plays with Deap Valley at 8 p.m. on Friday, June 6, at St. Andrew's Hall, 431 E. Congress St., Detroit; 313-961-8961; $27.