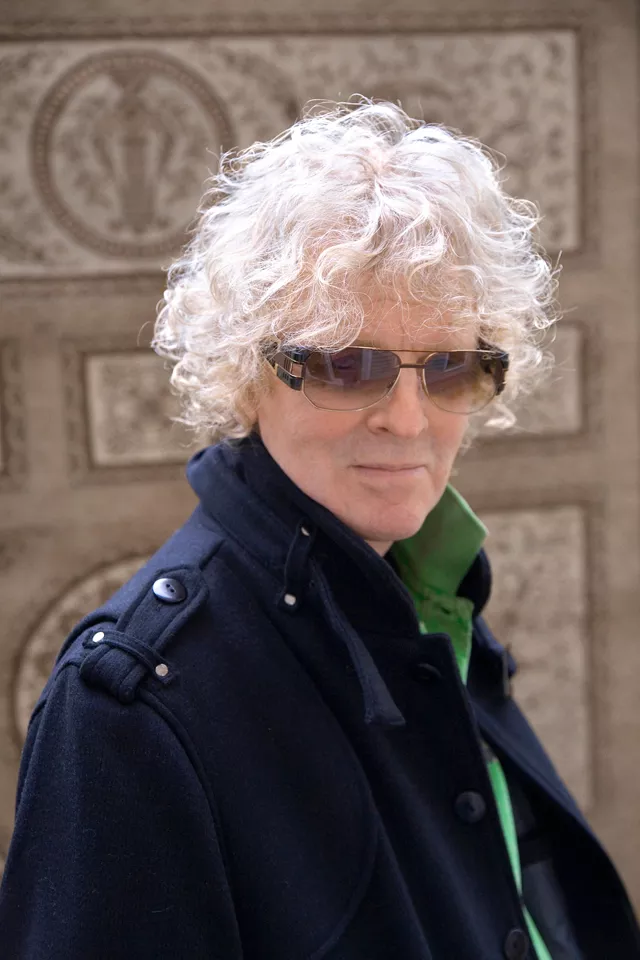 Ian Hunter has always been rock's greatest bullshit detector. As the leading light behind the legendary Mott the Hoople, he reminded us of Chuck Berry during Strawberry Alarm Clock times, predicted the rise of punk during the height of glam, and told us, "It's all a game, a grown-up game," when we were in danger of deifying rock stars and taking our teenage kicks way too seriously. Not to mention penning the myth-debunking Diary of a Rock and Roll Star, now in about its 15th edition.
"That book, it's like a rite of passage. It still sells. So if you've got a first edition it might be worth a lot of money. Also, it might be worth nothing," he laughs. "I've seen people sell them for $250 and I've seen it sell for $2 in a bin."
Informed that I have the paperback version with the All American Alien Boy cover art currently being held together with a rubber band because all the pages fell out one by one, he bestows his seal of approval. "That's a good one. A lot more photos in that one."
As a solo artist, Hunter has had fertile periods of productivity and long droughts of silence — otherwise known as the '80s ("I don't think I was in great form at that time. I don't think I got back on track until '92.") Happily, he's been in great form the past decade, having issued three postmillennial albums with the Rant Band, with another to begin production in January 2012.
The past two years have also seen a stepped-up level of activity for the dormant Mott the Hoople brand. Having reunited for five shows at the Hammersmith Apollo in 2009 that resulted in a live CD last year, this Nov. 8 will see a DVD release of a powerful and beautifully done feature-length documentary The Ballad of Mott the Hoople with drool-worthy never-seen live footage to present-day interviews with every Mott member save for Pete "Overend" Watts.
All good news in divided times when the rock press is virtually nonexistent, audiences are scattered, charts are meaningless and every discourse of music involves delivery systems and hoarding music up in the clouds: That's the time you need an Ian Hunter to bring the discussion back to earth. Maybe it's not the lack of a universal delivery system; it's the lack of universal deliverymen.
In his Connecticut home studio today, Hunter is penning lyrics for his first album that utilizes the Rant Band exclusively. "The band is very much a band now. ... I've always been a band guy. When you've been working with someone for two or three years you can't help but feel that we're all in this thing together ..."
"And I trust this band. Especially in the guitar area, I really trust what this guy is doing. At first he played for me like a guy plays for you. You sign on people, you pay 'em money, and they can't help but feel they're being employed. Now he plays with me and that's a whole different ballgame.
"The weird thing is there's a lot of fast stuff lately, which I'm usually a little light on. It's easier for me with ballads because you have more time to think," he laughs. "Rockers, because they're 12 bars, simple, are extremely hard to write. They're just too ordinary. With 'Once Bitten Twice Shy' you get a little quirk and there you are."
Asked if he still gets excited seeing his newest CD arrive in bulk when it's finished and shrink-wrapped, he casts a more realistic gaze on the decimated music business landscape. "I'm more thinking about if anyone is going to do anything with it. After you make the record it leaves on a high but it's totally downhill after that. You're dealing with labels that don't want to spend any money and are on their last legs anyway.
"I'm fortunate in that I have a very small but sturdy loyal following. They keep me in business. There are people on the charts and no one knows who they are anymore. That used to be the bible. Top 40. That's corporate for you, innit? The old game was always when there were 500 songs, 'This is no good; we've got to get it down to 10. We can control 10. We can't control 500. ...'
"And then people wonder why America's having problems. One of them is because corporations stunt ideas. They don't like ideas. In Japan, same thing. They were great when they were re-creating other people's ideas. They were too corporate to have their own ideas. I'm very anti-corporate. Always have been. You wind up having people running companies and they don't know what they're selling anymore. They buy a record company and know nothing about music ...
"I remember Sony when I was doing an album called You're Never Alone with a Schizophrenic, and a mate of mine, Steve, who was a seller at Sony, was playing it, and this guy bursts into his office saying, 'At last he's done a great record,' and Steve goes, 'Yeah, but it's on Chrysalis.'"
On average, a man gets over a bad romance in two to three years, but a bad business deal goes on forever. Such is the case with Mott, which has reunited in spite of decades of just such corporate hand-wringing.
"[A bad deal] does go on forever, and you can't really talk about it because it's still happening," he complains. "[Mick] Ralphs and myself are managed by a guy who also co-manages Pink Floyd, and he says Mott make Pink Floyd look like happy campers. Everyone in the band thinks they know best. It's not like it's just me, the ego in the front. We're all pretty sure of what we believe in. And it being a diplomatic band with no leader, nothing gets done. And it's very frustrating for everyone concerned. The business aspect stinks, big-time, but rehearsing with them and playing with them was an absolute pleasure. Hilarious. I was just wondering if that X-factor was there and it was there in spades.
"They recorded the first night at the Hammersmith, which was a bit stupid. They should've recorded the third night, which was pretty good. In league with everything else that happened in that band, that was typical."
"Somehow we trip along outside the business, get to play for a lot of people and don't have to deal with the assholes. You're not a monstrous band but it's just as much fun. I wish it could've been like this all the way through. Mick Ronson and myself, we could see corporatization creeping in ... you couldn't say anything because the argument would be 'you're not selling as much as you used to.'"
Almost addressing the whole Occupy Wall Street, top-1-percent rant indirectly, Hunter reckons, "It's so corrupt they don't realize they'll corrupt themselves out of money — money will be worthless. I've seen some of these guys, they live to show off the place they live in but there's no deep-seated satisfaction in making money off money. They just show off what they got because that's all they can do. It's a very dry business, whether it's accounting or lawyers, anything to do with money making money. And I'm bitching about being ripped off. Who hasn't been ripped off? My point being whoever ripped me off, they've reconciled it to themselves but they didn't earn it. I know who did what. Simple as that.
"But apart from that being miserable for a decade, you wake up one day and realize you're living and you're back in business again."
Ian Hunter & the Rant Band perform Saturday, Oct. 29, at the Magic Bag, 22920 Woodward Ave., Ferndale; 248-544-3030.