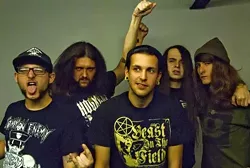 There was a time in the early to mid-'80s when heavy metal music was really good fun. The artwork was excessive, balancing over-the-top gore and pseudo-Satanism with humor. Often, it was badly executed, initially because of a lack of funds but later because that haphazard splatter approach became synonymous with the music. Bands such as Anthrax, Exodus and Sodom were bouncing off walls across the globe, fusing a hardcore punk energy with angry metal musicianship. It was dynamic, it was rebellious, and it was really fucking exciting.
Metal didn't ever die, but at some point that energy got forgotten. Nu-metal came and went, and it left us with a whole lot of pedestrian, by-the-numbers bands. Often, when a band looked to the past for inspiration, the result was a caricature (think Avenged Sevenfold). Of course, deep down in the underground, the fires were still burning thanks to bands like Municipal Waste. Away from the pressures of label execs and radio peeps all looking for identikit replicas of the last big thing, metal was still able to thrive, or at least survive, at a club level.
Detroit's Axe Ripper could have been dragged straight out of those goony days of gonzo metal, the era that inspired the Beavis & Butt-Head generation. The guys, first of all, are wonderful company — we are joined at the new MT HQ by drummer Louie Badalament and guitarist Kyle Whitefoot. The guitarist seems to drag his slight frame into the building, beanie hat bobbing on his head. He looks a little like Jason Mewes' Jay character from the Kevin Smith movies. Meanwhile, Badalament looks part crust punk, part biker. His head is shaved but for a tail at the back, the whole thing covered by an Against the Grain cap. His facial hair is given more care than he'd admit and, get this, he's wearing a fanny pack. He swears that they're making a comeback too. "Not so much with the thrashers, more with the grindcore kids," he says.
Part of the charm of these guys is that being "cool" doesn't enter into their thinking, and that sits comfortably with the nostalgia theme too. Back in the day, extreme metal was for the outcasts. There was nothing hip about a band like Lawnmower Death or Extreme Noise Terror. This was music for the undesirables and the great unwashed. MTV dragged the shinier side of hard rock (Warrant, Poison, et al.) in front of the masses and encouraged palatable metal, but that only served to push away the metal-heads who had already been pushed enough.
"We formed in July of 2010," says Whitefoot, 22. "We originally wanted to start a darker thrash metal band with some rock 'n' roll influences. Ever since then, it's branched out to everything we listen to. We like every style of rock, punk and metal, and all the sub genres in-between. Just a diverse amalgamation of all that stuff."
The hybrid thrash metal-hardcore punk thing is definitely apparent. These guys rock like early Anthrax, later Suicidal Tendencies, and the Stormtroopers of Death. That vibe is enhanced by the artwork that the guys have used on their Welcome to Detroit Destruction album. Demons, zombies and, umm, breasts battle it out on the streets of Detroit under the band's imposing name. The whole thing is very '80s Euro metal a la Kreator, King Diamond and Helloween — just over-the-top, gloriously tasteless horror art with no thoughts of subtlety or less-is-more. Just push the fire, monsters and chicks.
"My friend Brian Thuringer [aka Black Metal Brian] did the art," says Badalament, 24. "I went to high school with him, and he ended up getting his graphic arts degree out in Rochester, N.Y. He's just my go-to guy. There are a lot of people in this area that, if you go to them and say you want something, nine times out of 10 they'll say they're down and then they don't do it. This band is all about doing it. We don't care. We'll pay for the artwork; we want the best graphics we can get. We wanted to go for the old Ed Repka style of art. He did all the Megadeth albums, S&M Airlines by NOFX, and Toxic Holocaust too."
Axe Ripper is at work on its second album, a record that, according to Whitefoot, will be a lot darker, exploring heavier themes. "I've been writing about darker subjects like alienation, depression. We've had a couple of songs about drug use and people we know that have experienced it — all that stuff," says the guitarist. "People that have died and how it's a really ugly thing to see all the time. I had to write about it to get it out of me. The first album had a lot of upbeat party songs. The next record has none. It's all real dark. It's a departure from the first record for sure. It's a step in the direction we want to go in. I write most of the lyrics, and it was a way for me to get most of the negativity out of my system that I was feeling at the time, and it surely helps."
You might think that seeing people suffer and die due to substance abuse would halt, or at least curb, the in-band partying. Not so. "We're a big-time party band," Badalament says. "I prefer it on tour, because, locally, we have a lot of friends. A lot of the local community that we're friends with — we go to their shows and they come to ours. When we play out-of-town to people who have never heard us before, I feel like it's best to play a basement, because it's bring-your-own-beer, and you can bash your head against the furnace like an idiot. Most of my favorite shows on tour have been in basements. The only shows we played that were dead were in Connecticut and Kentucky. In Kentucky, it was strange. It was straight-edge. It was like the Trumbullplex if you couldn't drink. As we left the venue, we were thinking about crashing there, because they offered us a place, but it was really strange to see these crust kids not partying but working out to Hatebreed. So we split."
The band, completed by singer Kenny Kiser, guitarist Matt Dahlberg and bassist Rob Barker, is preparing to release a split 7-inch single with Minnesota's Lockgnar. "With this split single, we have two songs — 'House Destruction Party' and 'Demolition,' and then Locknar have two songs on their side," says Badalament. "We're actually going to release it on our East Coast tour. We start the tour in Akron, then we're playing Long Island, Buffalo, N.Y., Trenton, N.J., Portland, Maine; Providence, R.I., Worcester, Mass., Lansdale, Pa. (which is right outside Philadelphia) and Pittsburgh, and then we come home."
In fact, the guys will be celebrating Halloween on tour. "We're playing Akron on Halloween and I'm really excited," Badalament says. "We love Halloween. It's the most metal holiday. I'm usually playing a show, and probably smoking a bunch of pot."
So if you happen to be in Akron and you smell something ghastly, smoke is rising and you see something ungodly, chances are it's only Axe Ripper.
Axe Ripper's split 7-inch single with Lockgnar becomes available in November. The Welcome to Detroit Destructionalbum is out now. For more, see facebook.com/axeripper.
Brett Callwood is a staff writer for Metro Times. Send comments to [email protected]