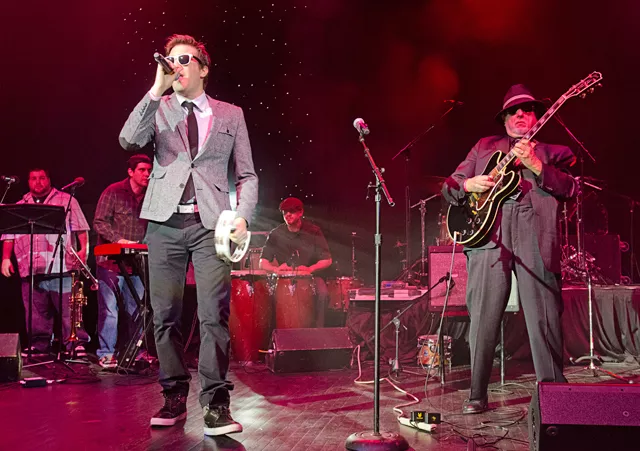 When it comes to local institutions, the Detroit Music Awards isn't always the most appreciated. Accused of being insular, cliquish, out of step with the Detroit music scene and, in these pages last year, just not very De-troit, there are plenty of flaws that certainly didn't disappear at this year's 20th anniversary event. But the DMAs are also put together with the best of intentions and they do celebrate at least some of what's great about music in this area. Few cities host an event such as this, and, if they did, it likely wouldn't be as worthy as the DMAs are right now.
The biggest issue that comes up year after year isn't what is included but what isn't. While super-produced and polished new bands such Annabelle Road and Jessica Hernandez & the Deltas were great value that night, putting on a very professional performance and, in the case of the former, sporting some of the shiniest teeth seen outside of California, the alternative, punk
and just plain filthy rock 'n' roll that makes up such an important part of the music in the D was noticeable in its absence. The Ruiners, Dale Earnhardt Jr. Jr. and Leah Diehl of Lightning Love were all nominated for awards without success, but that's it. Having a big light show and rehearsing to within an inch of your life is all well and good, but this is Detroit — and some serious
grit is required. What makes Detroit music great is that it isn't all shiny and new and refined and fake. Any attempt to make it otherwise just dilutes its impurity. It's not about seeing how famous you can get, or attempting to show the world how great Detroit is, or blowing those who already are famous, it's about the music, man. Where are those who've been treading the boards in the city's filthy dive bars for decades, amped on pure blue-collar stubbornness, such as John Brannon, Bootsey X, Margaret Dollrod or Ricky Rat?
As for winners, Ty Stone & the Truth won six awards after a good year touring with Kid Rock. Unsurprisingly, Jill Jack, Carolyn Striho and the Howling Diablos won awards too.
Blah, blah, blah. Comedian Joe Nipote, star of Meatballs II, was apparently so incapable of humor on the night that he resorted to a novelty country song that nearly kneecapped the whole evening. Thankfully, the other performances on the night were much better. The Vandellas — minus Martha Reeves — injected some joy into the evening retuning to old faithfuls such as "Heatwave," "Jimmy Mack" and "Dancing in the Street." Motown session man Dennis Coffey made some awesome noise on his guitar for Mayer Hawthorne to croon over, the Polish
Muslims sang about paczki and polka over Beach Boys and Beastie Boys songs, and the Detroit Pistons Drum Line made the cast of Stomp look like chimps with cookie tins (although they were joined by a rapper named Brilliance and, if you're going to choose that name, you should be a lot better).
Insane Clown Posse closed the evening (after picking up a Lifetime Achievement Award) with a set that had Faygo, chicken feathers and a whole load of dancing clowns. Love or loathe them, the duo knows how to put on a show and "Bang Pow Boom" was a sweet way to go out.
The Detroit Music Awards are close, so close, to putting on an event that all of metro Detroit can get behind. (First look to the deserving who are always excluded, and to those who win year after year trading on the same ideas.) The whole thing could be spectacular. In nothing else, wondering who'll nail the Lifetime Achievement Award next year is always fun.
Brett Callwood is a music critic and writer for Metro Times. Send comments to [email protected].