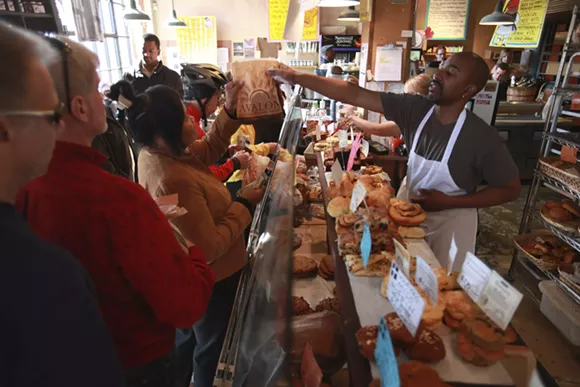 For the entire month of February, Detroit-based Avalon International Breads will share proceeds with nonprofit Alternatives for Girls, a nonprofit that offers support to homeless and at-risk women through prevention, shelter, and outreach programs.
Starting today, shoppers can purchase "Share the Love" gift boxes filled with sea salt chocolate chip cookies, which will benefit AFG's outreach programs. And customers who make a $25 or more donation to
alternativesforgirls.org
during the month will receive a voucher redeemable for a free loaf of bread.
Both promotions apply to any Avalon location. Additionally, a portion of all Valentine's Day proceeds from Avalon's Midtown and Ann Arbor locations will go toward AFG.
"Alternatives for Girls, like us, is committed to creating a healthier, more vibrant Detroit for the people who live here — and they've been doing so effectively, creatively and with great passion, for nearly 30 years," Avalon co-founder Jackie Victor says in a statement. "Partnering with AFG was an easy choice because its mission is centered on giving people the resources needed to succeed. It's an honor to raise awareness for AFG. Just like us, they too are 'Detroit lovers.'"
Read our interview with Avalon co-founder Ann Perrault
here
.