As Aretha Franklin's legion of fans mourn
her recently announced death,
we can anticipate all sorts of career retrospectives to hit. Oldies radio stations are already airing some relatively deep cuts, and you can bet that dozens of writers from local to national publications are examining the vocalist's career in articles, think pieces, and obituaries.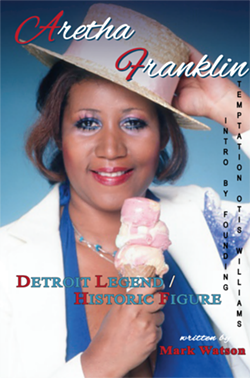 That author is Mark Watson, and it would be an understatement to say that Watson is a fan of music. Ever since the 1980s, Watson has been the sort of person to prize a backstage pass, to revel in meeting the music-makers, and to share a compliment and a handshake. Over the years, in fact, he made so many contacts in show business that he has parlayed his fandom into a profitable career as a writer of biographies, including recent books about vocalists Linda Ronstadt and Richard Marx.
Speaking by phone from his home in suburban Detroit, Watson tells
Metro Times
that he started work on his upcoming volume,
Aretha Franklin: Detroit Legend, Historic Figure
, two years ago when he first heard that the vocalist was falling into ill health. He pulled together dozens of interviews with her friends and family to create a book that reverently chronicles the singer's life. Listen to him talk and you can imagine you're with Watson and his fellow fans backstage in the old days.
"I've known Aretha forever," he says. "After shows she'd be so quiet and calm and composed. She has this very stoic exterior. People don't know how kind and sensitive she is. … I knew her sister Erma very well, and her cousin Brenda Franklin Corbett, who was Aretha's backup singer. In fact, the introduction to my book is written by Otis Williams of the Temptations. It's been my most involved and my most rewarding project up to this point."
Listen to Watson wax eloquent on Aretha Franklin's work and you can understand why. "The electricity that she had on stage was just like a current going through your body," he says. "She doesn't just sing, she
manifests
. It's so real, and you just feel her to such a level. She was the first voice that had that impact on me as a kid. And then there's her
originality
. She doesn't just follow a note. She knows how to read a melody and what to do with it, how to take it all over the map. Every remake she's done she's made her own. There's no one in that league."
Naturally, Watson's book won't be one of those sassy tell-all tomes full of hearsay and scandal. The author says he hasn't been satisfied with any of a number of books that have been written about Franklin. He says he strove to ensure
Detroit Legend, Historic Figure
would be truthful, respectful, and full of detail without being dull.
Watson says, "I feel privileged because so many people have tried to gain access to her and her life, and there are people who haven't done right by her. But she knew that would not happen with me. The book includes only things that are known for an absolute fact, and there's nothing inaccurate or unfair."
He drew on his decades of research as a loyal fan, and humbly approached the singer's inner circle, asking only that they give him a chance to write the book that Franklin herself would approve of. His genuine manner evidently got him the goods.
"Nobody has ever hung up on me," Watson says, "and nobody has ever refused an interview. I'm grateful for that. They believed in me."
Watson finished the final manuscript a couple of months ago, and publication has been delayed by one thing after another. But it should be available on amazon.com within a week or two. Advance reviews of the book praise the book's tone, calling it "conversational and professional." It's also printed in full color, with plenty of photos. In fact, the dust cover photography includes classic shots by Harry Langdon Jr.
The only grievance Watson has about his book is that his star subject didn't get a chance to read it, although, he says, "Her cousin kept her updated on the status of the book."
In fact, Watson has become so close to the vocalist's friends and family that what began as a fan's celebration has placed him near the inner circle of mourners. In fact, Otis Williams called him on Sunday to let him know an announcement would be made soon.
In fact, some of Aretha's friends have told Watson that they are keeping
him
in their prayers, he's been so broken up about the loss.
"They've encouraged and supported me," he says. "They've told me that I'll get through this. Otis Williams told me, 'Don't let this get to you. Aretha would want you to stay the course. You're doing good work.' I've just lost it a few times. It's a very emotional thing, more deeply painful than I ever imagined."

Stay on top of Detroit news and views. Sign up for our weekly issue newsletter delivered each Wednesday.