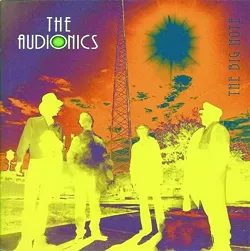 Audionics started as a secret basement band, truly part of Ferndale's "underground," if you will, exacting experimental instrumentations with an eclectic range of styles and influences from around the world.
The blend mixes jazz's elasticity with the uniquely psychedelic — and avant-garde — pop styles from the late '60s Canterbury scene. This brass-free outfit refreshingly pries rock and pop structures apart, slinging in flares of Afro-beat, acid-jazz — and that special, spooky mysticism of psychedelic-types like King Crimson or Captain Beefheart.
Meanwhile, guitars jump from space-rock to gritty garage; on some tunes, tinny dulcimers and the quavering croon of an adeptly theatrical lead vocalist accompany.