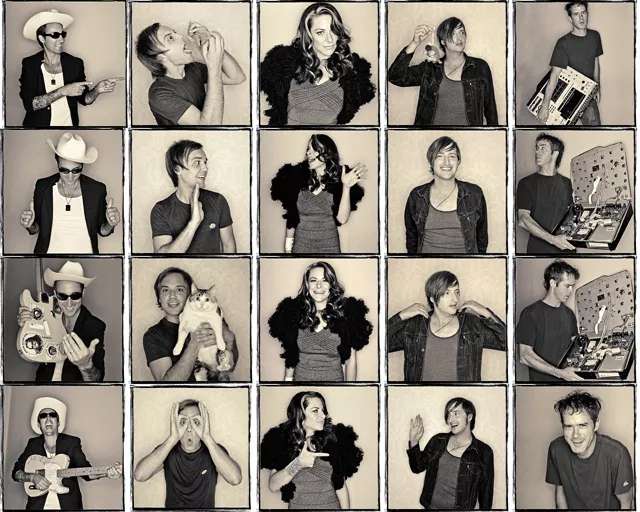 Deep See Sound System plays Arts, Beats & Eats on the International Stage on Friday, Aug. 31 at 8 p.m. The Hounds Below play the Ford Escape Alternative Stage on Saturday, Sept. 1 at 6:30 p.m. The Sights play the same stage on the same day, at 8 p.m. The Orbitsuns play the Soaring Eagle Casino and Resort Stage on Monday, Sept. 3 at 8 p.m. Amy Gore & Her Valentines play the Budweiser Rock Stage on Sunday, Sept. 2 at 8 p.m. 
Take a look at the lineup for this year's Arts, Beats & Eats festival, which takes place over Labor Day weekend in Royal Oak, and you will see such names as REO Speedwagon, the Guess Who, Travis Tritt and Morris Day & the Time. Previous years have seen the likes of Starship, Poison, the Psychedelic Furs and Lou Gramm of Foreigner grace the main stage.
That's great. Those nostalgia-based acts cause a sensation at a family-friendly festival. Moms and dads can sit with their kids in a safe environment and listen to songs that they know and love. Nothing wrong with that. However, on the smaller stages, Detroit musicians that have been around the block, players that have collectively performed to hundreds of thousands of people around the world, are still plying their trade. They are just as talented as they ever were, and they are determined to stay relevant, maybe even a little hungry for something more.
Take Jason Stollsteimer. With the Von Bondies, Stollsteimer spent much of the last decade touring the world and riding the "Detroit garage rock" wave. The band had hits everywhere and, in the UK, they were regularly featured in NME while selling out 2,000-person-capacity venues. They were on the brink of bigger things — and then it all fell apart. Stollsteimer could have clung to the glory, but he chose to let it all go and start again with the Hounds Below — an epic, lush, Arcade Fire-influenced rock band. The singer and guitarist says that it was the obvious move. "I try to not have expectations," Stollsteimer says. "They're very dangerous because if you meet the bare minimum it's still not good enough. Even when the Von Bondies peaked, I was hoping for 200 people at a show. Then when there were 2,000 at the Astoria in London, I was delighted. Then I can celebrate."
One has to wonder how it feels for a musician to be adored worldwide, and then to be playing halfway up a small stage at a local festival. Stollsteimer shrugs away any suggestion that it's a knock to the ego. The Von Bondies were never appreciated here the way they were in other cities, he says. And the Hounds were offered a larger stage, but he decided against it. "I picked being on the small stage. I had a choice this year, but I said that we don't have an album out, we're still a new band, and I don't want to live off the merits of the Von Bondies. I don't want to be billed as that, I don't want to mention garage rock. It's a new band and it wouldn't be fair to the rest of the band members if we got the golden ticket because of things I've succeeded in. I want the band to succeed on its own. 
"We're still growing. Until that first record comes out, you haven't shown your cards, and that will be in October. After October, unless it's a big national act, we're headlining and we're only playing stages that make sense. Arts, Beats & Eats predates that."
Vinnie Dombroski's name should be new to nobody. With the alt-rock band Sponge, Dombroski had huge, MTV-driven hits with "Molly" and "Plowed" and, even after the chart success dried up, the band continued to tour and make great records. In addition, Dombroski formed the industrial metal band Crud and the outlaw country outfit the Orbitsuns. The latter is performing at this year's Arts, Beats & Eats.
The singer says that he just loves playing and really doesn't care where he's positioned on a bill. He says, "The greater part of it is that, playing Lollapalooza '96, we were on the second stage with the Melvins. We were so fortunate to be able to go watch those bands. Soundgarden and Metallica were always closing, but they'd always bring in different bands like the Ramones or Rage Against the Machine. We may not have been on the main stage, but we still had a blast, and that's kind of what goes on with these local festivals. Just to be part of it, and get out there and play. You've really just got to like playing music. If you've got some kind of ego, which we all have, I guess, you put it on the back burner because you're just so pumped to be playing that you've got no problem being in the mix as opposed to headlining."
Eric Hoegemeyer played drums in the dance-rock band Charm Farm, and that group reunited last year for a one-off show headlining the Ferndale DIY Festival. Charm Farm had a huge MTV hit in the '90s with "Superstar" before calling it quits, though Hoegemeyer also played in front of thousands with bands like Inner City and Uncle Kracker. 
He's been everywhere and seen everything, so how does he feel about starting all over again with his dance-dub-reggae project Deep See Sound System?
"I enjoy what I do, and there is still so much to explore, so I'm in a mode of learning right now, which doesn't leave much time to promote," he says. "I'm doing a 90-minute set of all new material [at Arts, Beats & Eats], so there will be time to dance and time to think. I'm working round the clock to pull it together, and the material is sounding dark and hypnotic. It should be really cool. There are so many great bands here, and it's nice to be able to see a lot of them in one place. I would love to see something happen here that was just a giant free street festival with DJs and marching bands, and everyone throwing paint all over the place, kind of like a cross between Notting Hill Gate and the Festival of Colors. Maybe someday."
Amy Gore's Gore Gore Girls and Gorevette might be on hold, but her Valentines are about to release an awesome debut album and things are looking rosy. Still, it must get frustrating to have to keep starting over. Apparently not. "I'm happy to play for people anywhere," she says. "It doesn't matter to me as long as I'm on stage. That is what I live for: the energy between the audience and me. It's the best thing in the world. Detroit people are passionate. They know what they like and don't like, and aren't afraid to show it. When a Detroit audience likes you, I think it is worth more than anywhere else in the world."
Eddie Baranek's Sights seem to have stopped and restarted more than a few times, but they always come back stronger thanks to the fact that Baranek is an amazing songwriter who, you suspect, would do anything to avoid the aforementioned nostalgia trail. The Sights have just finished an extensive national tour with Tenacious D, and now the band is back to playing on a small festival stage. Typically, Baranek just wants to play.
"I always like playing open local festivals," he says. "It gives a chance to play for people who would never normally go see me at the Magic Stick — family and older folk. I like it. When I was younger, I couldn't stand that shit. I thought that it wasn't rock 'n' roll. But what's rock 'n' roll is when your kids are hanging out. That's pretty fucking rock 'n' roll. Punk rock is when you've got the kid, and you bring your kid, and you just party with your kid. That's pretty punk rock, having a family and all that."
It seems that everyone is in agreement: Playing around the world to thousands is nice and all, but there's really no place like home and, at the end of the day, if you love to play your music, it doesn't matter where you are on a bill. According to these five fresh rock veterans, there is little room for ego in Detroit. This place has a beautiful way of hammering that out of you. "If you believe in yourself enough, you go out and do it," Stollsteimer says. "This is not Lollapalooza. Nobody's coming here to discover a new band. People are coming to go shopping with their kids for art, and, hopefully, like the music that's playing."
Baranek says that he had to learn fast at the beginning of his career, playing with dudes older than himself, that complacency didn't wash, and that holds true today. "I don't know if there was no room for an ego, but you just had to be good," he says. "There was just so much good talent in this city and there still is. There's no room for fucking around and half-assing it. People miss the point and think that rock 'n' roll is like Rush, and you've got to be technically good. It's like, 'No, dude.' Let's say I started dating a girl, and we started a band together, but neither of us could play. That's the whole point of music – it's making this beautiful new thing together, like having a kid or something. I don't give a shit if you can play or not, it's when you can do something together."
Stollsteimer finishes by explaining perfectly and concisely what Arts, Beats & Eats is all about for the musicians involved. "For us, it's a fun, family experience. My kids and my grandparents will be there."
Why would anyone want to knock that?