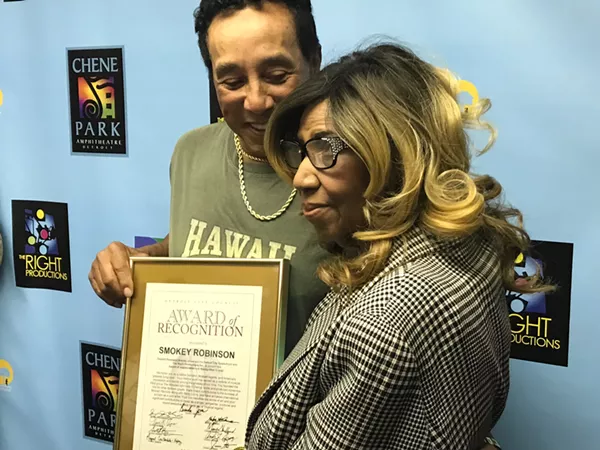 Queen of Soul Aretha Franklin took time out of her
recently announced retirement
to honor Smokey Robinson with a special award on behalf of Detroit City Council.
Before Robinson's Saturday show at Detroit's Chene Park Ampitheater, Franklin met with her "oldest and dearest friend" to deliver an award of "appreciation and recognition" from the Detroit city council and council president Brenda Jones.
Reading from the autographed certificate, Franklin said:
'We honor you as a native Detroiter, Motown legend, and America's greatest living poet. Your lifetime work has served as a vehicle of musical expression, and stands among the greatest of our time. You founded the R&B group the Miracles right here in Detroit, wrote and produced numerous hits for other Motown greats, made major contributions to the success of Motown Records along with Berry Gordy, and have achieved international and national acclaim as a solo artist. Your rich melodies are works of art, and your significant contributions to music as a singer, songwriter, producer, and record executive have made you a musical legend.'
Franklin performed what was billed as
her last Detroit show
last month.