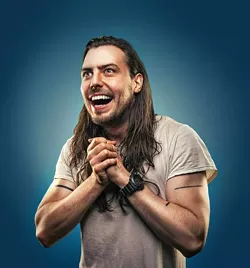 It has been 12 years since Andrew WK's I Get Wet album and the accompanying hit single "Party Hard." The success earned off the back of those records saw WK (real name Andrew Fetterly Wilkes-Krier) tour the world and win over a shit-ton of new fans. More than a decade later, WK is as much remembered for the crazy stories and rumors that went with his rapid rise as he is for the music. Did you know that he was once the U.S. Cultural Ambassador to Bahrain? Do you remember the rumors that Andrew WK was in fact a Dave Grohl side-project? Hell, many people don't even know that he was brought up in Ann Arbor.
"I was there from age 4 until 18," he says. "I was born in '79 in California, but then my dad got a job teaching at U-M, so we moved to Michigan. It was just incredible. The more I travel, the more I do what I've been doing, the more I realize how important it was that I had spent those years there. There were times I felt a little confined by the place, but it was always fun. I went to a really great high school; these kids in my high school were a little older than me. We had a visionary way of living and I got very inspired by it and so I guess it all went from there."
The multi-instrumentalist and singer-songwriter was in a number of bands during his time in Michigan, though the first recorded usage of the name Andrew WK was on an early EP by hardcore band Wolf Eyes. "Nate, the singer, went to my high school," he says. "I was always fascinated by him and some of the other older kids in the school. We did lots of music together for many years. I played drums in other death metal and grindcore bands, and I played keyboards in some bands, bass in others. But what's interesting is the band that was the most furious in terms of our ambitions was a death metal band called Kathode."
In search of the "biggest, scariest city" he could think of, Andrew WK moved to New York and it was there that he found success with his good time, party-hard-themed debut album. From the outside, it seemed like he was an overnight success. "I have nothing to compare it to, really," he says. "I feel like it was something that was completely out of my control even though it was exactly what I wanted to happen. And I was really excited and shocked that it was unfolding so specifically to how I envisioned it. It also felt completely like a destiny, like I couldn't take credit for it. That was when I really started getting the sense that, 'Wow, what you are meant to do in your life will happen.' So, yeah, it still blows my mind that any of this has happened at all and that I'm still doing it."
Two years later, in 2003, WK released his sophomore effort, The Wolf. The record had a completely different vibe; it was certainly more serious, a nod to his old hardcore days. However, the public didn't warm to it and it was a relative commercial letdown. "It's just a very different album," he says. "It's very, very loud, but, you know, a lot of it had to do with business stuff, from my perspective, with the record label and the people I was working with. I wouldn't blame it on them, but it was also down to the battles I was having with a manager at the time and different people I'd been working with, so it was a lot of decisions I had made early on that came to a head around the time the second album came out. But, looking back, it all happened in a way that wasn't under my control. I didn't design it that way — but it all worked out for the best. Most of those issues have been resolved."
WK went away and shocked everyone who was still paying attention by recording an album of piano instrumental tracks. "Before anything, that was my foundation, and I'm very thankful to have had those lessons and learned how to play an instrument at all," he says. "But it also related to those issues with my handlers, basically where there were certain obligations and complications and that was an effort to help resolve them, and it did in a way. But it was fun — I just made it all up on the spot and recorded it. That was a very different way of making an album in general versus the way it's made otherwise. But I'm very glad it exists."
It was an oddball move for the musician, but it did show that he had more up his sleeve than simply yelling about partying. And he's working on a new album. "I have been working on one for quite some time," he says. "It's just been very difficult for me to carve out enough open space to do it. And there have been so many amazing opportunities and adventures coming to me that I've had a really hard time saying no. So I guess that will also happen when it's meant to happen. I really can't be any happier doing what I've been doing as well, with the touring and all the different stuff. But I really, really want to get it done and have the album out next year."
This Friday, Andrew WK returns to Michigan to play the Shelter at St. Andrew's Hall in Detroit. While he does come home fairly often for holidays (his dad still teaches at U-M), he is still excited to perform in Detroit again. "This solo tour is very exciting for me," he says. "I've done solo shows from the very beginning; that's how I played before I had a band. It forces you to bring out whatever your best skills are as a performer and you'll make it a good show, you'll make it a good time. You can really seize the moment of the show when there's only one person in control of it. And I get a lot of energy from the crowd. I mean, you get these venues that feel more like bars or clubs versus a theater feeling where there's this very severe divide between the crowd and the stage. So there's just a swirling energy that really entertains me. I feel like I'm an audience member at these shows because of how the crowd performs, and they kind of become a band. I just get really charged up, and it's important for me to be entertained and charged up so I keep doing all of this stuff. Actually, the first show that I ever played in Detroit was in the Shelter and I was very excited about that for all kinds of reasons. And now to come back and do this totally new show there will be very tough. I want people to feel like we're all in it together and they should feel as proud of whatever feeling we create, as I will."
With Andrew WK throwing creative curveballs at every opportunity, never taking the easy and obvious route to repeated commercial success, "proud" is certainly the correct word. Andrew WK plays on Friday, Sept. 27, at the Shelter, 431 E. Congress St., Detroit; 313-961-8961.
Brett Callwood is a staff writer for Metro Times. Send comments to [email protected].