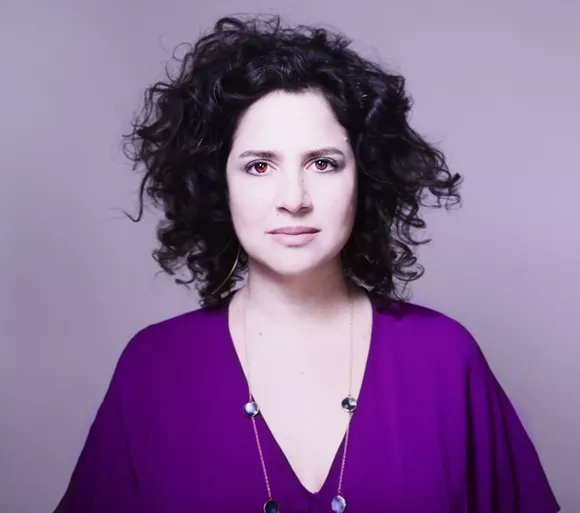 Music students and jazz lovers alike are a lucky bunch this weekend and next week.
Clarinetist-saxophonist Anat Cohen – recurrent winner of "Clarinetist of the Year" titles from
DownBeat, JazzTimes,
and the Jazz Journalists Association, as well as frequent performer at the Detroit Jazz Festival – will be arriving in town to perform in the city on Saturday night, followed by a whirlwind week spent mentoring students at Michigan State University and several high schools across the state.
Every year, four world renowned jazz musicians come to MSU's College of Music to serve as artist-in-residence while mentoring and performing with students. In recent years, this program has received a substantial jolt in the form of a million-dollar grant provided by the MSU Federal Credit Union – which happens to be the largest investment ever in the college's curriculum.
With a thoughtful command of her instruments and spirited presence on stage – whether her own compositions or jazz standards – Cohen is a brilliant player; her desire to engage in dialogue rather than monologue when performing only underscores how much sense it makes for her to participate in MSU's mentoring program.
Born into a musical family in Tel Aviv, Israel, Cohen began studying clarinet at age 12 and tenor saxophone at age 16, delighting in everyone from Louis Armstrong and Benny Goodman to John Coltrane and Sonny Rollins. After graduating from the prestigious Thelma Yellin High School of the Arts, she was faced with mandatory Israeli military service duty, but was able to discharge it by playing tenor saxophone in the Israeli Air Force band from 1993-95.
"On one hand, I was just working as a musician, except everything was within the Army. The performances were for soldiers, not for a wide audience. But on the other hand, you do get to see a different way of life," she reflected on the experience.
After graduating from the Berklee College of Music in Boston – where she deepened her jazz skills as well as found a love for the vivid sounds of Latin music styles – Cohen moved to New York, where she is still currently based. In 2005, she opened her own label, Anzic Records, through which the majority of her releases are available. Her star continued to climb; in 2009, she became the first Israeli to ever headline at the Village Vanguard, an icon of jazz history.
Throughout her extensive musical career, Cohen's work spans numerous configurations (tentet, quartet, big band) and a wide variety of styles and influences (including Afro-Cuban, Argentinean, klezmer, contemporary Brazilian music, and classic Brazilian choro). Her most recent album – selections of which she plans to perform with MSU students and various high school groups, in addition to some standards – came out on her own label in 2015. The title is Luminosa, the Portuguese word for luminous, a a thoroughly apt choice for a work as immersed in the light of passion, emotion, fluidity, and authenticity as it is, veritably bursting with infectious melodies and Cohen's singular playing soaring to connect it all. And we didn't even mention the impeccably lovely Flying Lotus cover yet!
"I like expressive jazz," Cohen told us. "It's not a style defined by the media, but that's what I like. Any improvised music that is expressive and communicative between the people."
This Saturday evening, you get the chance to experience Cohen's lively, charismatic jazz as performed with the MSU Jazz Octets under the direction of saxophonist and MSU educator Diego Rivera – whose name you might recognize as one of Marcus Elliot's mentors in our recent profile of the artist.
If Latin-inflected, communicative passion in jazz is your thing, Cohen has three musical projects slated to come out this year. In May, she's releasing two works connected with Brazil: one with a group called Choro Ensemble that is mostly original music, and another with a 7-string Brazilian guitar player called Marcello Gonçalves performing the music of Moacir Santos, a Brazilian composer, multi-instrumentalist and music educator who later moved to California. His music was mainly recorded in larger ensembles, but Cohen and Gonçalves recorded some of it in a duo format, which should make for an interesting interpretation.
Last, but most assuredly not least, the biggest project of all is an album with her ten-piece band, which will be released and toured behind in the fall – perhaps we'll get another chance to see her then!
Anat Cohen's mentoring schedule:
● Feb 6: MSU Press Day and Workshop, East Lansing.
● Feb 7: Rehearsals and MSBOA District 8 Jazz Festival, Mason High School, Mason.
● Feb 8: Northview High School, Grand Rapids, and Rockford High School, Rockford.
● Feb. 9: East Lansing High School, East Lansing, and Fowlerville High School, Fowlerville.
● Feb. 10: Williamston Middle School, Williamston.
● Feb. 10: MSU College of Music, Cook Recital Hall, East Lansing.
● Feb. 11: Oxford High School, Oxford.
Anat Cohen performs Saturday, Feb. 4 with the MSU Octets at the Carr Center, 311 E. Grand River, Detroit; Tickets: $27 adults, $15 students; 7:30 p.m.