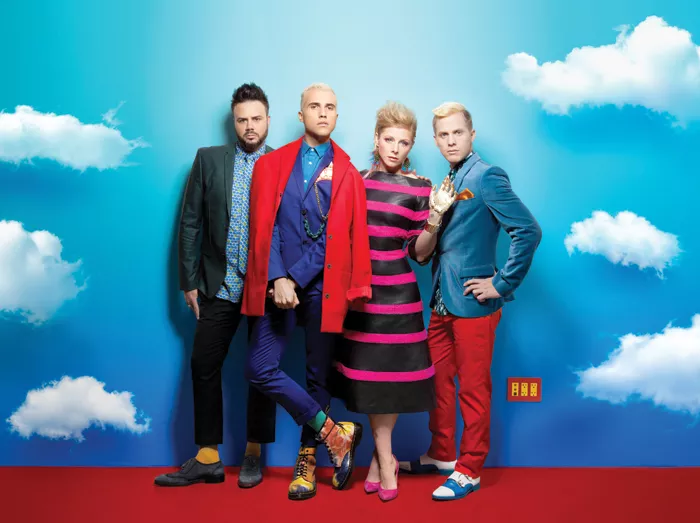 When preparing to interview Neon Trees lead singer Tyler Glenn, we were expecting a loud, garish conversation. The "Everybody Talks" singer's style can best be described as "fluorescent" and the vocals and lyrics he contributes to the band are boisterous and commanding, giving their moniker much credence. But when he dials us up last Friday evening, we're surprised to get a soft-spoken, almost hesitant Glenn.
We ask if perhaps he's been doing interviews all day and if maybe he's just tired from all the talking, but Glenn answers that our chat would be the first during his session of phoners for the afternoon. We picture him, his bright, white blond Caesar cut and all, wringing his hands in certain agony over the hours of calls that were to come. But he answers in a way that didn't seem to fit his tone.
"As soon as people don't want to call me anyway, that's when I'll be upset," he says.
Having recently publicly come out as gay in Rolling Stone, Glenn seems no less reluctant to share the personal side of himself, though a letter that he wrote to his own father about "liking guys" was published in Time magazine. He goes so far as to call himself "introverted" during our chat, but while his conversational style isn't exactly what you'd call lively, we found him to be generally agreeable and thoughtful.
While Glenn's coming-out coincided with the release of Pop Psychology, he says it wasn't planned that way, though writing this album was much different for him than the band's previous two records. Having been in a dark place in his life, Glenn says he started seeing a therapist, and without that psychiatric assistance, the band's third CD would be much, much different.
Glenn says the previously written songs, which he describes as "dark," were all shelved in lieu of new work he wrote after beginning therapy. One listen to the album and the return to the band's flashy, razzle-dazzle song style is obvious. From top to bottom, Pop Psychology is upbeat, fun, radio-friendly, and readily danceable.
Known so well for these garish pop songs, over-the-top live shows, and donning an oversaturated wardrobe, a dark, brooding record from the band would seem like an interesting addition to this discography. However, it sounds like Glenn is planning on keeping those songs to himself, noting that they might be used for a personal project later on.
"Obviously, the band can't go on forever," he says. "But I love this band, too. And I love … how I get to express myself, because it's really fun, especially because I'm not always the most fun person. I'm actually quite emotional, so to have this outlet to have a good time is great. But I think it would be fun to explore other kinds of music, and I think instead of doing that in this band, I think that would be something I'd do in another form."
At an interesting juncture in his life, Glenn says he feels a new sense of freedom, both in his personal life and while on stage.
"I'm in a frame of mind that I haven't experienced before," he says. "I've always enjoyed performing, I think it's my favorite thing to do, but I feel like this record is just really vibrant and I'm in a really good headspace, as well. I think it's just been really fun so far."
The new freedom also translates to Glenn's stage performance where he says he feels more at ease since coming out. A different, much more outgoing person while performing, Glenn says his onstage persona is something of an alter ego, although he's never made a different name for himself, it's just where that aspect of his personality shines.
"I think for me it's created this lightness that I don't have to be so careful of the words I choose or thinking, 'I wonder if people think I'm gay because I'm dancing this way,' or some sort of other insecurity. Just being free in that way is nice."
Recent reviews of Neon Trees' tour purport that Glenn's onstage antics include short monologues on love and friendship, adding to the mounting evidence that the singer is in both a good headspace and stage in his life.
Since he was not yet out while writing Pop Psychology, future songwriting from Glenn might be more revealing, coinciding with his introspective nature, but perhaps not his seeming shy side, and although the record was just released a few months ago, Glenn says he's already started penning new material. And surely he'll have tons to draw from considering current events.
With the creative juices flowing and the freedom to express himself and his personality at an all-time high, we ask Glenn if he plans on expanding his artistic endeavors, namely adding fashion designer to his résumé.
"I'm very one-track-minded," he says. "And when I'm doing something I do it to the fullest. But I love fashion, and I also love food, and I've always been interested in some sort of clothing or collaborative line. It's definitely become more of a passion since I've gotten to wear what I want every day."
With the advent of a new chapter in Glenn's life, we're eager to see what comes next from the singer, be it music, food, or fashion.
Neon Trees perform with Smallpools and Nightmare & the Cat at The Fillmore on June 29. Doors open at 7 p.m., at 2115 Woodward Ave., Detroit; 313-961-5451; thefillmoredetroit.com; Tickets are $27.50 and up.