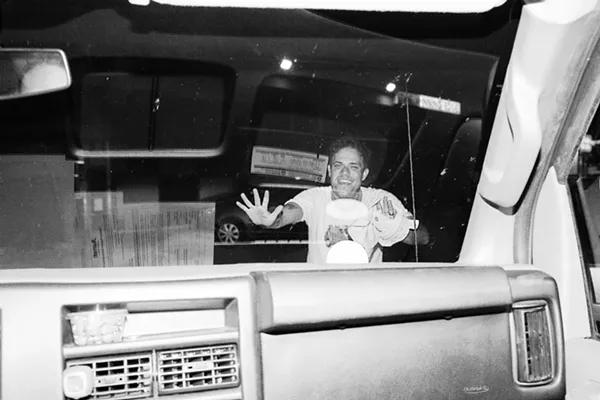 Jeff Rosenstock has been very busy lately. It's been that way for the Long Island musician since he started gaining traction in 1998, when his first band put out its first record. Last year, Rosenstock performed at the high-profile Pitchfork Music Festival in Chicago. This summer Rosenstock and his current band are playing two shows in metro Detroit as part of a tour for its most recent album,
POST-.
This isn't a rags-to-riches story by any means, however, it is more mainstream success than Jeff thought he would ever have, and more than most bands who adhere to strict Fugazi-esque brand of DIY ethics. These ethics saw the most practice in Rosenstock's second band, Bomb the Music Industry!, which caught attention with antics such as their "Bring Your Own Band Tour" where they encouraged fans to learn their songs and join them on stage when passing through their town, and providing stencils and paint for fans to make their own BTMI! shirts at their shows. They also released all of their music online for free, something Rosenstock still does to this day, though he also sells some vinyl and CDs.
Metro Times
spoke with Rosenstock by phone about his transition from playing in collectivist bands to touring under his own name, and how he makes ends meet as a DIY musician.
Metro Times:
Did you ever think you would make it to playing the Pitchfork Music Festival when you were in BTMI!?
Jeff Rosenstock:
Hell no. When
Vacation
came out [in 2011, BTMI!'s last album], I thought that record was really good and I thought more people would pay attention to it, and more people didn't. I kind of thought the ship had sailed for being a critically acclaimed artist when I turned 30. And I was fine with that.
MT:
I was at your Pithfork set last year, which was so much fun. Did you catch any flak for screaming how much money you were getting paid and saying how weird it was the whole time?
Rosenstock:
Nope, only good things came from that whole thing, which to me was so surprising. When it was happening, I was like, 'Oh man, me and my big mouth again!' youa know, but everybody wanted to talk to me about it, so I guess any time you do anything that people want to talk to you about, that means you did a good thing, right? It must have resonated with people, which is a surprise to me.
MT:
Well, what I think is an important skipped-over detail is how you mentioned that even though you're playing an expensive festival, you had played a cheaper show the day before, correct?
Rosenstock:
The day after, yeah.
MT:
That's great because some of your fans aren't going to be able to come see you at Pitchfork, and something you carried over is that accessibility and DIY ethos that you've proven time and time again, which I just thought was awesome.

Rosenstock:
Thanks, I appreciate that! At the same time, props to Pitchfork because they were totally cool with us doing that. It's nice that we've been able to play festivals and kind of on the sly sneak in a cheap show at the same time. Like we're playing that MoPop thing, and we're also playing our own thing in Ferndale.
MT:
So I want to jump back to that time period after BTMI! broke up. I'm curious as to how and why you deiced to embark on a new project under just your name?
Rosenstock:
Well, the second BTMI! broke up, maybe like the next day, I was talking to my friend Sean from AJJ. They were about to tour, and he asked if I would want to play on my own, and I thought it would be important to play under my own name. I thought, 'I have nothing to lose, I'll be the first of three bands on this tour, and I've never toured under my own name, why not play a bunch of new songs, finish up this record, put it out, and just make it feel like a fresh thing as opposed to it being like, the guy from BTMI! said BTMI! is breaking up, and now he's on tour by himself playing a bunch of BTMI! songs with an iPod.' I thought that would be a weird and rude thing to do to my bandmates.
So I finished up that record and just kept writing songs. I grappled with whether or not to call it a band name, whether or not to even fucking bother doing it, and just stay with what I'm doing. And everyone I asked for advice said, 'Don't be a fucking idiot, take this opportunity! You've been in the van for forever, see where this thing goes.' So that's kind of how that all happened, it's been nonstop since
We Cool?
came out.
MT:
So at that point, you had worked with Asian Man Records, and were putting out all your stuff for free on Quote Unquote, was the new relationship with SideOneDummy Records for
We Cool?
the first step to working with bigger labels and distribution?
Rosenstock:
Yeah for sure, but I mean, SideOneDummy and Polyvinyl are not major labels. It's important to me to not be with a major label. I still hold a really big grudge over the lawsuits in the early 2000s against music fans who were downloading music off Napster because the record industry made CDs unaffordable and not worth purchasing. I blame that on major labels and their archaic attitude. And that's something I don't have any interest in being a part of. Every time there's a new weird decision that I never thought I would have to make, I just try to do what makes the most sense, and what feels right. With SideOneDummy, I met them all and they were all lovely, I thought this label is a bunch of people I could be friends with. And that's an important thing to me, coming from Asian Man or Quote Unquote where the whole point is that everyone is buddies. So that was definitely my first step in dealing with real deal big boy shit.
MT:
So from what I understand, you were working a lot of odd jobs, and that made touring and sustaining the band difficult. Has that changed since putting out your solo records?
Rosenstock:
Yeah, of course. Now I can do this full time. I had saved up a bunch of money from a job I had, and I was just using that to float by for a bit. I got some producer jobs, and some graphic design jobs, little side stuff, but I broke my foot during one of those jobs, and I never worked a real job after that. I ended up being holed up and that's when I finished
We Cool?
Then we did the last BTMI! shows, and I got a little bit of money from that. And different things kept coming up. I would joke at the time, 'I have six different jobs right now, I'm a musician, a song writer, a composer, producer, graphic designer, podcast person, and none of those things do very well, but all of them together don't do so bad!' And that's how I was able to get by for a while, which was sick.
MT:
So breaking your foot seems kind of like a blessing in disguise.
Rosenstock:
Yeah, I think so, and I like to think it's that way for all of us. Being in a band like that can just start getting destructive at a certain point. And I never wanted BTMI! to be a band that was something we felt compelled to do because we had been doing it.
MT:
Is there anything else you want to get out, like a PSA for anything?
Rosenstock:
Vote. Fucking vote this year, please. Don't fuck it up again. They don't have as many celebrities, but they're super important. I'm not much of a PSA person, surprising for a person who talks a bunch of shit, as I do.
MT:
Do you still feel like you get tripped up talking about certain things?
Rosenstock:
Yeah for sure. It's hard not to get tripped up talking about things all the time. I think that comes with understanding that you don't know anything. I think if you're always trying to learn, it can be difficult to talk about anything. And I feel like there are times when I know what the right thing to say is, but I don't say it because I doubt myself, or just the company I'm around, I don't know if it's gonna be a whole fucking thing, and sometimes it's scary to have a whole fucking thing, but also you need to have a whole fucking thing sometimes. So, it's complicated.

Jeff Rosenstock will perform on Wednesday, April 25 at the Loving Touch, 22634 Woodward Ave., Ferndale; 248-820-5596; thelovingtouchferndale.com; Doors at 7 p.m.; Tickets are $15.