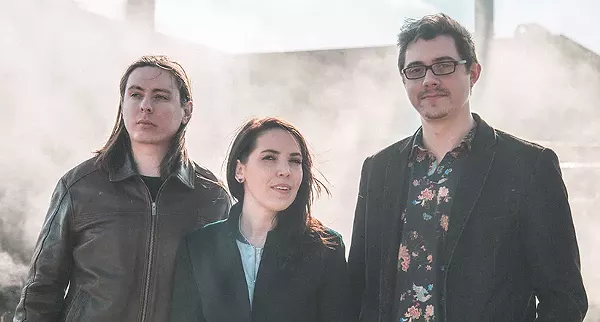 Holly Bernt didn't hear her first "secular" song until she was 13 years old. Raised in a strict Seventh-day Adventist household, Bernt says hymns and worship songs were all she knew until her big brother smuggled a Goo Goo Dolls record into the house and played her "Black Balloon."
"That was the first time I listened to something that wasn't about Jesus," says Bernt. From then on, her musical horizons widened, but the inherent melodic sensibility that comes with being raised in the church stayed with her.
Nearly 18 years later, Bernt is set to release her first record with the Holly Bernt Band, Lightning on the Vine, which merges her deep roots in gospel music with a love of blues and the wisdom of someone who is on the outside looking in.
For this record, Bernt was joined by Jimmy Dixon (guitar, organ) and Max Bauhof (drums) who both own and operate Homestead Studios, the studio where Lightning was recorded. Bernt met Dixon and Bauhof when she was recording a solo project, Dakota Winters, and the musical connection was instant. She says she was going in a different direction than the band members she was working with at the time, and was able to bring her newer songs to Dixon and Bauhof. Thus, the Holly Bernt Band was born.
While Bernt handled most of the lyric and melody writing, the band says the songwriting process was collaborative, with a majority of the songs coming to fruition spontaneously in the studio. "Holly has this knack for coming up with a vocal melody almost immediately which helps so much when it comes to writing," says Dixon of the songwriting process. Bernt's melody lines are unmistakably gospel driven, but also carry strong, soulful western and blues influences — making for a sonic palette that is reminiscent of the smokey, vast landscape of the Badlands, where Bernt spent the majority of her childhood.
Because of her parents' ties to the church, Bernt spent much of her life moving around the country — California, Minnesota, West Virginia, South Dakota, and Oregon — before landing in Michigan in 2006. Despite leaving pieces of herself in all of these states, Bernt feels most connected to South Dakota. "Musically, I'm very nostalgic about it," says Bernt. "I can think right off the bat of four songs on this record that are directly linked to growing up in the Black Hills."
One of these songs is "Penny on the Tracks," a love letter to Bernt's younger sister. Bernt, who is 10 years her sister's senior, wrote the song through a reflective, almost motherly, lens, urging her sister not to make the same mistakes she did. "There are some songs, like that song, that you write and they open this gateway and you'll be depressed for weeks," says Bernt. "Watching her go through the same things I went through was hard, and I wished I could do it for her."
But not all of Bernt's songs are as gorgeously heart-wrenching. The record is full of blues-infused tracks like "There Ain't No Love Here," a timely track lamenting the state of the world we live in. "I think I've lost it a thousand times/ I think I've lost it a million times/ But lately, when I turn on the news/ I lose my mind," Bernt sings in her hazy, rapturous vocals. The musical arrangements throughout the record reveal a strong blues influence in all three band members, including the occasional organ solo and old-school bass lines.
Overall, the album is a timeless rock 'n' roll record with a deep reverence for the gritty and honest R&B and soul music that Detroit was built on. The band will release Lightning on the Vine on CD and all streaming services on March 31.
Holly Bernt will perform a record release show for Lightning on the Vine on Saturday, March 31 at the Parliament Room at Otus Supply; 345 E. Nine Mile Road, Ferndale; 248-291-6160; otussupply.com; Doors at 8 p.m.; Tickets for the show are $15 presale and $25 presale with a CD.