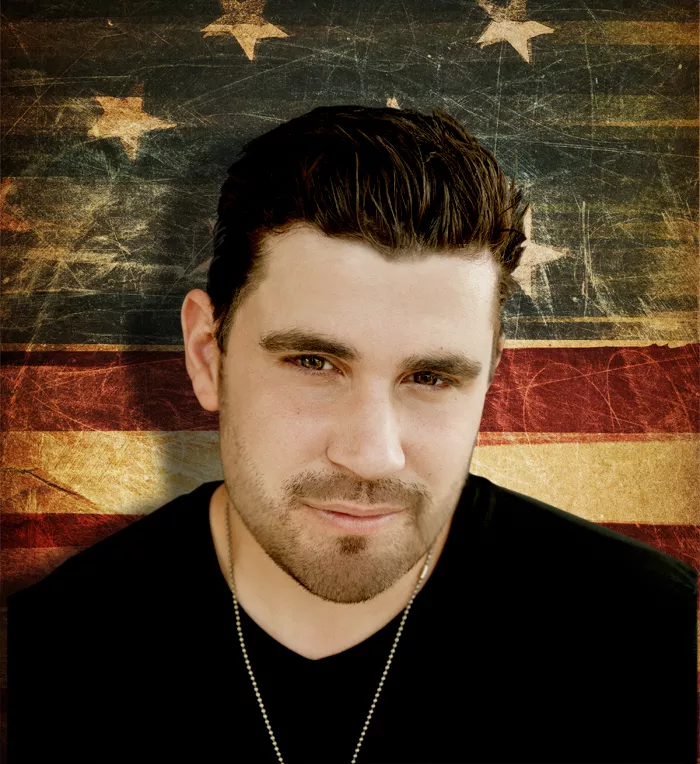 It wasn't meant to be this way. When we got the idea of talking to metro Detroit native and country darling Josh Gracin to celebrate his headline appearance at this weekend's Stars and Stripes Festival, we were anticipating a pleasant chat about his appearances on American Idol, his relocation to Nashville, his family, and his rugged-but-polished good looks. It was all going to be so nice. After all, we interviewed him for an online piece five years ago, and the experience was very wholesome and safe. Turns out, we were just asking the wrong questions. More on that later …
Gracin carries the appearance of a very stylized good ol' boy. Those dusty jeans aren't really dusty, and those worn-looking jackets likely cost more than the average house in Detroit. The hair is immaculate, and the squint toward the camera very deliberate. This is not the system-crushing outlaw country of Willie, Johnny, and Merle, but music designed for the radio — hits before they exit the pressing plant. The production is spit-polish-perfect and, despite the fact that he says he likes to approach the genre from all angles, this is the kind of stuff you hear on country radio all the time. Heartbreak and twang.
The videos are as telling as the songs. Gracin drives cars down freeways, strums an acoustic guitar in bars, and stands in the middle of a desert or two. All the while, one stunning model after another drapes herself over Gracin like it's a hair-metal vid. No country stereotype is left unturned. Gracin could be a poster boy for the Country Music Awards, gleaming white teeth and all.
But there's something about Gracin that pulls you in. First of all, those songs, like "I Want to Live," "We Weren't Crazy," and "Favorite State of Mind," are really catchy. They'll ear-worm you for days on end. The other thing is that, as carefully managed as Gracin obviously is, he's also a very honest man — self-aware and humble, yet brutally, refreshingly frank.
Gracin, 33, was born and raised in Westland, a city that he describes as "suburban and family-oriented — a nice place to grow up." He joined the Marine Corps in 2000, and found himself stationed at Camp Hamilton, Calif. "It was an experience," Gracin says. "I definitely learned a lot, and it prepared me for everything that's going on now as far as relations, life situations when things don't always go the way you want them to go. The Marine Corps helped me out with how to deal with things."
"Once a Marine, always a Marine," they say, and Gracin says that his military experience prepared him for lengthy periods on the road, away from his family. This conversation really comes alive, though, when we ask him if his time in the Marine Corps gives him an insider's perspective when reading about the current situation in Iraq, or the recent rescue of Sgt. Bowe Bergdahl from al-Qaida. As it turns out, Gracin isn't a fan of the president at all, and he's not a big fan of the media.
"Unfortunately, the way the media protects the guy that we have in office right now, even if the military guys that know firsthand what's going on and what's being done do speak up and say something, they get called out as liars or they're just suffering from post-traumatic stress or this or that," Gracin says. "So it's an unfortunate time that we live in when the media isn't the media, it's more a protecting service and an opinionated service than it is a journalistic service."
Whoa, that's a big statement, and a massive generalization. But OK, we'll take it on the chin. What's your problem with Obama, sir? "Scandal after scandal after scandal after scandal after scandal," he says. "Nixon resigned for something way less than 'fast and furious.' How many scandals does it take for people to wake up? This media's protecting him day in and day out. If this was Bush, it'd be plastered all over the media every single day like it was when we were in office. It's definitely bias, and it's definitely disgusting because our media is supposed to be protecting the people by asking the rough questions, by digging and doing investigation, and what you see on CNN, MSNBC, Yahoo, and the Free Press in my own hometown, is opinionated pieces rather than journalistic pieces. I know the oath that journalists take is to investigate. Part of the oath is to ask the rough questions. That's why you guys get the access that you do. Everything's backwards."
The impressive thing about this lengthy tirade against the media, by the way, is that Gracin never raises his voice. He basically keeps his cool, even when he's very definitely pointing a metaphorical finger in our direction by saying things like "you guys." We may not agree with every opinion that Gracin offers, but we appreciate that he's an intelligent man who does at least have opinions, and he offers them calmly and methodically. He's more than a pretty face, this one.
Ask him what got a Westland man into country music in the first place, and he'll tell you that it was a Garth Brooks song on the radio. Of course, Gracin was on the second season of American Idol back in 2003, eventually finishing fourth. Back then, the musical talent reality show format was relatively new. Nowadays, there seem to be two on every channel.
"I think if you're going to find a true artist, you need to let that person fly on their own," Gracin says. "Maybe do their own songs, their own original stuff. It's TV, and people aren't going to want to watch a bunch of songs they don't know. I understand them doing the cover things and stuff like that. It's really just turned into an entertainment value. You can be on TV, you can do everything, but it takes a special kind of person once you step off a TV show to sell records and to have a career. Look at how many winners of American Idol, The Voice, and the other talent shows — they really haven't done anything."
There were certainly plenty of people paying attention to Gracin, as he came off of that show and put out a self-titled debut album in 2004, followed by We Weren't Crazy in 2008, and Redemption in 2011, along with a bunch of hit singles.
"I remember Josh from American Idol," says local country singer Mandi Layne. "I remember rooting for him, as not only do I think he has a great voice but he's from my neck of the woods. It gave me hope knowing that performers from my area can make it in Nashville. He's also an ex-Marine, which automatically scored high in my book. Anyone who risks his or her life for our country and our freedom holds a high rank with me. I really enjoy his voice and style. I haven't heard too much from him in the past few years, but I know that he released a new song 'Drink It Gone' in 2013, and I'm a sucker for a good drinking song."
Nowadays, Gracin lives with his family in Nashville, which makes complete sense if you're a country musician who's already achieved some success. He keeps a keen eye on his home state, though. "Michigan's always going to be my home," he says. "I'm still hugely supportive of all the sports teams — that's never changed and never will change. I'm die-hard when it comes to that. I'm die-hard when it comes to defending Michigan and talking about Michigan to the people down here."
When we ask him what he thinks of Detroit's ongoing financial difficulties, Gracin heats up again. "I keep tabs on everything," he says. "This is the problem with politics nowadays. People vote based on pride, party pride, rather than what's best for people as a whole. They also vote on what's good for 'me' rather than the big picture. So when I see articles with journalists blaming this person and this person, we have nobody to blame but ourselves. We're the ones who voted these people in. It was our responsibility, and we failed at that responsibility big-time. We've failed at that responsibility for the last 50 years. That's why Detroit's in the situation that it's in. It's not the crooks' fault; crooks are going to be crooks. We voted them in and gave them the power to do it."
Thanks to American Idol, Gracin was, for a while, as much a celebrity as he was a musician. Much of that has died down now, and he's able to focus on his music. Still, there are plenty of articles and blogs online on the subject of his weight and inane crap like that. How does someone handle that sort of bullshit?
"People are gonna say what they want to say," he says. "My grandpa put me aside one time and he said, 'What do critics do?' I said, 'Well, they critique your stuff, put holes in it, things like that.' He said, 'Why do they have time to do that?' I said, 'Because it's their job.' He goes, 'Critics are people that can't do what you do, never will be able to do what you do, are too ugly, have no talent, or no personality to do what you do, so don't worry about what they say.' That's as blunt as he put it, and that's what I live by."
It's another great example of just how surprisingly biting Gracin can be. He may be anti-Obama, a military man, and a country boy, but Gracin is no redneck and he's no fool. He thinks about his answers carefully and he offers them with grace, even when the subject is something he's passionate about. Again, you don't have to agree with him to like him.
On Thursday, Gracin headlines the Budweiser National Stage at the Stars & Stripes Festival in Sterling Heights, back in front of his hometown peeps. "I'll be coming in, doing some hits, doing some new stuff, some cover stuff — we've got this cool Aerosmith medley thing that we've been doing for a while now," he says. "We'll just come in and have fun. We play our set and make sure people are rocking out in the crowd."
After that, he'll be continuing to tour, and get to work on his fourth album. It's worth making a final note that Gracin's songs are generally about girls, love, romance, and (occasionally) drinking. But in conversation, he talks hard and fast about real issues. Maybe a chance of lyrical subject matter would yield some raucous results. For now, just be happy with the knowledge that Gracin isn't just a country mannequin with husky pipes.
Josh Gracin plays on the Stars and Stripes Festival's Budweiser National Stage at 9:30 p.m. on Thursday, June 26, at Freedom Hill, 14900 Metropolitan Pkwy., Sterling Heights; 586-268-9700; starsandstripesfest.com; the festival runs through Sunday, June 29, and is free.