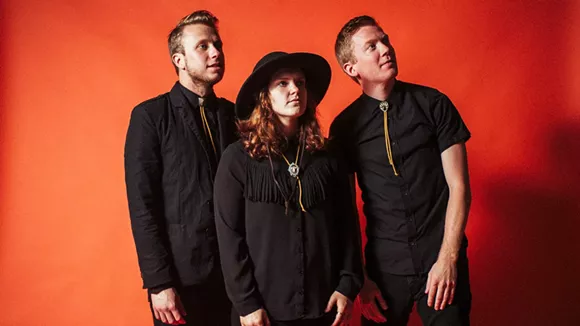 Well,
this sure looks like a worthy event
— and congrats to WXOU for reaching its 50th anniversary. Michigan needs all the alternative radio broadcasting it can get. Here's to another 50 years!
ROCHESTER, MI – Oakland University's on-campus radio station, 88.3FM WXOU announces its 50th Birthday Bash, hosted at The Crofoot in downtown Pontiac. The event will be held on Thursday, March 24th featuring performances by local artists Flint Eastwood and George Morris & The Gypsy Chorus, as well as headlining artist Alvvays. Tickets are now available to students for no charge at the Center for Student Activities ticket window and are available to the public through The Crofoot box office for $15. The Oakland University Bear Bus will shuttle students to and from the venue beginning at 6:30 p.m. in parking lot two (P2). Student Program Board and Student Video Productions are co-sponsors of the event.

Alvvays is an indie pop group from Toronto, Canada, whose self-titled 2014 debut album enjoyed massive success on the college radio charts, peaking at number one on the College Music Journal Top 200. The band has been featured on NPR and KEXP and has performed at SXSW and Glastonbury music festivals in the past year. Alvvays is scheduled to perform at Coachella Valley Music and Arts Festival this coming April.

Oakland University is pushing students to get actively involved in the City of Pontiac, the university's neighbor, through the OU/Pontiac Initiative and strives to strengthen this rising partnership. WXOU hopes this event will serve as a catalyst in that effort.

"WXOU has come a long way since 1966. Over the past 50 years, we have become the soundtrack to Oakland University and the surrounding communities. We can't wait to celebrate the accomplishments, all while toasting to another 50 years of great college radio."

88.3FM WXOU Radio has been broadcasting from the basement of the Oakland Center since 1966. The nonprofit, free-form station offers music, talk, news, sports, and more — serving as the soundtrack of Oakland University and the surrounding communities. WXOU is a three-time Michigan Association of Broadcasters Station of the Year honoree.