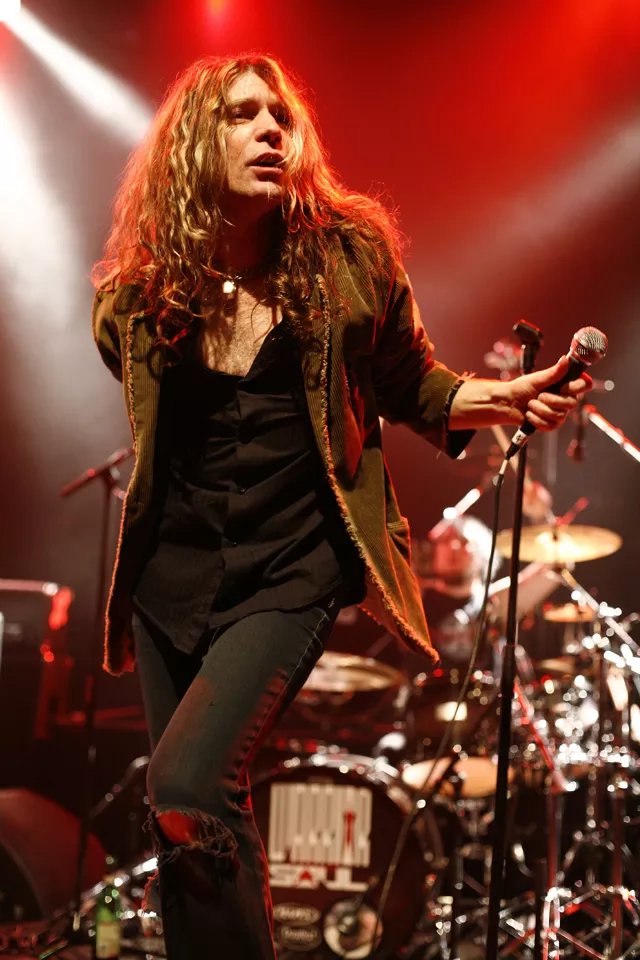 "I wait in dismal Detroit gray February freeze. No radio. Silent, concentrated calm. Just want to see Charlie's arm reach and open the passenger door, then we can split. The gig was to take this shit-load of coke and trade it for heroin. Took that to the west-side suburbs, saving some blow for the big client."
—from the spoken word ditty "Charlie" by Kory Clarke
Many readers don't know who Kory Clarke is. Those who do will recall it with a modicum of distaste. This is because, among those who were a part of the '80s Detroit hardcore punk scene, Clarke is a hated man. He insists that he has no idea why, but it's undeniably true. In an infamous comedy intro to their song "Tooling for Anus," Tesco Vee's Meatmen basically claimed that Clarke is gay. (He isn't, but who gives a shit anyway?)
The drummer with L7 (not the all-girl '90s band) alongside Larissa Strickland (later of the Laughing Hyenas), Clarke later formed the Trial, cut an album with Kim Fowley in L.A., then returned home to find no work and left Detroit for New York. Besides the occasional visit while on tour, he never returned. Rather, he formed and fronted Warrior Soul, a metal-tinged rock 'n' roll band, and gained some underground international fame.
The thing with Kory Clarke is that he says exactly what he's thinking in a tone that could diplomatically be described as abrasive. He welcomes controversy, courts it even. He chuckles while referring to the flag-bearers of Detroit hardcore as a "waste of space." "I was doing heavier shit than them, long after them," he says, with a John Lydon-esque snarl. It doesn't take much of a stretch of the imagination to imagine Clarke annoying the shit out of shaven-headed hardcore dudes. The thing is, though, Kory Clarke is one fuck of a songwriter.
Let's take a step back. How did Clarke get the gig with L7? "Dave Rice, the guitar player, was a fan of my band the Attitudes when I was in high school," Clarke says. "That was kinda like a Ramones-meets-the-Buzzcocks kinda thing. L7 decided they should probably take me before Dave left the band. We opened for everybody. Killing Joke, the Stranglers — everybody. [Larissa] looked like a rat that had been dragged around a parking lot. She sounded like a strangled raccoon. But she was creative and she cultivated her scummy look. She lived up to her reputation. She was like Cyndi Lauper on crack. I liked her before the whole hardcore thing really set in. Hardcore wrecked everything. Punk was fun until everyone turned into skinhead — whatever that was."
See what I mean? He's not one to watch his words. After L7 and, later, the Trial went up in flames, Clarke struggled to get anything going in Detroit. "It boiled down to the fact that I'd lived in L.A. for two months recording the Trial record, I came back and I didn't have a gig anymore," Clarke said. "I tried to get work anywhere, and I couldn't even get a job delivering pizzas. I went to London for a bit and was hanging out with Angie Bowie, Leee Black Childers and these guys. I was about to get a deal with Bronze Records, with the Trial. I had meetings with them. I had meetings with Mercury and other people in New York."
His plan came unstuck though, when his Trial bandmates wouldn't follow Clarke to Manhattan. "I was stuck without a band," Clarke said. "I decided I was sick of fuckin' bands. I started doing performance art — running videos behind me while I was doing synchronized material. I was playing drums on top of it, and just doing my own shows. I was doing that for about a year or so, and then I played the Pyramid Club on Avenue A. The show was really heavy and intense, and this promoter goes, 'It'd be really good if you had a band.' I'm like, 'Fuck. Why do I need a band?' She kept saying, 'You're never gonna be nothin' without a band'. So I go, 'Fuck you, in six months I'll have the biggest band in this town.' In six months, I had a million-dollar contract from Geffen Records. I sure didn't mind calling everybody on my hate list that night. Manhattan was incredible in 1984. It was bad-ass. Peak Cold War, absolute debauchery. No one went home. I don't remember ever going home. You just stayed out for days. It was fuckin' amazing and it was so underground. You'd buy drugs and some guy would send down a basket filled with stuff, and you'd send your money up. The police couldn't do anything. It was amazing. We owned the streets, at least for a few years."
In New York, Clarke formed Warrior Soul and signed to Geffen Records. The band went on to record five excellent albums, the last of which, Space Age Playboys, is a bona fide classic. They toured the world, earned a healthy underground following, but mainstream acceptance eluded them, at least in part because nobody knew how to label the band.
"What I should have done, in hindsight, is what Alice Cooper did in '71 when he moved to Detroit — I should have moved to Seattle," Clarke says. "If I had been there, the press would have lumped me in with those [grunge] guys, and then I would have had a category. I was more like a cross between Guns N' Roses and Jane's Addiction. You couldn't really put Jane's into anything. That wasn't grunge. I also had a real problem with the publicity department at Geffen. They were all stacked against me. They hated me. They all loved Axl and licked his balls. It was a constant battle between my management with Geffen to do something. It was never smooth sailing."
After the Space Age Playboys record, Clarke broke up Warrior Soul and put together a band with the Space Age Playboys name. It was, he says, an organic move. "No one from the band was with me at the time, and I wanted to change names anyway, when I did the Warrior Soul Space Age Playboys record. The band, Space Age Playboys, was just taking the concept of that record to the utmost. That record's packed with cool shit."
The Space Age Playboys put out one studio album, 1998's New Rock Underground, and one live album, and then that band folded too. Clarke quit music for a while, concentrating on poetry (which would eventually lead to his spoken word live performances and forthcoming recorded output). However, in 2007, he found himself pulled back into the studio to record the solo record Opium Hotel. By no means an easy listening record, the album is dark and depraved. It isn't, he says, autobiographical. "I've never been a junkie," he says. "Heroin makes me itchy. It's an incredibly boring drug. Opium Hotel is about someone being hooked on heroin, and that bad way of life."
Kory Clarke laid down some life experience since leaving Detroit. He's formed and broken up two bands, released a solo album (with a second, Opium Hotel 2, on the way), he's written poetry and spoken word diatribes, and he's trying his hand at painting. Shit, he's even fronting stoner metal veterans Trouble now too.
He's still pissed off and he's still pissing people off. That's what he does. Like old Johnny Lydon said, "Anger is an energy," and Clarke is one motherfucker.