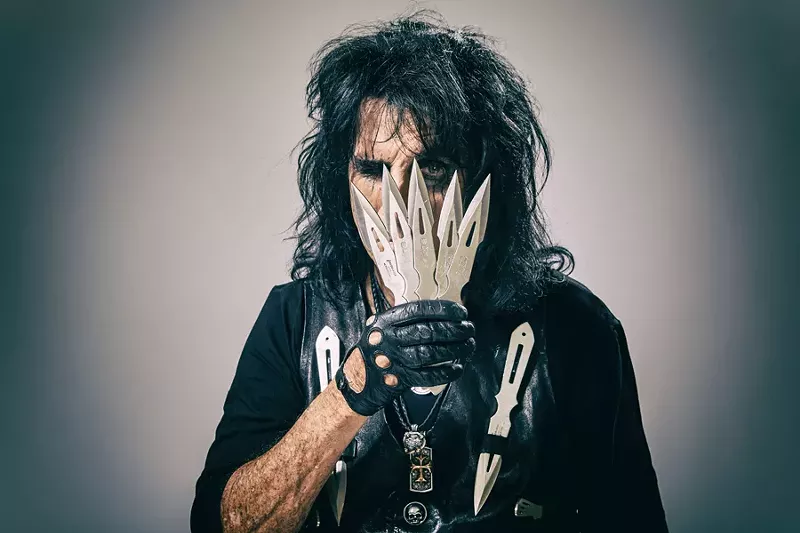 Alice Cooper came back to Detroit in 1970 seeking a fresh start on the heels of his band's second unsuccessful album, Easy Action. The theatrical hard rocker, born Vincent Furnier, was a Motor City kid until age 10 when his troublesome asthma prompted the family to move to Phoenix.
He returned a dozen years later in search of sympathetic ears.
"We felt out of place everywhere on this planet except Detroit," says Cooper, from his Phoenix home. "In L.A. we didn't fit in because we weren't groovy enough, and in New York we didn't have horns. We were a Midwest, Detroit band and that's where we felt we actually belonged."
From the beginning Cooper recognized the need to separate from the pack, transforming himself into "an arrogant villain," a combination of Bette Davis from Whatever Happened to Baby Jane? and Italian model and Rolling Stones muse Anita Pallenberg in Barbarella. His murderous makeup-clad alter-ego inspired countless glam-shock rockers, from KISS and Marilyn Manson to the Insane Clown Posse. If the gimmick got attention, the band's locomotive performances sealed the deal.
"We were playing every weekend with Iggy and the Stooges, and the MC5; all the high energy rock 'n' roll bands because that's what we were," Cooper says. "I tried to be my version of Mick Jagger. He was the guy that invented the whole idea of breaking away from the band and becoming this charismatic character."
They caught the attention of Frank Zappa, but their first two albums flopped. They were punching the last ticket of a three-album deal when they hooked up with producer Bob Ezrin for 1971's Love It to Death. It was the start of a collaboration that continues today.
"Bob is old school," Cooper says with a laugh, noting that Love It to Death was the first album Ezrin ever produced, but he already had a plan. "He said, 'We're not even going to get near the studio until we rewrite every single song and re-teach everybody how to play their instruments.' We just said, 'OK.' He created the Alice Cooper sound, and that's something that we didn't have before."
The album's sophisticated stage show concluded with Cooper in an electric chair. To commemorate it, he bought a silk screen from his friend Andy Warhol for $2,500, and promptly forgot about it. Last month, Cooper recovered the print from storage (a prior "Little Electric Chair" sold for $11.6 million). This isn't unusual for Cooper, who's made famous friends across his career — Groucho Marx, Mae West, and Salvador Dali were all admirers.
"Groucho Marx came to see the show and he says it's vaudeville," Cooper recalls. "Dali saw it, he said it was surrealism. Everybody had a different take on what we were doing."
With Ezrin at the helm, Cooper ran off six straight hit albums from '71 to '76, five of them platinum, the other one gold, highlighted by 1972's School's Out and 1975's Welcome 2 My Nightmare (his first as a solo artist without his original backing band).
The Rock Hall of Fame inducted Cooper and his original band in 2011. The experience led to them working together on Welcome 2 My Nightmare 2. It reached No. 22 on the album charts — Cooper's best showing since 1989's Trash. Closing on 70, he's not as prolific as he once was, but has released eight albums during the last quarter-century on his own terms.
"Guys like Ozzy, myself, Rod Stewart, and Mick Jagger — we're lifers. We started when we were 15 and we will not finish until we're gone; that's why I chose this as my life," Cooper says. "There's a big difference between having to tour and wanting to tour."
Two years ago Cooper formed Hollywood Vampires with actor and rhythm guitarist Johnny Depp and Aerosmith guitarist Joe Perry. Their self-title debut celebrated friends that died of excess. It features guest appearances by Dave Grohl, Joe Walsh, and Paul McCartney. (They'll hit the studio in February and do some concert dates in March.)
"McCartney walks in, sits down at the piano and we're like deer in the headlights... we all look at each other and go, 'That's Paul McCartney," Cooper laughs. "It's one thing to know Paul McCartney, and I've known Paul for 30 years. It's another thing to be in the studio with him on a song with him. Then all of a sudden you just go, 'Oh my gosh, this is as good as it gets.' He brings you to your game. You're singing the best you ever sang in your life because it's McCartney."
In the meantime, Cooper's supporting his 27th album, Paranormal. Ezrin, naturally, produced it. The original lineup contributed three songs, and a variety of guests dropped by, including Roger Glover (Deep Purple), Billy Gibbons (ZZ Top), and U2 drummer Larry Mullen, Jr..
The album's doing well and Cooper is excited about it, but at this point, everything is icing. He takes it all in stride, recalling a moment 25 years ago when he was just a dad, hitting grounders to his 12-year-old son's little league team.
"Practice was going to be on Tuesday and that weekend Wayne's World comes out," says Cooper recalling his famous, makeup-less film appearance. "So we're at practice and I'm hitting balls to the infield, and I can't get anybody to do anything. Finally one kid comes up and says, 'Coach Cooper, how did you get in Wayne's World?'"
Alice Cooper performs with Deep Purple on Sunday, Sept. 3 at DTE Energy Music Theatre; 7774 Sashabaw Rd., Clarkston; 248-377-0100; palacenet.com; Doors at 6:30 p.m.; Tickets start at $27.