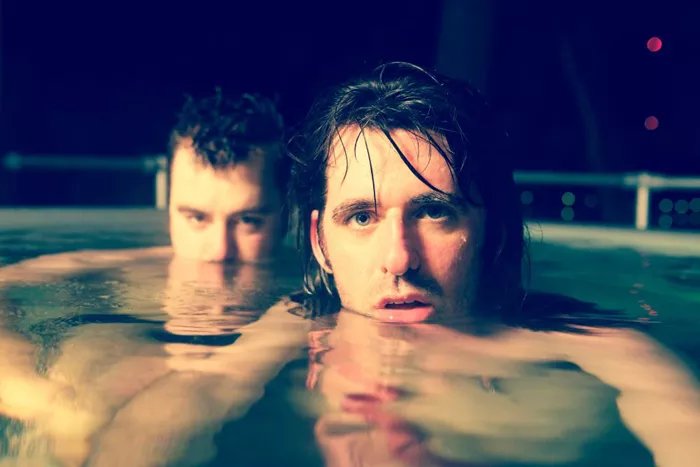 If you were at the Blowout Festival in 2013, particularly the launch party at the Magic Stick, you may well have noticed a tall, ungainly guy walking around with a look that combined old-school punk and disco. He looked like Joey Ramone, if the deceased singer were on his way to Studio 54 rather than CBGB's. He sure grabbed a lot of people's attention though and, later on, when his band played, he had earned a whole ton of new fans.
The band was Alexis, and the frontman was and is Matthew Forbush. Based out of Grand Rapids and completed by Dan Hurst, the duo has been traveling back and forth between Grand Rapids and metro Detroit regularly ever since, determined to build a fan base in a city relatively close to home, but worlds apart culturally. In the past year, Alexis has played in and around here so often, it basically feels like a local band.
Alexis formed in 2010, and immediately set about recording an album before playing any shows. In their very straight, ultra-conservative and very religious hometown, Forbush and Hurst stuck out like two turds in a bowl of vanilla ice-cream. It is, Forbush says, very easy to be rebellious in a place where convention is so rigid.
As is so often the case, real life is very different from onstage personas. Both men work day jobs outside of Grand Rapids, in the countryside. Neither is a 24-hour party person. Still, Forbush is happy to cultivate that "bad boy" appeal.
"We don't really hold back," he says. "If we played a show in California, it would just be 'whatever,' as far as shock factor goes. For Grand Rapids, I think it was more shocking than we even thought it would be. It doesn't seem shocking to us, but we have our own tastes compared to mainstream taste in Grand Rapids."
When listening to Forbush talk about Grand Rapids, it's hard not to recall the plot to Footloose, with John Lithgow telling the townsfolk (and Kevin Bacon) that they can't dance. Naturally, those kids rebelled and danced like motherfuckers. And the Grand Rapids kids will rock if they want to.
"Compared to five or 10 years ago, I'd say the scene has really grown," Forbush says. "A lot of stuff has happened. The Founders Brewing bar is a big thing, ArtPrize Fest too; they have helped Grand Rapids. When you are in a really conservative town, it's easy to want to be punk rock and fight against that. So there is some of that, but there is a pretty intimate scene. It's hard to go out in that town and not run into five people that you know. In size, Grand Rapids is quite large, but the scene is only as big as it is."
Alexis is happy in Grand Rapids, happy to be enveloped by, spearheading even, a local scene that is producing some real talent. The band is outgrowing it though, making those regular trips east a necessity. "After doing our first year in Grand Rapids, we realized that if you're professional about what you do, you show up when you're supposed to show up. It's not hard to get shows if you put your heart into it," Forbush says. "We really didn't have a problem once we broke in the town. It was really easy to keep a steady flow of shows coming. It was a logical next progression to want to branch out. We played Holland, Kalamazoo, Lansing, stuff like that. We've always had great shows in Detroit."
Alexis, which plays a hook-heavy combo of pop and electronica, impressed at Blowout last year, and the boys will be performing at the festival again this time around. Forbush is excited after having such a great time. "In Grand Rapids, we've sold out Founders and the Pyramid Scheme a couple of times," he says. "That feels great, but to go to a bigger city like Detroit and to play to a full room, and the energy exchange is mutual — that in itself is amazing. That's what we love to do, just be energetic. We can do it on our own, but it's more fun and a lot more spiritual when you can get the room right with you. To get that out of town was very eye-opening for us."
The duo is currently working on a third album, the follow-up to The Night and Gold Jar, and is hoping to spend 2014 keeping the momentum going, with the aim of eventually ditching the day jobs. Until then, it's a precarious balancing act. "If we could ever get rid of the nine-to-fivers, that would be great," Forbush says. "Being in a band is very expensive. It's always hard when bands say, 'Oh man, I can't even afford to get guitar strings.' I don't want to be in that position — it would make it such a struggle to have to fight to do what we love so much. The easiest way for us to do it was to put the miles in and try to break a bigger city, and drive back and forth. I think that's worked well for us."
With Blowout fast approaching like the big, beautiful adult-Christmas that it is, Forbush is delighted that Alexis will be back on the bill, with some heavy-hitting friends. "I think the great thing is that Keith [Thompson] from Electric Six has really taken a shine to us," he says. "We just opened up for Electric Six here in Grand Rapids, so it's kind of nice for us to get that kind of connection with a band that has made the rounds and has some advice and some of that help. A perfect pairing — very sexy, very fun, just a party. Keith hooked it up that we would open for them on their Blowout slot. That's going to be a really nice feature this year."
Alexis plays the Metro Times Blowout, April 30-May 3; mtblowout.com.