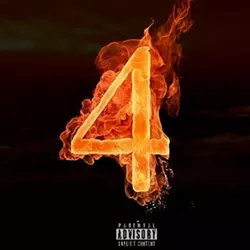 Microphone (Mic) Phelp's lyrical prowess has been a mainstay in Detroit for the last six years. Like his southern counterpart Lil' Wayne, Detroit fans and hip-hop heads have watched Phelp's verbal aerobatics grow throughout his 20-plus albums, mixtapes, and EPs.
It doesn't matter if he's sharing the mic with his Cold Men Young peeps or holding it down solo, Phelps has always hung his cap on a spitfire flow and crazy wordplay.
Enter
The Wave 4
. It's Phelps newest album and his best work to date. The album begins with the airy keys and witty lyrics of "5am." "Yak town soldier/sicker than pneumonia/in the club cleaner than a bucket of ammonia/smell the skunk on me/call it Stankonia," he raps.
"Boomin" wins the award for the catchiest chorus on the album, while "Let's Get High," is an R&B-ish track with lyrics that live up to the title. Phelps takes a stab at promoters who never want to pay artists to perform in "I Got Kids." The track shows Phelps' humility and the constant Motor City struggle of local emcees getting paid what they're worth.
Phelps also flips a Beyoncé sample into 32 straight bars of fire on "4mation." This could have easily backfired — aren't we all tired of the crunchy banjo in "Formation"? — but Phelps brings a new swagger to the track.
As with his previous albums; Phelps remains diverse in subject matter. "Hold Up" is an erotic cut for the ladies, while he addresses police brutality, alcoholism, unethical pastors, corrupt schools, materialism, and oppression in the layered "Tranquility."
A simple hi-hat, kick, and snare is all Phelps needs in the powerful "M-16s." "I'm on my job, on my occupation/I spark a blunt like a conversation/I got it locked with no combination because I'm whipping and snapping like dominatrix," he raps.
The Wave 4
meets expectations because the production is top notch, and it's Mic Phelps being "Mic Phelps." Phelp's lane is defined by the energy and substance he brings to the beats, not the other way around. Phelps has released a lot of projects, and if for some reason you still don't know who it is; pick up
The Wave 4
and get familiar.