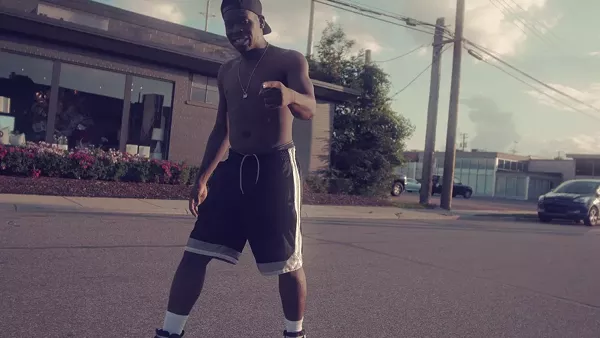 Metro Times
first caught up
with Chavis Chandler in 2014 back when he was riding high off his projects
Breath of Fresh Air 1
and 2 and
Bridge Card Raps
. All three made a strong buzz in the streets of Detroit and it appeared that Chandler's proverbial "coming out" moment was near.
Fast forward 4 years and 2018 seems to be the year of Chavis.
One Winged Angel
is a collection of 15 deeply personal cuts — sometimes inspirational, but other times vengeful — that compose the best representation of who Chandler is at this point in his career. Chandler is swinging bars like Mjölnir as he hammers his haters, confronts his demons, and lauds his loved ones.
The album opens with "Modulate," a gritty cut that would be well-suited as a festival banger in which Chandler raps, "I came up from a place where most these niggas don't make it/ blessed just to come out the ghetto with greatness, all that shit took was patience." Chandler's raspy and roaring vocals and shoutouts to his mother set the tone for the rest of the album.
On "
Demons,"
he sings and raps about the setbacks and tribulations he's had to fight throughout his life. "I'm on a ghetto nigga journey with a
muthafuckin
target on my chest screaming, 'fuck the law'/ I don't think these niggas heard me when I said I was back, I came to finish y'all/ Have I ever pretended with you, dog?" he raps, while on "Gingerbread Man" he raps over subtle keys to celebrate himself: "We the juice crew/ I do what I choose,
boo/
Mirror on the wall tell me that I can't lose boo/ Fishbowl to window see me when I peruse," he raps.
"New Choppa Style" is an airy,
fast-paced
head nodder, "Duck Down IV," is another potential festival banger, and "Finish Em" is nothing less than boom-bap lyrical supremacy.
The real substance comes when Chandler travels to another level of transparency
on
the second half of the album. "108 Days" is a touching lyrical appreciation of his mother and daughter (there is cooing in the background toward the end of the cut that may very well be his daughter's), "Ups & Downs" is inspirational, and Chandler tackles heartbreak, suicide, and the lessons he was told by his mother on "Mama Told Me."
Producers Eli Myles, Beware, Jerry Parker, Alo Genius, Whaye & King Charles, WS Kharri, Young Roc, Crowe and Dennis Mars, and Denaun Porter all contributed their talents to the album. Hip-hop vet Royce Da' 5'9" also stops by to drop a hot 16. Overall,
One Winged Angel
is exactly the high-caliber album fans have expected from Chandler. Chandler has poured his soul into this album, and we are all better for it.
Stay on top of Detroit news and views. Sign up for our weekly issue newsletter delivered each Wednesday.