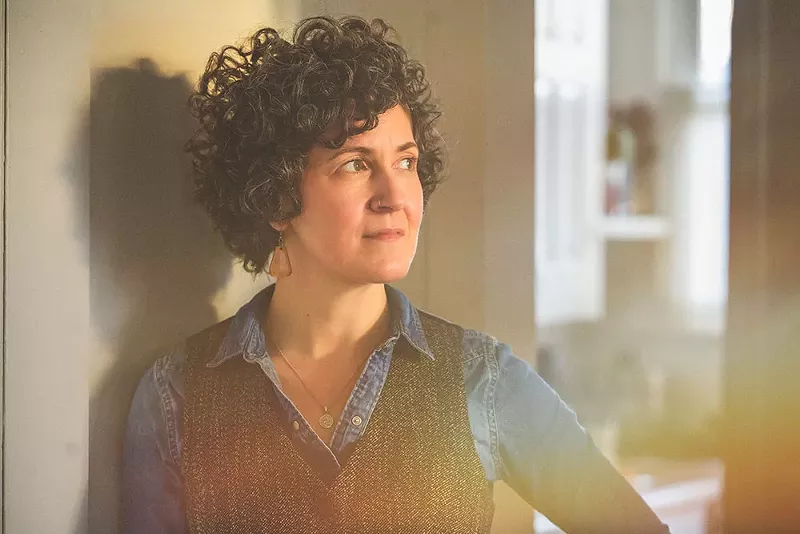 It's morning on an uncommonly beautiful winter's day when we reach out to Misty Lyn Bergeron for an interview — a remarkably bright, cloudless day with vibrant blue skies. Which is exactly why Misty Lyn asks to postpone the conversation until after dusk, because, she says, she just wants to "utilize this sunlight."
And of course she would. Of course she should. We all should.
"I need light in my life," Bergeron says, bluntly, fully aware that she could very well be speaking for anyone and everyone, as we each, in our own way, regain our physical and mental footing in the aftermath of a pandemic. "Maybe you can tell from the lyrics that I've shifted into a softer place. I use the word 'love' a lot, but I mean it in a universal kind of way, not in a sappy, sentimental way. I've changed. I'm a bit more humble, perhaps. I used to be more sharp and cynical and I wrote a lot about the darkness in my life. That can be useful, but now I have access to this other side of things, and it feels more natural for me to include the light."
If you need light in your life, then you need Misty Lyn & the Big Beautiful's Narrows piping through your earbuds as soon as you're done reading this article. The Ypsilanti-based singer-songwriter, and leader of the versatile roots and folk ensemble whose band name suggests something of immense grace, will celebrate the release of its third (but technically fourth) full-length album, Narrows, this Friday at The Ark in Ann Arbor.
Light
Bergeron has been singing for much of her life, but she's been writing and performing her own music around the Michigan scene for nearly 20 years now. By the time her debut album, For The Dead, was released in 2009, she was already a staple of the Ann Arbor and Ypsi area's burgeoning folk scene, supported by the Big Beautiful (made up of songwriters, producers, and wickedly talented musicians in their own right) including Carol Catherine on violin, Ryan Gimpert on guitar, Jim Roll on bass, and Matt Jones on drums. Mary Fraser (also of the band Child Sleep) joined on keys a couple years ago, and songwriter Timothy Monger is now on bass.
Several songs on For the Dead and its 2012 follow-up False Honey are a ruminative mix of fairly forthright autobiographical odes with vibrantly descriptive lyrics that sporadically leaned into subtle poetic symbolism that left a door open for any listener's subjective interpretation. Narrows, meanwhile, is not a concept album, but there is one consistent motif, a word that appears and reappears in the lyrics of many of its 10 songs: Light.
Sometimes the presence of a light is even indirectly referenced as simply the natural counteragent to darkness, as it is on the song that gives the album its name. "You are not alone, even in the darkest places," Bergeron sings in a magnificently lachrymose falsetto from the song "Call On Me." "You are not alone," she repeats, "even in the sharpest narrows."
"There's a cool bright hope, streaking through the night," Bergeron sings on another song, "Keep On The Light." And it's noteworthy that words such as "hope" are also periodically repeated, as well as "love." Indeed, there is a lot of love on this record, much of it unconditional; there is also a lot of hope on this record too, much of it unflinching in the face of an all-consuming unrest.
Narrows, then, could be the musical equivalent of a much-needed infusion of a cosmic dose of vitamin D. Along with light and love and hope, there is also an enduring empathy and a profound humbleness. There are a couple songs that evoke a yearning and an appreciation for feeling smaller, or literally narrowing your perspective of the world — as well as of yourself.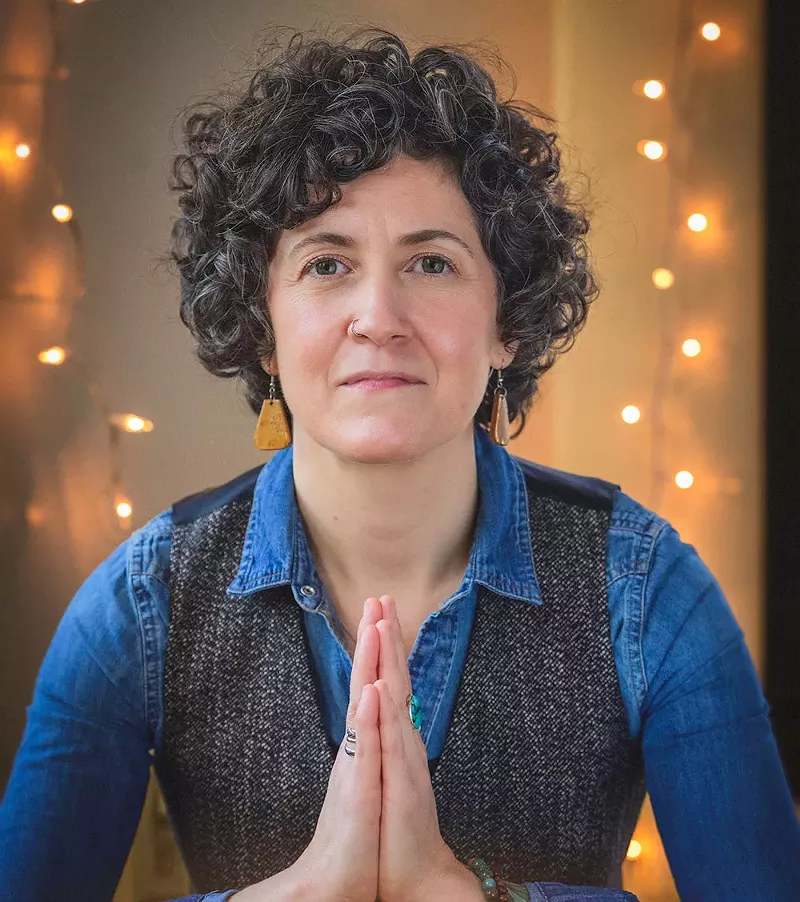 Surrender
"I think there are two sides to being humbled, though," Bergeron says. "There is the hopeful side I sing about on Narrows where things become more simplified and what no longer serves you falls away. It can open you up to seeing the world in a new way. But when your ego gets involved being humbled can feel like an attack on your identity or your way of being in the world."
When "humbled" is suggested as an apt word to describe the perseverance and patience required to finish Narrows, Bergeron says that "the word that actually comes to mind is 'surrender.' This record had its own ideas about how and when it would be released into the world, and I eventually just had to surrender to it all. For whatever reason, it had to happen the way it happened."
While it's technically been 11 years since Bergeron's most recent album, that gap of time dividing her discography is deceiving. She actually had two full length follow-up albums, including Narrows, essentially completed before the pandemic put everything on pause.
"Most of what you're hearing on Narrows is a live recording," she says. "A big chunk of the album was all done live within one weekend, in 2017" with her band, of course, the Big Beautiful. "Because my goal, back then, was to finish it quickly!" she says. "I wanted to do a record really fast."
"Sometimes it feels like I wrote these songs for my future self."

tweet this
Her reasons for expediency came in the wake of a terrible car crash that left her seriously injured in the late summer of 2015. "So, Narrows is actually our fourth record," Bergeron says, "There's an entire third record that we were working on before that, an album that I was in the middle of when I got in that car accident." By 2017, though, after a long physical and mental recovery, Bergeron had been writing a lot and was feeling a need to start something new. "I wanted to go to a studio we'd never used [La Luna in Kalamazoo], and see how much we could get done just living in the new songs for a weekend. I wanted to experiment with a mostly live sound, including my vocals, and not get caught up in the overthinking and perfectionism that can hold up a record."
And the experiment paid off, initially. The bulk of Narrows was completed by late 2018. But, Bergeron says, that's when her "whole life kind of stopped."
"Over the last four years I have been dealing with some mental and physical health issues and deep grief because of a relationship that ended," Bergeron says about the inertia that halted Narrows' progress. "When the pandemic hit, it amplified all of it to a point where… well, I honestly feel lucky to be here talking about it today. I was isolated for over two years in a way that I'm still processing. Everything I love and that gives me a feeling of purpose … involves people gathering together. And it was all gone overnight."
Bergeron says, as the pandemic lightened up, "I got my wits about me enough to be able to start mixing and mastering [Narrows]. But it was slow. It was really hard! Everything I did felt like I was moving through water, barely able to keep my head above the surface. Such is depression and anxiety. I'm not sure how I was able to do it."
She adds, "but I did it. … I had something bigger than me helping me out."
Grace
So she surrendered. "That's been the big lesson these past few years," she says. "Learning where I have control and where I don't, when to let go and trust the process, accepting that I might never know why the timing of the universe is the way it is. Surrendering to it all."
And despite the fact that these lyrics of love and light and hope were written some time ago, "It does, in some ways, seem perfect that it's coming out now," she says.
"We all just collectively went through the wringer," Bergeron says. "I was humbled by it and it opened my heart in ways that I'm still discovering. I imagine there is a chance that this happened to other people, too, and it might make folks more open to receiving a record like this than they may have been before. Maybe after this experience we can all stand a little more love and hope anywhere we can get it. Sometimes it feels like I wrote these songs for my future self."
One song, "Hard to Hear," is a standout because it's the only one that directly addresses the car accident: "In a cool dark place, there was empty grace, I came back to face… myself again," Bergeron sings. "[Just] after the impact of the cars in the head-on collision, I was floating between two places," she says. "I would be in my body in excruciating pain with bright red behind my eyes when I closed them, and then it would switch over to this cool, dark void. I was not in my body, but I was still conscious and aware, and I felt relief and like I was being held. That's what I'm writing about."
Bergeron says she felt like "whatever that was has always been holding me even when I couldn't feel it." As she navigated some health issues toward the end of 2022, "because of that I found a new energy that allowed me to get things done that I was unable to do before," she says. "Now that I'm feeling better I can see that alongside the darkness of the last few years there is also beauty. In retrospect I can see where I was held and that there was so much grace."
And when she implies good things happening at the end of 2022, she's referring, in part, to the successful crowdfunding campaign on Kickstarter to support the record. Even if the record wasn't "done fast," the campaign certainly met its goal with endearing expediency — yet another reminder of the grace in her life, Bergeron says.
"Many of the good things in my life are born from my music, or just being a musician," she says. "[Music] has formed this life for me; everything's built around it. Music's not the end-all, be-all, but I can see the grace that comes through it and the people that I get to know because of it. … I'm coming to the part where I can look back and be grateful for some of it, grateful for how I've grown and changed. And to see the community support from the Kickstarter felt like a lift up into the next phase of my life."
Perhaps no song captures this note of prevailing gratitude better than "Love is You," one that's not just about a humbling epiphany and growth, but also repeats the words "light" and, particularly, "love," more than any other song on the record. Bergeron says this repetition was intentional. "I often listen to kirtan and I find comfort in mantra," she says, referring to a call-and-response style of music native to India. "It's a way for me to get back to my center and remember myself, a way to get underneath my ego, to remember what's important," she adds. "It comforts me physically. There is a healing energy in it, to keep repeating words that are empowering. As Maya Angelou said, 'words are things.'"
She continues, "But the lyrics aren't me, like, telling you what's what. I am discovering it with you. I'm sharing what has been revealed to me. I'm not telling you it's love, I am realizing it's love and saying it out loud. Like, 'Ohhh! It is love! Did you know that?'"
Would she have been so on point, so eloquent, so earnest in this interview had she done it hastily in the morning, like we'd planned? Or was it best, in the end, to take that time, and spend it not only outside, but out in the light — absorbing it, witnessing it, listening to it, even? And then bringing that light to this conversation? "All it takes," Misty sings, "is a little light."
Coming soon: Metro Times Daily newsletter. We'll send you a handful of interesting Detroit stories every morning. Subscribe now to not miss a thing.

Follow us: Google News | NewsBreak | Reddit | Instagram | Facebook | Twitter