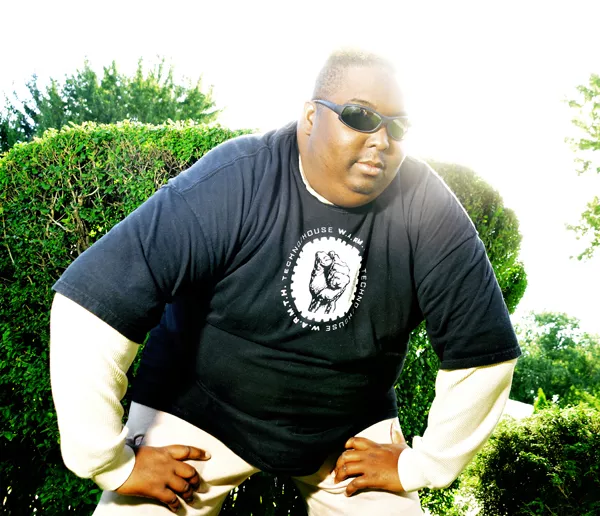 Aaron-Carl Ragland, who died with shocking suddenness last week from complications of lymphoma, shaped his musical career by challenging all boundaries and taking on enemies and friends with equal fury.
He was diagnosed with the disease only days before he died. He was preparing for a European tour when he became ill last month. Aaron-Carl — his friends and fans rarely used his last name — died Sept. 30, at Detroit's Henry Ford Hospital. He was 37.
His professed music was house, but it did not stay house exclusively. His talent was too large, to be restricted to one genre.
It first attracted the attention of techno tactician Mike Banks, who started an Underground Resistance sub-label called Soul City in 1996 to nurture the maverick energies of Kenny Dixon Jr.( Moodymann), Gerald Mitchell ( Los Hermanos) and Aaron-Carl.
But it was a two-sided release the same year on another UR-related label, Ghetto Zone Records, that made all on the electronic music scene in Detroit — and far beyond — take notice.
"Wash it/Down" was unlike anything else that came before it in the double-barreled local house and techno scenes. It brought in new influences, like Miami bass, Baltimore club, hip-hop poetry, reaffirming the role of Prince as an inspiration for all of the above, and re-making him unambiguously gay. It divided the purists. At the same time, fans of the hybrid style called ghettotech began to multiply.
"Down," especially, was a track shot out of a cannon. It was a personal declaration by a young black gay man that he was in control of his sexuality, sharing his desire in every lusty detail. A-C's strong, transparent identity — he made his life an open book and communicated its ups and downs using a microphone in the club, in phone conversations and later via social networking sites — was a cross he would bear the rest of his life.
In his last public transmission, a video he recorded just days before his death, he said: "For years, I've noticed I was 'hated.' Now at this time in my life, I realize that I'm actually loved."
Those themes were amplified in his lyrics to songs like "Homoerotic," "Ex-Boyfriend (Revenge is Sweet)," "Hateful" and "Crucified." There are more than 100 in his discography, with many more still unreleased. He never stopped living and working. He pushed himself until he couldn't do either anymore.
Aaron-Carl called me from the hospital after his diagnosis. He called me again the next day from home after he was discharged from the hospital. He told me that he was going back in a few days for a bone marrow biopsy and other tests. His moods, he said, "were swinging like crazy." But he also said he was not backing down and was confident he was going to beat his cancer. I'll never forget what he said next: "I feel empowered. I can't describe it any other way. I feel stronger now than I've ever felt."
He meant every word. I knew he would fight his final enemy to the end. He was gathering all the power he could muster, ready for the ultimate challenge.
We first met in 2005, when I went over to his house in Lincoln Park to do a profile for his appearance at Fuse-In, the festival helmed by Kevin Saunderson squeezed between the original Detroit Electronic Music Festival and the current Movement.
I came over again later that year to do a Subterraneans column we called "The bitch is back," to put a spotlight on his new release, Detrevolution, on A-C's own Wallshaker label. I met Aaron's life partner, Mel Winders, and the two boys they'd adopted, Stefan and Jevon. I did a photo session in his basement studio and was surprised at how shy, sweet and uncomfortable Aaron was in front of the camera. I asked him to sing for me and he couldn't — until he took some time to breathe and relax. He was too nervous to sing, he said, he'd been told his voice wasn't good enough. When he finally did, he sang in one of the most lovely and distinctive voices ever to come out of the global electronic music scene. He brought authentic humanity to a scene often overwhelmed, to its detriment, by cold-hearted technology. It will be but one piece of his legacy.
His friend and collaborator Maurice Herd — best known as Pirahnahead — said he and Aaron-Carl became close when they traveled to Germany to perform in 2005. The trip was cut short when A-C's mother died unexpectedly and he had to fly home from Cologne.
"I wanted to come home with him. I didn't want to play some parties after something like that happened," Herd said. "But Aaron said, 'No, we can't disappoint the kids who came to see us play.' He was strong, man. He knew how to deal with pain and convert it into something even stronger."
Herd said Aaron-Carl's true gift to the world was "to be real on every record he made. He told me, 'Always say it as it is. Be the fuck who you really are.' He was a revolutionary artist. It may take his passing for him to get his due respect." That may indeed happen. Over the last year, Aaron-Carl has been developing a project called Warmth International — a movement to bring together the fractured house and techno scenes, and to begin building a more unified Detroit dance music culture. He was doing this at home and abroad, on radio broadcasts and at live events. A huge outpouring of support and condolences for A-C during his illness and at the news of his death has come from fans and colleagues overseas. Dedications are pouring in from peers as far away as Japan and South Africa.
There were plans in the works for a building to house memorabilia, to serve as a meeting place and, of course, as a hotspot for DJs to spin and dancers to dance to the music A-C dedicated his life to making.
Long live the memory and the influence of this jolly giant of a man-child. He will be sadly missed.
There is a memorial service for Aaron-Carl Ragland this Friday, Oct. 8, at Pye Funeral Home, 17600 Plymouth Rd., Detroit. Services begin at 9:30 a.m. Donations for the family can be sent to Wallshaker Music, 7597 Ziegler St., Taylor, MI 48180.