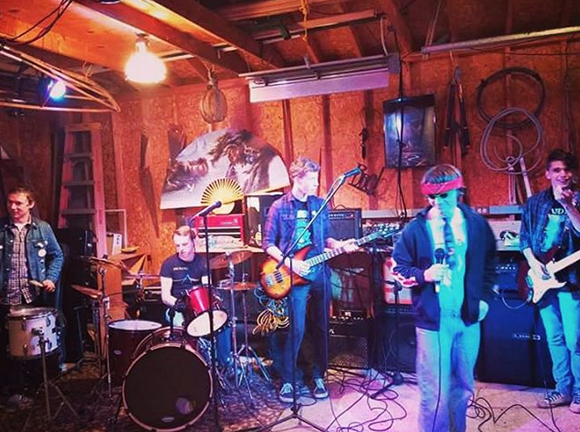 Summer is close (despite what the weather's been suggesting) and music festivals are upon us. Unfortunately, so is being broke as a result of attending said music festivals.
Luckily, there's a group of friends who have been posting up and playing garage shows in Allen Park. It turns out, people were really into this garage show vibe, and each one grew a little bit larger than the last.
As a result of this growth, the main guy who runs these shindigs, Andrew Cora, has moved the garage show into a field in Allen Park and has named the event "The Incredible Downriver Band Festival." It's for a full day starting at 1 p.m. June 4, the lineup contains eight local bands, and it's only $5.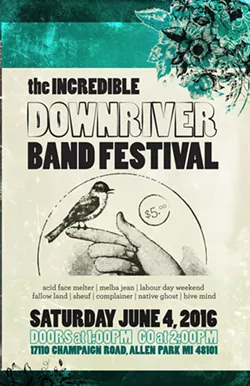 Oh, and the
Facebook page
promises "A LOT OF PIZZA," so it's already one of the most promising events happening this summer.
This festival will have a variety of music with bands like Hive Mind having an indie/emo-rock sound, to bands like Complainer, who rock out in a folk-punk style and everything in between.
If you'd be interested in supporting some of these local bands, you can contact Andrew Cora via the
Facebook page
for the $5 wristband that gets you into the show. The wristband has the words "I survived the pit at Band Night" sketched across it, and if that doesn't sound like an intriguing time, I don't know what does.
Allen Park may seem like a mundane city, but this festival promises to make a trip to these small streets incredibly worth it. But, don't just come alone (I mean you can, but the more the merrier): Bring your love person, bring your friends, and please, for the love of everything, bring your dog.
Listen to some local bands rock out under a tent and maybe, if you're up for it, get in the fucking pit. Or just stand in the field and calmly enjoy the music — that's cool, too. There will be plenty of music to sway to and plenty of people to talk to and plenty of dogs to pet. And did I mention there'd be pizza?