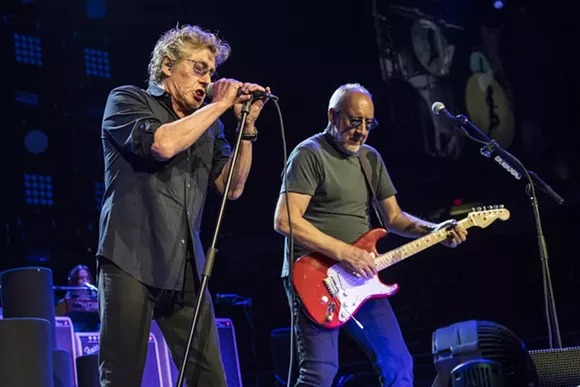 The Who takes a final bow in Detroit
See 32 photos from the show
The first time I heard of the Who was when I was watching "The Concert for New York City," after 9/11 happened. I was nine years old and I remember seeing legend after legend for the first time — discovering Bowie, McCartney, Eric Clapton, and also The Who. I became an instant fan when I heard Roger Daltrey sing "Who Are You?" and was constantly reminded of their brilliance Saturday night at Joe Louis Arena.
The last two original surviving members of The Who (Roger Daltrey and Pete Townshend) are touring the U.S. for what they say will be the last time, and Detroit was the first stop. After opening up with "Who Are You?" I was already content. Townsend is still a legend on the guitar, always down to entertain the crowd with his famous windmill strums. And Daltrey swings the microphone any which way he can.
Townshend spoke fondly of Detroit as the city where the band first broke out in the U.S., and the evening was peppered with references both onscreen and onstage to the Grandie Ballroom.
The night continued on with the classics like "The Kids Are Alright" and "I Can See For Miles," but the dedicated and enthusiastic crowd really came to life when "My Generation" was played.
Before this tour started, the band announced that this would be their last time touring— even telling
the Free Press
that they won't play Detroit again. The tour, originally scheduled to stop in Detroit Oct. 17, was postponed to allow Daltrey to recover from viral meningitis. The frontman was a little slower on stage at times, but was in strong voice on difficult pieces such as "Love, Reign o'er Me."
Townshend talked frequently during the show, and was energetic and funny, even referring to himself and Dalrey as "wise and wonky wankers."
They closed out the evening with favorites "Baba O'Riley" and "Won't Get Fooled Again."
It really was a special night. I could feel that Daltrey, at 71, and Townshend at 70, were really giving it their all. I'm sure that The Who will still play special appearances until they physically no longer can, but this felt like an ending in a way, just more sweet than bitter.