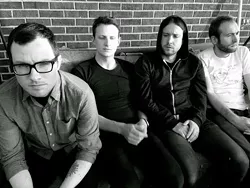 Saying that Haunted House writes and records songs is a bit like saying that van Gogh drew sketches — it just doesn't do the end product justice. You have to delve a little deeper if you, the listener, are going to get everything you can out of the Haunted House experience.
Listen to "Shredder (Secret Cove)" and "Trophy Life" on the Haunted House Bandcamp page and you will discover a band intent on painting with music, creating lush aural landscapes dotted with Detroit grime. The combination of electric and electronic instrumentation might not be anything new, but with these guys it's not the tools but the way they implement them. The soundscapes of great classical music are emulated by these four men — the emotional impact and the lingering feeling of understated grandiosity. Not many groups can pull that dichotomy off. As they say in their press bio, "Eighties-inspired drums combine with both familiar and original guitar sounds to create a seamless, cross-generational hybrid of indie, post-punk and alternative."
These guys have had practice. The quartet (vocalist and guitarist Joe Walmsley, guitarist and programming guru Mark Smak, vocalist and drummer Jeff Supina, and drummer Brian Connelly) has been playing around town for a while in such bands as Deastro, the Weakened and Glossies. That list of bands gives an immediate indication of where these guys are coming from. Deastro in particular has been redefining electronic music in Detroit's indie scene for years now. Glossies, meanwhile, had a sound that they themselves wittily described as "apple core, stumble pop, neo-tranquility and collision therapy." Influenced by everyone from Lady Gaga and Alfred Hitchcock to Queen and Kraftwerk, the Glossies played locally with the likes of Lighting Love and the Thornbills. Those experiences are being carried forward here.
"The four of us have known each other for a long time and have all played in Detroit-area bands together, with the exception of Mark and I," Walmsley says. "I suppose that's what makes this band different for us versus the bands we've been in previously. In the end, I think it's hard for us to say that we started anytime before this year."
Smak describes the Haunted House sound as "getting dumped by your first girlfriend, going to the movies by yourself, and then wandering around the woods at midnight with your best friends." As bleak and perhaps melodramatic as that sounds, it pretty much hits the nail on the head — that feeling of loneliness and overwhelming depression, and the beauty that can be found in the depths of despair.
"We take a lot from '80s alternative bands," Walmsley says. "I know that Mark is into experimental hip hop as well."
That's certainly apparent. Everyone from Depeche Mode and the Cure to Swans and even a little Skinny Puppy can be heard in the blackness of Haunted House. But there's also warmth in the darkness. Perhaps it's the organic use of "real" instruments, particularly the drums, providing a gorgeous frame for the lush keyboard. All that, despite the fact that the songs are written using a drum machine. "Most of the album we have been writing was inspired by a drum machine I got for Christmas a few years ago," Smak says. "I wanted to write music that sounded contemporary, but borrowed from the sounds of the darkwave bands of the '80s. I feel like a lot of bands today use too many software tools. I wanted to write an album where we were restricted by the instruments we already had: guitars, live drums and a drum machine. I write most of the music, then I'll show the guys. Once everyone is happy, Joe will write the vocal melodies and lyrics."
What with the turmoil that the city of Detroit has been going through of late with the potential bankruptcy hanging over our heads, one could be forgiven for thinking that at least some of the darkness surrounding the band is carried over directly from the environment. After all, the media, particularly outside of Michigan, has done its best to push the idea that Detroit is currently little more than a war zone, a city embroiled in chaos, the people suffering like hungry dogs in a desert. Even if there's the slightest iota of truth to the mainstream noise, would that surely have an impact on a band as naturally influenced by misery as these guys? Not so. "The state of the city has no affect on the band whatsoever," Smak says. "If anything, with all of the press Detroit has been getting, I feel that it's a great time to be an artist living in the Detroit area."
Some might think that a band with the name Haunted House will be a cheesy outfit, maybe a horror-punk band with a Misfits vibe, or a My Chemical Romance-influenced emo affair. It inspires thoughts of Disney theme park rides or, at best, suburban Detroit Halloween attractions. In fact, the name comes from a paranormal place.
"My house is haunted," Smak says, without the slightest hint of irony. "My grandparents' house was haunted. It runs in my family. We were trying to think of band names for the longest time. It's so hard trying to think of a name to represent yourself. We knew going into it that Haunted House was going to evoke a certain reaction from people. I've been told by many people that it's a horrible band name. I think it's awesome. I couldn't believe that there wasn't already a well-known band with that name."
On Thursday, Haunted House plays a Fueled by Detroit show at the Shelter. Also on the bill are the Hounds Below and Lord Scrummage. That is an incredible trio of bands to be coming together for one show, three innovative groups intent on creating fresh and new noises at every opportunity. The Haunted House guys are excited. "We always look forward to playing shows," Walmsley says. "At this point we're just trying to get our name out there. The opportunity for this particular show came up and we jumped. We're definitely familiar with the other bands and can't wait to play with them."
The guys plan on keeping busy for the remainder of the year and beyond, with shows coming up and records to record. "As far as shows go, we're playing at the Loving Touch in Ferndale on Sept. 20, with Javelins for their 7-inch release," Walmsley says. "We're always going to be writing new music. Currently we're looking to get some support from a label, but either way, recording is definitely in our future."
Plenty to be cheery about, then.
Haunted House plays Fueled by Detroit at the Shelter with the Hounds Below and Lord Scrummage on Thursday, Aug. 8; 431 E. Congress St., Detroit; 313-961-8961.
Brett Callwood is a staff writer at Metro Times. You can email him at [email protected]