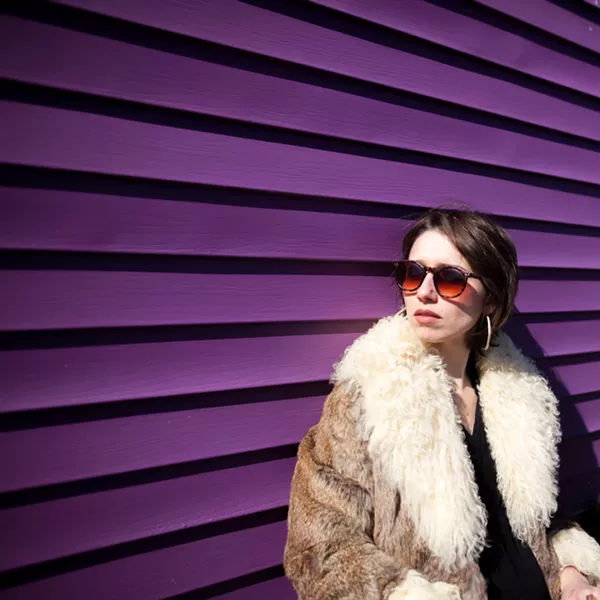 The next few days are going to be busy for Virginia Nastase and Joe Myers.
Two years ago, they started their band Virginia Violet and the Rays after a chance meeting at Imperial in Ferndale. Now, after releasing an EP, touring, gigging around Detroit, and writing more music, the band is in the midst of a two-week span that includes a performance at the Fillmore, a music spot on WDIV Local 4, the release of a new album and music video, and an album release show.
The pair writes all of the music for their nine-piece band which includes Tommy Porter on guitar, Eric Childress on drums, Evan Mercer on keys, Garrett Gaina on baritone saxophone, Adam Dib on alto saxophone, Chris Kendall on trombone, and Dave Vessella on trumpet. Myers plays bass while Nastase, who performs as Virginia Violet, sings.
"I always wanted to be in a band with a horn section," Nastase says.
I meet with Nastase and Myers at a coffee shop in Ferndale on the day before their performance at the Detroit Music Awards at the Fillmore. They're not nominated this year but are one of six local performers including Liquid Monk, Frontier Ruckus, and Sponge.
A week later, Virginia Violet and the Rays will release their debut album, On the Fringe, and will host a release show at The Loving Touch the same night.
On the Fringe is fun-loving funk indebted to Motown and northern soul. It's an energetic record with catchy songs, boisterous horns, soaring vocals, and Gordon Smith's crispy production. Smith, who performs in Kickstand Band, recorded, engineered, and produced the record from his house in Woodbridge and at Henry Ford Community College in the summer of 2017.


The band doesn't hide their love of Motown, describing themselves as "Modern Motown" on Facebook. They also don't limit themselves to just a nostalgia sound.
"We try to keep in mind that we're from Detroit and do it justice," Myers says.
These two are by no means stuck in the '60s. Nastase is big on Coconut Records while Myers is into newer releases from Brooklyn's Daptone Records, The Budos Band, and Detroit's Will Sessions.
"I would never claim to be Motown because that was more than a sound — it was a time and a movement," Nastase says "The 'modern' part comes from our folk, rock, and jazz influences bleeding into it."
That being said, Myers and Nastase seem to prefer old school to new school. They tell me about their desires to see Aretha Franklin, Stevie Wonder in his prime, and Jackie Wilson before his death.
Myers is a student of soul, rattling off names of old singers with ease - a real record nerd. I feel like I'm in the R&B section at Found Sound Records a few doors down.
After returning home from a trip to Europe a few years ago, Myers interest in that period of music grew, particularly his interest in northern soul — music from England in the late 1960s influenced by Motown Records and their sub-labels like Tamla, Gordy, and Miracle Records.
"Europe turned me onto northern soul," Myers says. "I had never heard of it and I got taken to school a bit. There was so much interest in old records from Detroit that I've never heard of and it was a total awakening for me."
Myers says his budding interest in northern soul is what drove him to start this project and his meeting with Virginia the day he returned home from Europe came at just the right time.
Two years later and their partnership has blossomed into one of the city's most exciting new bands, informed by the past but not stuck in it. With the seeds of their project taking root around town, Virginia Violet and the Rays is keeping soul alive and well in Detroit.

Virginia Violet and the Rays will play an album release show on Friday, May 11 at the Loving Touch; 22634 Woodward Ave., Ferndale; 248-820-5596; thelovingtouchferndale.com; Doors at 8 p.m., Tickets are $10.