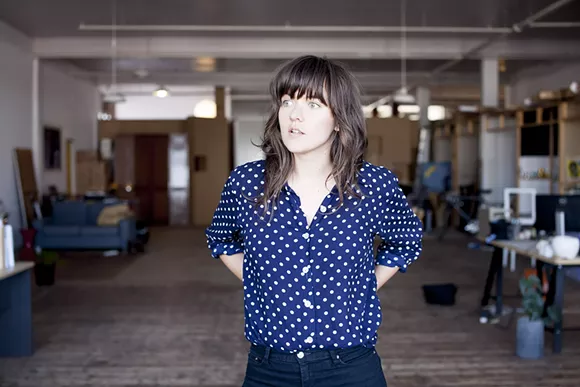 If you follow all of the popular music blogs like
Pitchfork
or
Consequence of Sound
, then you've probably heard of Australia's newest import, Courtney Barnett. Her debut album,
Sometimes I Sit and Think, and Sometimes I Just Sit
, came out last year to major critical praise. Not only does she channel the lo-fi garage rock sounds that were so eminent in the 90's, but her lyrics come from a place deep within Courtney's head that are witty, existential, and just so damn relatable. Examples? "Put me on a pedestal, I'll only disappoint you" and "I wanna go out but I wanna stay home." What 20-something can't relate to that? We caught up with Courtney before her Detroit debut tonight at the Majestic Theatre and talked about her recent
SNL
gig, being relatable, and Vegemite.
Metro Times:
First of all, congratulations on SNL! That must have been insane. How was it?
Courtney Barnett:
Yeah, it was rad. So much fun. I was so nervous, I didn't eat for days.

MT:
Is
SNL
that big of a thing in Australia?
Barnett:
Well, I don't even think it's on our TVs in Australia, but I grew up watching tapes of it that we rented at the video store. But it was a pretty big deal for me.
MT:
Was it unexpected when they asked you to perform?
Barnett:
Kind of, yeah. It's been in the works for a while.
MT:
You've been on tour on and off for a while now. Is it difficult to write on the road? I know you released "Three Packs a Day" a few months ago.
Barnett:
Yeah, sometimes it is. I manage to do a lot of writing, but it's not exactly writing songs. I'll write about something that happened to me and that could turn into lyrics.
MT:
When I listen to your songs, each one seems to focus on one specific moment or theme in your life. Why do certain ones stick out to you and make it into a song?
Barnett:
Well, I'm not really sure. I guess that's something I struggle with when I'm writing. I guess the practice of writing is that. I try to elaborate with those moment and see what comes. Sometimes the shit all comes from it, ya know? (laughs). And then sometimes a nice little song comes along. I guess it's a slow process.
MT:
Your music is so relatable, does it ever get weird or odd when people take the lyrics a different way than you intended? Or is it even weird when people relate too much?
Barnett:
No, ya know I think that is what music and songwriting is. Once you release a song, it means what it means to you, but it's up to interpretation to every person that listens to it. People are naturally going to project whatever they want. It's a nice thing when I hear that people have nice connections to my songs.
MT:
Makes you feel like you're doing something right.
Barnett:
Yes, exactly!
MT:
A lot of the themes on the album deal with not being confident, or being really anxious about a situation. But when I've seen you perform live, you seem so free and confident.
Barnett:
Yeah. It's hard for me to tell because people tell me as an outsider they are witnessing something great. It's hard for me to tell what's going on. It's weird. To me, I was so nervous before
SNL
and I think my nervousness comes across as this severe naturalness and calmness and rock n' roll. But I'm really like flaring around with nervousness and mad at myself that I am. I deserve to be having fun up there. And to people in the crowd they're like, "Wow, she's really rockin' out."
MT:
Yeah, there really is a contrast between being this rock star on stage and these not-so-confident lyrics.
Barnett:
Yeah, I like that. That's starting to make a little more sense to me as I go along.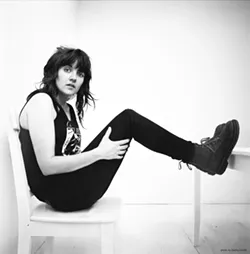 MT:
You worked on the
Grateful Dead cover album?
How did you get involved with that?
Barnett:
Yeah, I was. The guys from The National were curating it and I love the Grateful Dead. There was just so many awesome bands involved and it's a cool thing to be a part of, I reckon'.

MT:
Do you enjoy covering songs or even find it beneficial for your own songwriting?
Barnett:
I guess, but I also think it's just fun. When I started playing guitar and learning other people's songs. And the early bands I was in we would start out covering. But I suppose you learn things about the songs along the way. I sometimes also think you don't totally understand how great a song is until you've covered it. We played at the
SNL
after party the other night and did "Dancing in the Dark." The cast member Sasheer Zamata sang lead vocal, and we were like, "holy shit, this song is so good." And of course it's always been a good song, but once I learned it on guitar, I was just like "wow, this is great."
MT:
Speaking of guitars, you play left-handed. Do you do anything else with you other hand?
Barnett:
I think I'm all the way left-handed.

MT:
I'm left handed but I do other stuff right-handed like golfing or if I ever decided to randomly play baseball I would do that right-handed. But writing is left-handed.
Barnett:
Oh, wow, that's weird, eh?
MT:
A lot of young people relate to your music and the word "slacker" gets thrown around to describe you. Do you relate to those words at all? Or even "millennial?"
Barnett:
I'm not really good on the terms. I'm not even sure if I fully comprehend them honestly, so I'm just like "uhh, whatever." I guess I would never call myself a slacker or millennial.
MT:
You mention Vegemite in one of your songs. Can you please describe the amazingness that is Vegemite?
Barnett:
You've tried it?

MT:
Yes! I went to a summer camp when I was younger and there were Australian counselors who brought it and made us all try it. I loved it, but not a lot of other people did.
Barnett:
Yeah, that's weird people don't. It's pretty much a spread that you put on toast or whatever. It's weird, though. It's like a yeast extract or something? But it's so great. I guess it's kind of like marmalade. You have marmalade here, right?

MT:
We do, but I think marmalade is sweet and Vegemite is pretty salty and bitter, right?
Barnett:
Yeah. We take it on tour with us.
MT:
Do you enjoy the life of being on tour and on the road?
Barnett:
It has good and bad moments, but mostly it's pretty fucking amazing. You get to see the world.
MT:
This is your first time playing Detroit, right?
Barnett:
Yes it is! We're really excited.

MT:
Have your heard any stories from other bands or friends?
Barnett:
We just know that the audiences are crazy. I'm pretty excited to explore the city, though. My friend went there and found some old theater that MC5 used to play at all the time, I can't remember the name of it, though.
MT:
There's a lot of old buildings like that. Maybe the Grande Ballroom?
Barnett:
Maybe, I'll have to ask. It sounds pretty fucking cool.
MT:
One last thing, you were nominated for Best New Artist at the Grammys. What was that experience like?
Barnett:
Oh yeah, that was fun. I didn't have any expectations, but it was just cool being at the Grammys, I guess. It was a good experience to have.
You can see Courtney Barnett at the Majestic Theatre tonight at 8 p.m. Tickets are sold out but you can always seek alternative resale websites.