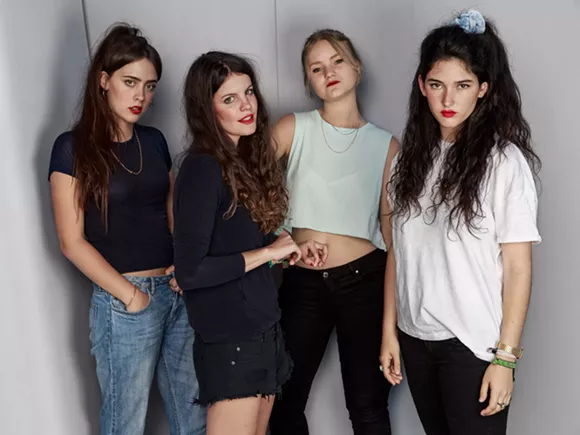 "It's so crazy that people like our music and come out to the shows. That has been the most surprising thing from starting this band," says Carlotta Cosials as we talked to her on the phone last week. The band she's referring to is the one she's apart of: Hinds.
The 4-piece garage rock band has been touring non stop since the creation of the band back in 2014. With the final leg of the tour and hopes to get back in the studio, now is the perfect time to see Hinds before they come out with a new album and take over the world.
Here are 5 reasons why you should absolutely, positively, 100 percent go and see Hinds tomorrow night at the Pike Room.
1. Their debut album Leave Me Alone was one of the best debuts of 2016.

This year may be depressing as fuck, but the new music that we've received is nothing short of amazing. Hinds' debut album
Leave Me Alone
is one of these albums where after listening you think, "what the hell have I just listened to?" The setup is simple: lo-fi guitars twirling around each other that easily categorize it into garage rock. But Carlotta and guitarist Ana Garcia Perrote write lyrics that remind you of texts that you might send to your ex after you've had a couple of beers: free and unhinged. The two guitarists trade off on lyrics, their voices intertwining like their guitars.
2. Hinds shows are wild.

We had heard through the grapevine that Hinds shows tend to get a little wild. When we asked Carlotta about it, she did not deny. "When we played smaller clubs, a few people would join us on stage at the end. Now it's like a ton of people come up and dance with us. It's so much fun." The intimate Pike Room will be the perfect venue to get up close and personal with the ladies of Hinds, and maybe you'll even get to jump on stage!
3. They have a feminist fire they you've been craving.

Watch this YouTube video and you'll understand why. Their lyrics are already punches to the throat ("I am flirting with this guy/ just to pretend I'm fine") but this interview with
NME
sums up the feelings for a lot of women in the music business. You go, Hinds!
4. New music is on the way!

"We can't wait to get back to writing and recording," said Carlotta when asked about new music. "We've been playing these songs for a while so I think we're all ready to do some new stuff."
5. It's their first show in Detroit.

Well, technically they're playing in Pontiac, but this is the first show for the band in not only the metro Detroit area, but in Michigan, too. Expect the band to go off because this may be their last time here until a new record comes out. Here's to hoping!
Hinds play the Pike Room Tuesday, October 25 @ 7 pm. Tickets
here
!