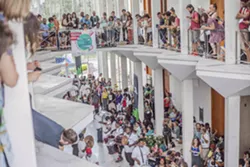 This year is the 18th annual Allied Media Conference and its tenth year in Detroit, June 16-19 on the Wayne State University Campus. Evolving from a zine-focused conference, the AMC now defines media as "anything you use to communicate with the world" and brings together a diverse group of media makers working to incite change.
According to their
website
, AMC defines
media-based organizing
"as any collaborative process that uses media, art, or technology to address the roots of problems and advances holistic solutions towards a more just and creative world."
I attended the AMC for the first time last year, and it is truly radical. For first time attendees, the AMC helpfully included this list of
10 Things to Know as an AMC First Timer
.
The conference kicks off tonight with a party at Marble Bar hosted by the "Godmother of House" DJ Stacey Hotwaxx Hale. It starts at 8 p.m. and will feature sets by the following DJs: Lena, Thornstryker, Dj RImarkable, Jen Xerri, Mother Cyborg, Stacey Hotwaxx Hale, and the Ghita Sisters featuring Milan Ariel live. Food will be provided by "Almost Gold," including omnivore + herbivore options.
Do yourself a favor and take some time to look over the
schedule for the conference
. With over 300 sessions, there's a lot to take in. We're particularly excited about the
Women in Hip Hop track
, and
the concert they are presenting on Friday night at the Garden Theater
.
Allied Media Projects, which organizes the AMC, posted on their Facebook page this week:
"For the second year in a row, we will begin the AMC mourning a massacre.
Our love and grief go out to the queer & trans, black & Latino
communities of Orlando and everywhere. Summoning healing and resilience with all our hearts, we will continue to resist a world that dehumanizes our communities and sanctions murderous violence— whether in the name of religion, heteropatriarchy, white supremacy, or patriotism. We will continue to cultivate dance floors as sacred spaces for queer love and liberation."
Get ready for tonight and the rest of the AMC by enjoying this mix by the Godmother herself, Stacey Hotwaxx Hale: