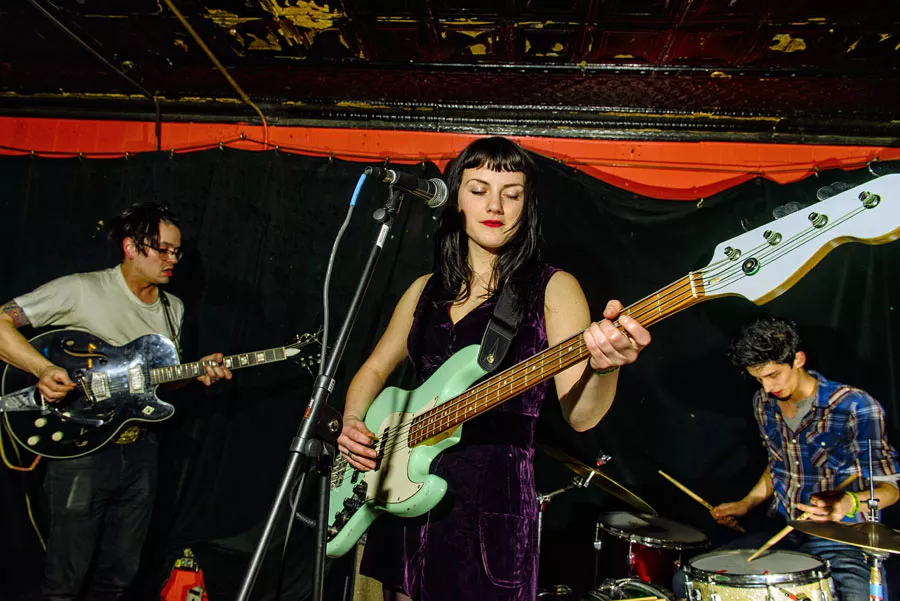 On the first weekend in March, more than 160 local bands will descend upon the streets of Hamtramck, filling 21 city venues with music as part of Hamtramck Music Fest. Now in its fifth year, the festival's lineup is as diverse as ever, touching on the many sounds and styles of Detroit. With so many performers and so little time, decisions must be made on whose sets to attend and what Hamtramck bars you'd like to be closing down when the night wraps up.
Luckily, Metro Times has you covered with our list of acts you won't want to miss to help plan your weekend. We've kept our ears to the ground and our eyes on our news feeds, tracking many of these artists to see who is on their come-up, riding a wave of a great new release, or has been important players in the local scene for years. These 15 names (in alphabetical order) are sure to put on memorable shows that you'll want to say you were around for.
Bevlove
PlayDetroit describes Bevlove as "Detroit's Beyonce" and we couldn't agree more. Her charisma and charming personality have made her a favorite around the city over the last few years. If you haven't yet had the pleasure of seeing Bevlove live, her headlining set at Ant Hall at 1 a.m. on Friday night is one you'll want to see.
The Blueflowers
The Blueflowers have been playing their brand of morose folk-noir and surf rock for almost 10 years now — imagine an alternative universe where Nico and the Velvet Underground had stayed together long enough to discover the Smiths, chorus pedals, and David Lynch films. But recently, members have changed, and so has their sound. "We're going through a bit of a directional shift," says David Johnson, who plays guitar with the Blueflowers. "Hamtramck Music Fest is sort of our unveiling of this new style — Less Americana, more dark and gritty." Catch them Friday night at 11 p.m. on the main stage at Ant Hall.
Brother Son
Brother Son has only been playing live for a little over a year, but has already developed a local following. The band's album Young and Pretty, released in 2017, has a polished pop sound reminiscent of the Strokes, Alabama Shakes, and Foxygen. Brother Son performs at 11 p.m. on Saturday at the New Dodge Lounge where they will be releasing "Growth," their new 7-inch on Jett Plastic Recordings.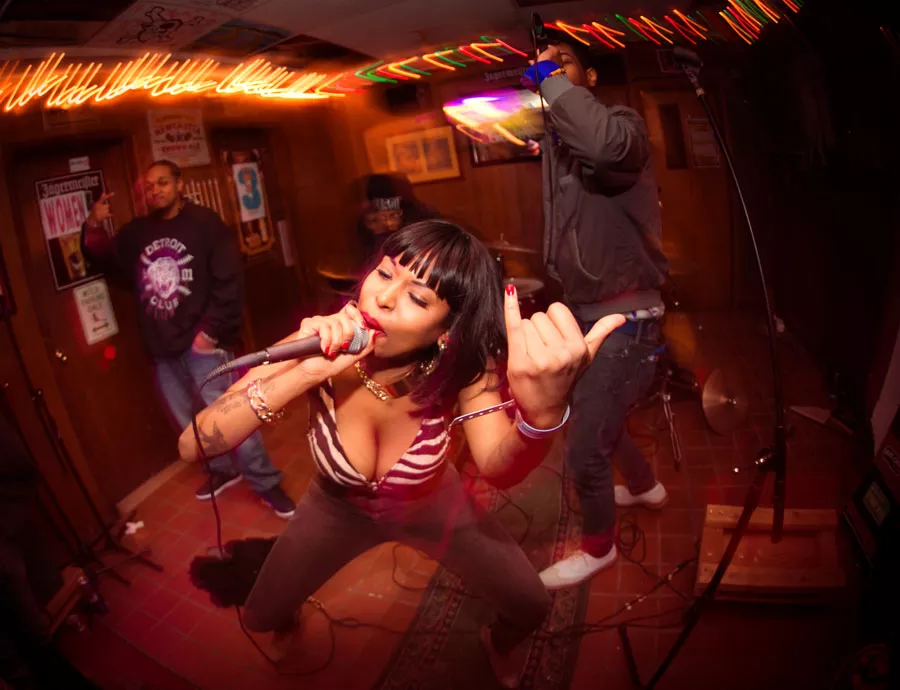 Craig Brown Band
You may know Craig Brown as a former member of Terrible Twos, or as a bartender around town with a great mustache. These days, he's fronting Detroit's best-kept country rock secret. Brown's band will bring their stripped-down songs to Ant Hall at 1 a.m. on Saturday night, headlining a stacked show with JP from the HP, the Imaginatron, and Vespre. Brown's debut record, The Lucky Ones Forget, was released last year on Third Man Records, earning MT's praise and establishing the band as one of the most refreshing to come out of Detroit in recent memory.
Cye Pie and Ya Homies
"Funk is more than a genre," Cye Pie told WDET during her appearance on Culture Shift this past October. "It's a feeling. It's a state of being." Cye Pie is a young Detroit artist as well as the lead vocalist and synth player for her namesake group. Together with her band, Cye Pie and Ya Homies makes some of the freshest funk music in the city. Catch them at the Opening Night party on Thursday night at 11:30 p.m. at Ghost Light.
The Dropout
The Dropout, the dance music project of Andrew Ficker, is a true DIY act. Ficker is self-managed, produces his own records, and runs his own lights shows. But Dropout DJ sets are so much more than just a body behind a laptop, clicking away at a party playlist. Ficker bops his body along with his music, challenges his crowds to dance, and will whip out a saxophone from time to time — like a GRiZ with a lo-fi aesthetic. If you're looking to turn up with electronic music, check the Dropout's Friday night set at New Dodge at 11 p.m. where he'll be performing new songs with a new light show.
Drinkard Sisters
When Caitlin and Bonnie Drinkard aren't singing backup with Craig Brown Band, they're busy at work on a project of equal vocal beauty. This duo of sister singers keeps harmony in the family with their cosmic Americana sounds. Metro Times has described the Drinkard Sisters as "the sonic equivalent of kindness" and this description still rings true. The band released a soaring new song, "Dress Yrself in Gallantry," in early January. Catch them performing at Bumbo's at 10 p.m. on Friday.
Duende
Duende's history goes back to 2006 when the band was created. Twelve years later, they're still around, cranking out hallucinogenic psychobilly in the vein of the Cramps, Link Wray, and Screamin' Jay Hawkins. If you're trying to party, let Duende take you on a journey to their psycho-sonic dimension as they headline opening night at midnight on the Ant Hall stage.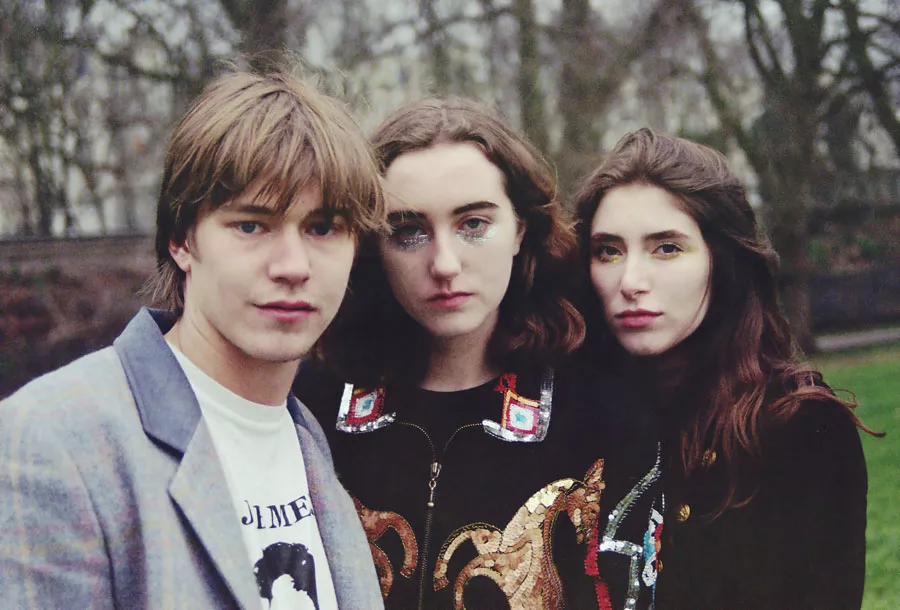 Five Pound Snap
It takes chemistry for a good band to be great. Five Pound Snap is made up of four friends who have been playing music together for nearly 10 years. Tackling everything from psych to funk, and indie rock to jazz, Five Pound Snap finds a way to inject bits and pieces of these genres into their sound without sounding cluttered. Their debut full-length album, last year's White Birch Lakes, wraps the listener up in a warm blanket of reverb, deep bass grooves, ambient chords, and earnest songwriting. Make a note to see Five Pound Snap headlining the New Dodge on Friday night at 12 a.m.
Legume
Liam McNitt isn't a particularly happy fellow. His lyrics drip with melancholy. But don't let the melancholy fool you: He's got a soft side for pop melodies. Legume is his relatively new band but he has found a home in not one but two of Detroit's music scenes — the DIY group and a more accessible pop-rock group. But talent recognizes talent, and perhaps that's why Legume's gloomy pop has been so widely accepted. See for yourself when the band plays at 7:30 p.m. on Saturday night at Bank Suey.
Mango Lane
Mango Lane is the shared brainchild of Austin Carpenter and Jack Engwall, two Detroit young guns with a passion for fashion, skateboarding, and writing catchy songs. The band's self-titled album made our Best Music of 2017 list and saw the duo branching out into a synth-pop zone we hadn't yet heard from them before. Since then, Mango Lane has been working on new music, some of which they will perform at HMF. "Our plan for the set is to just have Jack and I play the tunes," Carpenter tells Metro Times. "This differs from our past year of playing the new record with a full band, and we wanted a fresh take on these latest tunes." Mango Lane performs on Saturday night at PLAV Post #10 at 12 a.m.
Moonwalks
Moonwalks has been busy for the last few months. Releasing its new record In Light (The Scales in the Frame) in January and touring Europe in February, the group continues to spread their droning psych rock far beyond Detroit. Moonwalks will return home for their first show back in Detroit at 10 p.m. at the Outer Limits Lounge on Friday. Prepare to get lost in their pulsating dark rhythms, layers of fuzz, and cryptic lyrics.
Nadir Omowale
A former MTV News correspondent, Nadir Omowale now makes music to groove to when you just got paid and you're feeling good. He describes his sound as "stone cold funk." Omowale and his band will perform at 11 p.m. at Ant Hall during the HMF Kickoff Party on Thursday night. Be prepared to get down.
Prude Boys
This garage rock threesome hails from Hamtramck. Last year, Prude Boys released two excellent EPs — The Outlaw and Talking to Myself — which both landed on our Best Music of 2017 list. Plan on them rocking out in front of a hometown crowd at PLAV Post #10 on Friday night at 1 a.m.
White Bee
Neo-soul is alive and well in Detroit thanks to White Bee, the project of singer-songwriter Shannon Barnes. When performing live, White Bee usually has help from some of the members of Five Pound Snap who flesh out the songs and make heads turn with their tight grooves. You'll want to be in attendance for their HMF set at New Dodge on Saturday night at 10 p.m.
Hamtramck Music Fest is Thursday, March 1 through Saturday, March 4. For the full lineup and schedule, see hamtramckmusicfest.com. Wristbands are $10.