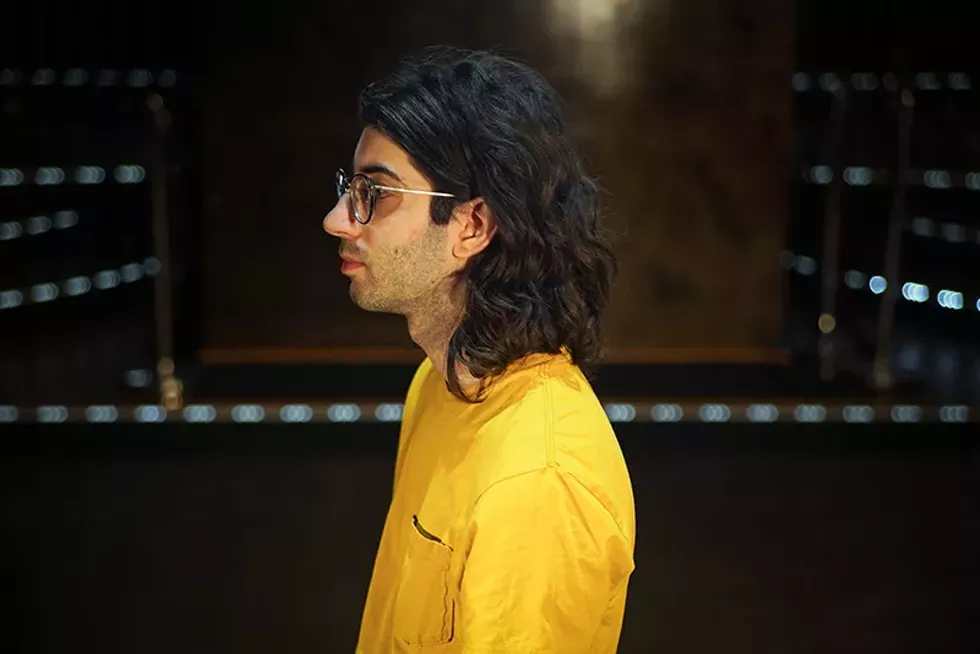 Jonathan Franco
Local musician Jonathan Franco sees the world as a giant soundscape. The 26-year-old Dearborn native occasionally departs from traditional instruments and finds himself collecting sounds from eclectic objects like a fake Christmas tree or a subway air conditioner to create textured layers that beget specific places or feelings. This unorthodox approach to instrumentation, combined with Franco's poetic lyricism and interest in '60s rock, makes for a captivating debut album — one that has been five years in the making.
Slated for an early 2018 release, Franco's debut album is a diaristic body of work that has been written, rewritten, deconstructed, and rewritten again. Franco explains that this tedious process isn't in pursuit of a cookie cutter sound, but a specific sentiment.
"I've been taking so long on the album, which makes it seem like I've been sitting here trying to get every note perfect, but that's not what I'm obsessed with," he says. "The big thing with me lately is trying to capture moments or feelings... a moment or a few hours will stick out to me and I'll want to figure out how to make a song that feels like that. I don't know if it will ever come across, but it's a fun thing to chase."
Franco comes close to, if not arrives at, this goal in his song "A Topiary," named after an un-made epic film by sci-fi writer and director Shane Carruth. The deeply intricate and imaginative 300-page script — coined as one of the "Best Films Never Made" — was eventually shelved because of its $20 million estimated budget. "Nobody wanted to fund it so he ended up just shelving it and saying he would never make it and moved on to other projects," Franco explains. "It kind of felt like this album for a while, so I always felt really connected to it." The song is held down by steady guitar strums and layered with sounds from a pitched bell tower, loose piano strings, and old voicemails from close friends. With these elements, Franco captures both the warmth and longing that nostalgia can bring.
Franco, whose eccentric songwriting style stems from an exhaustive and diverse list of influences, gravitated toward experimental music at an early age. Although he grew up on '60s staples like Bob Dylan and the Beatles, he says he was always drawn to songs like "Revolution 9," rather than the band's more mainstream tunes. "I didn't have any external forces telling me it was weird or different," says Franco. "I just liked it and that led me to more collage-seeming stuff." Franco looks to poets including Leonard Cohen, David Berman, Yuan Mei, and Billy Collins for lyrical inspiration while citing artists like the Microphones, Bedhead, Hiroshi Yoshimura, Luc Ferrari and "a lot of Japanese minimalist composers from the '80s" as influences on the musical side.
With such a mixed bag of musical influences and a knack for turning inanimate objects into instruments, Franco has created a body of work that glides through genres and generations and is undoubtedly worth the wait.
— Sara Barron
Listen: facebook.com/JonathanFrancoDetroit