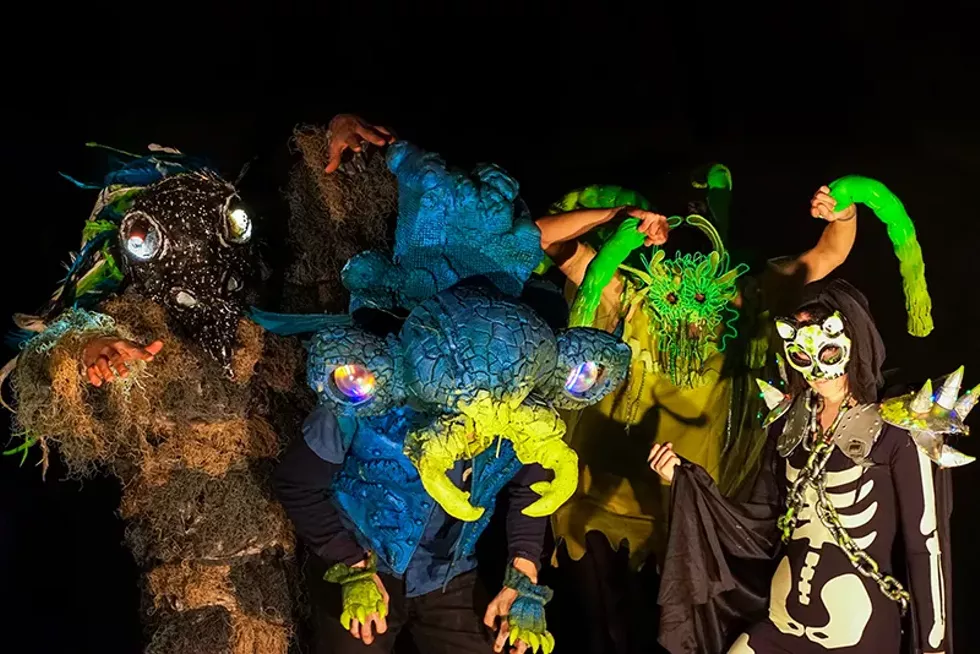 Krillin
"I don't know how you want to do this interview because you should know that this is not a normal band." This is how my conversation with Krillin bassist and rare species of alien Leyline Slime, er, Anastasiya Metesheva begins.
"Well, I fell onto nuclear trash planet so my body has turned into sludge. It's temporary, though," Metesheva explains. "I can harness all elemental powers which is why the space government is searching for me. I just joined Krillin as a hideout."
The story of psychedelic-fiction rockers (or "psy-fi") Krillin is more than a collection of sounds. It's a story that's totally out of this world. The group of multidimensional extraterrestrials from the Underspace who are wanted for being a rogue group of chaos-makers across the cosmos formed in 2015 when Metesheva was asked by a friend to play at her wedding.
Which is exactly what she did. Well, sort of.
"Literally this band was created to play their wedding. They are the prince and princess of the Moon," Metesheva says. "So, when Krillin hears about a rare treasure in their castle they assault the band that is scheduled to play and infiltrates the wedding to find treasure."
But since its inception, the story of Krillin has evolved far beyond a wedding band. You see, drummer Solar Scum (Michelle Thibodeau) is a cat humanoid and intergalactic thief. The Void (Cassidy Stewart) plays guitar while being a possessed parasitic life-form. And then there's Capt. Earwig Twitch (Eric Wilson), also on guitar, but his caveat is that his body is always twitching and randomly transforming into things, and as the only one who can fly the ship, he gets Krillin into trouble.
Layering experimental noise, droning synths, an unworldly sense of togetherness, and elaborate, ever-changing storylines based on real events, venues, and people to create inter-dimensional doorways and improvisational "music to get chased to," Metesheva explains that Krillin is based on intuition and feeling. As for their live show, well, that's just something you have to see for yourself. To call it a transportive and totally fucking surreal experience merely skims the surface.
"We want to play one show a month in 2018," Metesheva says. "But since we're maintaining a low profile from the space police, we are going to record more material and are working on a few projects that tell the story of Krillin in a way that a new audience could enjoy." As for what's to come, she adds, "Krillin can't predict the future, but we can travel to the past."
— Jerilyn Jordan
Listen: krillinband.bandcamp.com