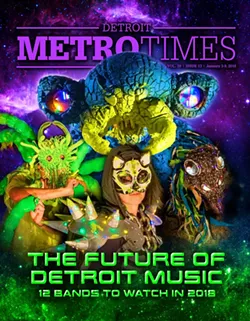 What do you get when you cross an angsty hip-hop dreamer, an improvisational electronica jazz composer, and a group of space rebels using Earth as a temporary hideout? No, this isn't some sonic acid trip — it's Metro Times' annual roundup of bands and artists you should (and will) have on your radar in the coming year. And this year, it's getting surreal.
Just how does one qualify for such a prestigious honor? Well, it's simple. The band (or solo artist) must be destined for greatness. Like, that's pretty much it. Just by being recognized on this list pretty much guarantees that. We're not making shit up. The truth is, we have an ear for this sort of thing.
Look at our 2017 list: Anna Burch and Stef Chura have since scored record deals (with Polyvinyl and Saddle Creek, respectively), Valley Hush moved to the West Coast, and a slew of others from our list have become staples of the circuit and are gearing up for some surprises this year, too.
Based on our findings this time around, we can assure you that 2018 will provide one hell of a soundtrack thanks to these 12 artists. We can't wait to hear what that might sound like.