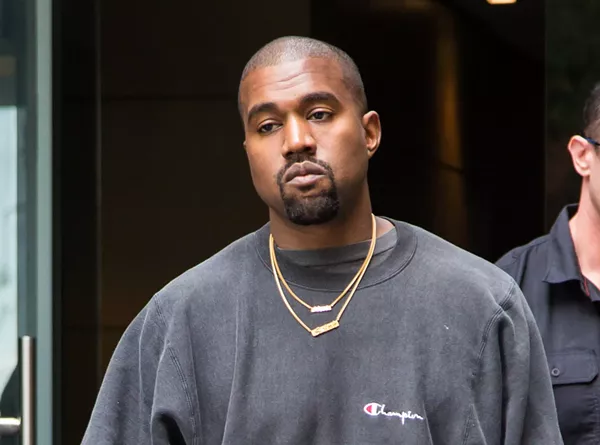 Detroit hip-hop station 105.1 The Bounce says it's pulling Kanye West songs off of its Morning Bounce playlist following a recent string of erratic episodes from the rapper, including West saying he believes slavery was a "choice."
The station made the
announcement on its Facebook page
on Thursday morning. "We feel like Kanye has gone too far with his latest statement declaring that 'slavery was a choice.' We are over it," the station wrote on Facebook. "We don't want to hear Kanye's music, we don't want to play Kanye on our show, we don't want to talk about Kanye anymore. So, we are taking a stand and we aren't playing his music anymore; we just are refusing to give him a platform."
105.1 Morning Bounce host Shay Shay also took issue with previous comments West made about race, including saying that icons like Martin Luther King Jr. and Malcolm X were "too far in the past and not relatable."
"As an educator, as someone who works with young kids … he has a huge platform, OK?" she said on the air. "I just think that's reckless. I think when you have such a huge platform like that, to use it in a reckless way, I mean, you're basically saying history is irrelevant."
West — who has made a career of being an agitator and provocateur, once declaring that former president "George Bush doesn't care about black people" in the aftermath of Hurricane Katrina — has returned to headlines in recent weeks following a year of keeping a low profile. In November 2016, West abruptly ended his "Saint Pablo" tour early, and was soon persuaded by authorities to admit himself into a Los Angeles hospital for nine days following episodes of hallucinations and paranoia. Recently, West has admitted he became addicted to opioids during that time.
In recent weeks, West returned to Twitter, where he fired off a series of pro-Donald Trump tweets, including one where he said he and Trump
"are both dragon energy"
as well as
a photo
of an autographed "Make America Great Again" hat.
The rapper appeared on
TMZ Live
on Tuesday to answer questions about his pro-Trump tweets when he said, "When you hear about slavery for 400 years — for 400 years? That sounds like choice," and asked the room, "Do you feel like I'm thinking free and feeling free?"
One TMZ staffer, Van Lathan, fired back at West with
a retort
that has since gone viral.
"I think what you're doing right now is actually the absence of thought, and the reason why I feel like that is because Kanye, you're entitled to your opinion," Lathan told West. "... While you are making music and being an artist and living a life that you've earned by being a genius, the rest of us in society have to deal with these threats to our lives. We have to deal with the marginalization that has come from the 400 years of slavery that you said for our people was a choice. Frankly, I'm disappointed, I'm appalled, and brother, I'm unbelievably hurt by the fact that you have morphed into something, to me, that's not real."
You can listen to the Morning Bounce's call to "#MuteKanye" below.

Stay on top of Detroit news and views. Sign up for our weekly issue newsletter delivered each Wednesday.