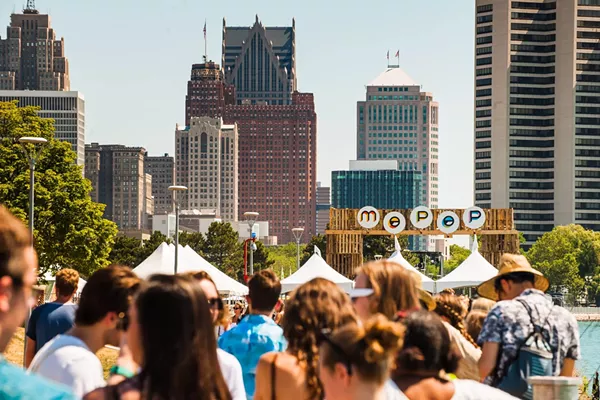 It's that time of year again — the annual Mo Pop Festival takes over the West Riverfront Park in Detroit for a wild weekend of fantastic music, beer, and art.
The niche little festival has grown over the years, from just a few food and drink options to a fleet of food trucks and a giant tent dedicated to craft beer. The music has also evolved over the years, introducing a wider range of diversity in artists and genre.
One of the best things about Mo Pop and what sets it apart from bigger festivals is that no two artists are playing at the same time. That way you can take in every singer and band that takes the stage instead of running from stage-to-stage, hoping you didn't miss your favorite act.
So while you should see every band playing this weekend, we compiled a list of 10 acts that you won't want to miss take the stage.
Solange

Sunday @ 8:50 p.m.; Captain Pabst Stage
Solange has barely toured her newest album, last year's
A Seat At The Table
, which makes her performance at this year's Mo Pop ever more special. She's only played a handful of festivals and shows since the game-changing album came out that explores what it means to be a black woman in America today.
What sets Solange's show apart from the pack is that it is so much more than a concert — it is a visual experience that takes you through this sonically stunning LP. Plus, she's Beyoncé's younger sister, so you know you're about to be in the presence of greatness.

Alt-J

Sunday @ 10:05 p.m.; Grande Stage
The climb of Alt-J to music festival headliners has been a slow and steady one. First coming on the scene in 2013, these Brits have taken the ingredients to make a stellar band and flipped it on its side. They take the classic indie melodies on the guitar and layer in heavy bass and synths on top, then wrap it all around off-beat percussion that leaves you on the edge of your seat.
The group released their latest effort earlier this year to rave reviews, pushing their sound even further by adding more strings and synths to the mix. The last time Alt-J played the Detroit area was almost two years ago, so we suspect the biggest crowd of the weekend to be for these guys.

Tyler, The Creator
Sunday @ 7:35 p.m.; Grande Stage
If any act shows the direction that Mo Pop is headed to in the future it would be booking Tyler, The Creator. The 26-year-old rapper released his newest album earlier this month that is full of catchy hooks and a colorful production. This will be one of the rapper's first shows since releasing the new album so we're expecting Tyler to be more than hype, especially playing here in Detroit.

Stef Chura

Sunday @ 2:15 p.m.; Captain Pabst Stage
One of the very few local acts to play Mo Pop this summer, Stef Chura is doing a damn well job of representing Detroit. Chura's debut album
Messes
came out earlier this year and transported us to the middle of the '90s when female artists like Sheryl Crow and Liz Phair ruled the airwaves. Chura uses lo-fi guitar sounds and vocals that jump around like frogs in a pond to complete her signature garage sound. We even named Stef Chura a band to watch in 2017 and it seems that we were pretty spot on with including her, just look at her now!

Grace Mitchell

Saturday @ 3:35 p.m.; Captain Pabst Stage
The minute Grace Mitchell takes the stage you're completely enthralled — she's tall, with a wild mop of red hair that flails in the wind, and a voice that rivals the likes of Stevie Nicks and Grace Potter. Mitchell got on the scene in 2015 when she released her first EP and critics were blown away at how she blends today's electronic pop sounds with classic rock guitar and a killer grown in her voice. Mitchell was a last minute addition to this year's lineup and we're so happy she was included.
Middle Kids

Sunday @ 4:10 p.m.; Grande Stage
Middle Kids kind of came out of nowhere this summer and we're really happy that they did. The indie back hails from Australia and there song "Edge of Town" has been played all over the rock radio stations. There is something light and breezy about Middle Kids, yet they know how to punch when they need to, kind of like their fellow Aussies Tame Impala. Plus, lead singer Hannah Joy's voice is just splendid AND she plays the guitar upside down, which is just bananas.

Phantogram

Saturday @ 8:50 p.m.; Captain Pabst Stage
It's insane to think that Phantogram has been turning out music since 2009, and it's even more insane to think about how they spearheaded the alt-pop movement that we're so familiar with today with artists like Lorde and Banks. The duo is always changing its look and sound, there most recent was when they teamed up with rapper Big Boi for a supergroup called "Big Grams," that was truly special. We're excited to see the duo back as Phantogram with new music and a killer sunset set time that will get Mo Poppers ready for the late-night sets.

Michigander

Saturday @ 2:15 p.m.; Captain Pabst Stage
If you couldn't tell by the name of this next act, Michigander does in fact hail from Michigan. The band is the brain child of Midland, MI native Jason Singer, who makes lush indie rock under the Michigander monicker. Michigander was one of the openers for Flint Eastwood when she played at the Fisher Building a few months back so we're super excited for the band to play such a large event like Mo Pop.

Run The Jewels

Saturday @ 7:35 p.m.; Grande Stage
If you're going to Mo Pop and not seeing Run The Jewels then what are you even doing with your life? The duo of Killer Mike and El-P were just here at the Royal Oak Music Theatre earlier this year, but there live shows are always worth a second watch, especially at a music festival. The show will be hype, the music will be dope, and it will probably be the most fun you'll have the entire weekend.

Pup

Sunday @ 4:55 p.m.; Captain Pabst Stage
Mo Pop wouldn't be Mo Pop if there wasn't a little bit of punk mixed in the lineup, right? Canadian punk band Pup is the perfect band to fill in this spot. The band has been touring most of the year, hitting up tons of music festivals Pup is an in-your-face band that loves to crowd surf and get personal so it will be interesting to see how that translates to a festival performance.
If you still want to go to Mo Pop and haven't gotten your tickets yet they are still available!
Visit this site right here
and we will see you at the West Riverfront Park this weekend!
Honorable mentions
: Foster The People, Vance Joy, Arkells, and the Shadowboxes.