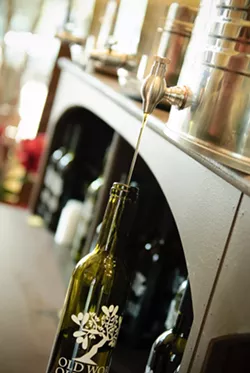 Until recently, an olive oil's label and the bottles' position on a grocery store's shelf guided my purchase. Those boasting "first cold press," "extra virgin," "Italian," or similar alleged indicators of quality from the top shelf were what I grabbed and happily used. So I was skeptical when I read that my $25 bottle of oil was likely a sham and literally rotten.
I also rolled my eyes when authors and experts described the "transformative" experience of tasting real, fresh olive oil for the first time in terms usually reserved for the birth of a child.
Food writer and author Larry Olmsted called his first taste of real extra virgin olive oil a "life-changing" event that took him "to a higher culinary plane."
"I still remember the moment like it was yesterday," Olmsted writes in his book, Real Food, Fake Food. "The second the liquid hit my mouth, everything changed into a world of greenness, freshness, and explosive flavor. A moment later came the finish, with a slightly hot, peppery, but altogether pleasant bite. It had a slurp inducing thickness and ... a very pleasant silkiness that was not the slightest bit oily."
He adds that olives are "a vessel for capturing that sun" of which California olive grower Deborah Rogers says, "If you could taste and smell the color green, this would be it."
And the Culinary Institute of America's Bill Briwa described fresh, quality olive oil as "liquid sunshine expressed in fruit."
It all seemed a little dramatic.
But it intrigued me enough that I took my first trip to Fustini's, a small Ann Arbor olive oil tasting room filled with fustis — metal kegs that hold some of Michigan's freshest olive oil. I turned the fusti's spigot, drizzled a bit into a small Solo cup, and... the liquid sunshine transported me to a new culinary plane in which I was immersed in the color green. It was psychedelic.
So if my bottles of top shelf olive oil promise quality and are sold at marked-up rates, why wasn't my experience with them transcendental?
Because most of the U.S.'s extra virgin olive oil (EVOO) isn't what it purports to be, and is actually some combination of rancid, expired, diluted, fake, mislabeled, fraudulent, or adulterated. Briwa even says that most Americans have never tasted real EVOO.

Fortunately, stores like Zingerman's in Ann Arbor, Fustini's in Ann Arbor, Old World Olive Co. in Birmingham, and Giuseppe's International Oils & Vinegars in Grosse Pointe are offering a chance to try the real thing.
In his book, Olmsted contends that that's the case because the Food and Drug Administration doesn't enforce its rules, so producers can easily get away with fraud. It's also a matter of education and understanding: Studies have found that Americans often only consider price and whether an EVOO is from Italy in determining its quality, when in fact those can be poor indicators.
Thus, we're often not getting the health and flavor out of our EVOO, which is pretty much why we purchase it in the first place. Fortunately, it's not difficult to find the real thing in southeast Michigan, as several local outlets like Zingerman's, Fustini's, or Old World Olive Press sell it. The former is cited by experts like Olmsted and Tom Mueller, author of Extra Virginity: The Sublime and Scandalous World of Olive Oil, as one of the nation's few trustworthy sources for EVOO.
Education is also easy because once you've tried the real thing, there's no tolerating the old stuff, says Zingerman's retail manager William Marshall. The difference is that stark.
"It's one of those moments where you taste it and you go, 'Duh. Yes, this is way better,'" he says. "And then you've crossed a threshold and you can't go back."
EVOO is usually counterfeited in one of three ways, Olmsted writes. Companies will dilute it with less expensive oils like soybean or sunflower, or lower quality olive oil that was refined with chemicals that destroy EVOO's health benefits.
"A bottle can say 'extra virgin' if it has some extra virgin in it, and most grocery store olive oil that you buy at Kroger or Meijer is extra virgin olive oil that blends olive with canola or vegetable oil," says Fustini's general manager Jill Bakewell.
Or companies bottle old olive crops that legally fit the definition of EVOO, but really are not. An olive is a fruit, so you are essentially drinking fruit juice, and the fruit begins degrading the second it's picked. Another common tactic is for companies to bottle in Italy oil from olives grown in a country like Morocco, then label it "Product of Italy," Marshall tells MT.
"The amount of olive oil that comes out of Italy cannot be produced by olives grown in Italy. It's impossible. There aren't enough," he says.
There's a well-documented history to support that the issue is widespread. University of California–Davis researchers found 69 percent of imported EVOOs they bought off the shelf in 2010 failed to meet international standards, based primarily on sensory and chemical testing. A follow-up test of the top five selling brands of imported EVOO found the oil was fake an average of 73 percent of the time, and one brand 94 percent of the time.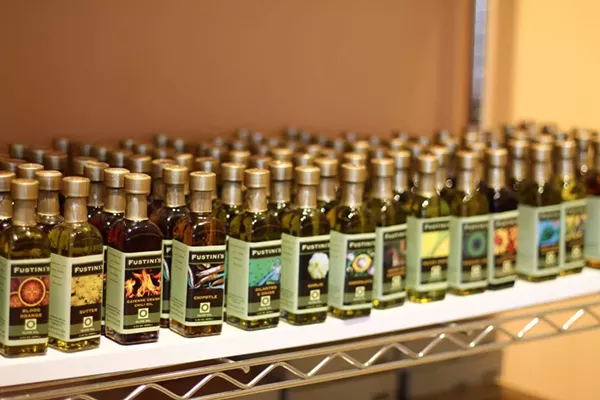 In 2013, the National Consumers League tested 11 national brands of EVOO sold in the U.S., with 55 percent failing to meet the legal standard, while the Italian newspaper La Stampa tested 20 of the most popular Italian brands and found 45 is fake oil.
Last year, 60 Minutes reported that Italian authorities busted the mafia with 7,000 tons of fake Italian EVOO made with olives from other countries that was worth "tens of millions" of Euros. And in a more recent operation, Italian authorities seized another 2,000 tons of fake EVOO valued at $14.5 million.
If there's that kind of money in counterfeiting, how do you know you can trust even the local purveyors?
Marshall notes that Zingerman's meets with and gets to know those who are growing and producing the olives and olive oils it sells. And he points out that Zingerman's policy is to pull oils that are more than a year old, or simply don't age as well as expected.
At Fustini's, the oils are stored in and poured from fustis. Light quickly degrades oil, so clear bottles are categorically rancid, and even EVOO stored in darkened bottles will break down faster than oil that's totally protected.
Bakewell, whose brother-in-law launched Fustini's in Traverse City in 2008, says that the company conducts its own chemical analysis of each oil and presents the findings next to the fusti. Three main factors are traditionally used in determining the initial quality of EVOO — the olives themselves, their ripeness when harvested, and the amount of time between picking and crushing. Chemical tests that show an oil's free fatty acid and peroxide values, for example, will indicate its quality. In fact, International Olive Council rules require such a lab analysis along with a sensory test before a bottle can be labeled EVOO. But, as previously mentioned, no one in the U.S. enforces those rules.
Bakewell also corrected a common myth: that olive oil from Italy is superior. "It's the flavor of the olive," she says, and that's dictated by climate. Beyond that, reputable stores will only sell oils that were recently harvested from whichever hemisphere is in season. EVOO from the northern hemisphere should be avoided in the winter because it will likely be leftover from last season. And oils from Chile and Australia should be avoided during our spring and summer.
So is that jug of cheap supermarket olive oil useless? Well, some will use it as cooking oil, but you couldn't be blamed for setting it in the garage next to the oils you use to lube the chain on your bike.

(Update: The North American Olive Oil Association disputes the findings of the aforementioned studies and tests. It points out that the U-C Davis test consisted of both chemical testing and taste testing, which is subjective. It says its own testing has found that 98 percent of the olive oil sold in the U.S. is authentic. NAOO also claims the U-C Davis study used a small sample size — 186 samples from markets exclusively in California — and that the study was funded by California olive oil producers who have an interest in damaging the reputation of imported oils.)

The Old World Olive Press, 282 W. Maple Rd, Birmingham; 248-792-2192; 457 Forest Ave., Plymouth; 734-667-2755; theoldworldoliveco.com
Fustini's Oils and Vinegars; 407 N. 5th Ave., Ann Arbor; 734-213-1110; fustinis.com
Zingerman's Delicatessen; 422 Detroit St., Ann Arbor; 734-663-3354; zingermansdeli.com

Giuseppe's International Oils & Vinegars; 16841 Kercheval Place, 2nd Floor, Grosse Pointe; (313) 926-6301; giuseppesoils.com