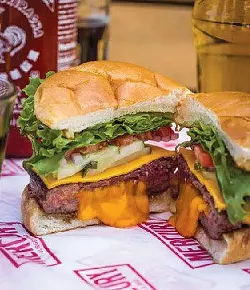 We love a good burger. The kind that drips with juiciness, that oozes with melty cheese, one that never skimps on unusual topping combinations.
And we're not alone. Which is why we can never resist clicking over to any one of the many listicles that seeks to ID the absolute best in burger making in every state.
Our most recent list reading adventure led us to food blog Delish.com, which by using insights from Foursquare, sought to find out just what burger joint is talked about most on the Internets.
We've got a number of top contenders in the burger game, from the humble bar burger at Motor City Sports Bar in Hamtramck to the ubiquitous Detroit slider (a la Telway or Green Dot Stables), to the grandiose proprietary-blended patties found at
Townhouse
.
With so many possibilities, we wondered, what do Foursquare users think? According to
Delish
, it's Mercury Burger Bar in Corktown, specifically the Shroom Burger, topped with portobello and button mushrooms and Swiss cheese.
We'll have to say it's a respectable choice. Since 2012 Mercury, whose kitchen is headed by chef Ariel Millan (also of Ottava Via down the street), has dealt out a solid lineup of burgers fancy and basic alike.
Says our predecessor and still occasional Metro Times contributor, Jane Slaughter
: "A Shroom with portobellos and buttons was equally luscious, and well-dressed with red onion rings and a decent tomato slice."
Of course this business of accounting for who turns out the best patty, best Coney, best pizza, whatever is partly subjective.
Speaking of burger judging, let us shamelessly plug that yours truly will be among the "celebrity" judges tasked with evaluating the veracity of the best burger claim of nearly 20 local spots during Burger Brawl 2016, 10 a.m.-6 p.m., Aug. 27, at the Fairway Packing Co., 1313 Erskine St. in Eastern Market.
Ticketed
guests ($25) will get to sample from and vote on each participating restaurant. The top four will go before the panel with a custom blend and one will be named Burger Brawl Champion.
Will the prize go to Mercury or some other joint in metro Detroit? Check it out to see for yourself.