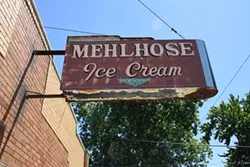 Older residents of Wyandotte will remember a time when Mehlhose Ice Cream was one of the best places in Michigan to get a cold scoop on a warm day. Younger residents only know the long-vacant building that's been slowly becoming more and more dilapidated since the business closed almost two decades ago.
Residents both young and old as well as fans of historic preservation will be excited to learn that the building, which hasn't seen a new use since it closed in the mid-'90s, finally has a new owner and a new purpose.
The
News Herald
reported today that Thomas Roberts, a Wyandotte-based architect, bought the space to turn into his office and studio space. He hopes to start renovations in about a month. He plans to keep the building as original as possible, though it won't be churning out ice cream anymore. Roberts is also hoping to get the space, which was first built in the 1800s, added to the National Register of Historic Places.
To keep the community involved, Roberts says he'll hold an open house on Saturday, April 11 from 10 a.m. to 2 p.m.
Oh, and yes, he plans on keeping the sign.
Check out the whole story
here
.