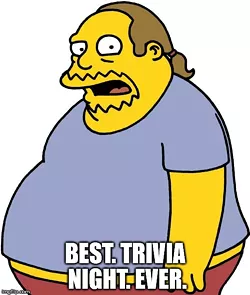 Do you often find yourself comparing people IRL to Simpsons characters? Are you
that
guy who's always spouting off obscure Simpsons quotes? Quit annoying your friends and put those trivial knowledge to good use tonight at Park Bar's Classic Simpsons Trivia event.
The night starts off at 7:30 p.m., with a screening of a classic Simpsons episode to get that '90's nostalgia warmed up. Can't make it tonight? No worries, this event is monthly, so if you're working late you can be sure to catch the next (the fourth Monday of each month, to be precise). Forming teams is encouraged, so gather all your favorite comic book guys.
We'll be sure to get our blogging done early so we can be part of the fun and possibly report any shenanigans. Park Bar is at 2040 Park Ave. in downtown.