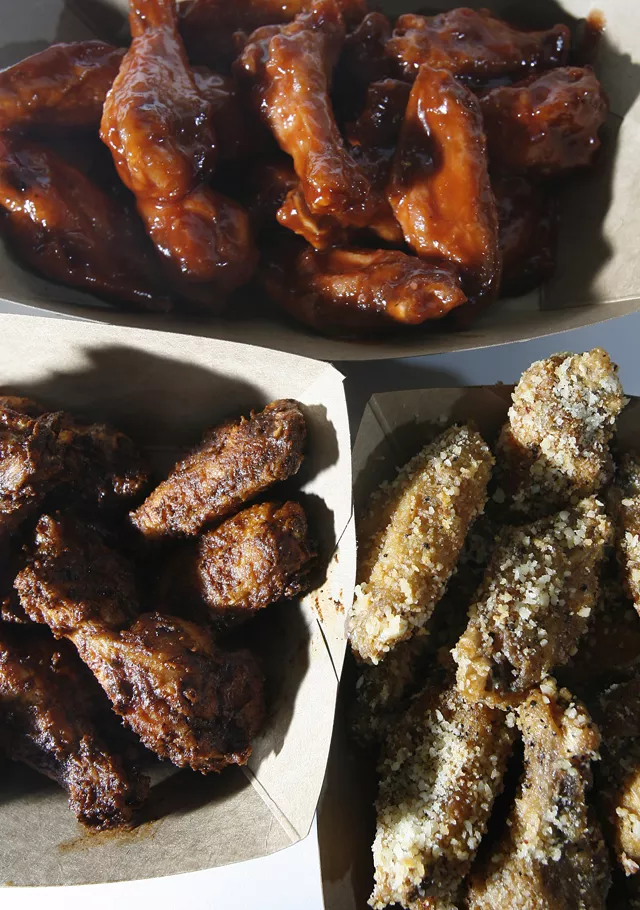 City Wings
2896 W. Grand Blvd., Detroit
313-871-CITY
Perhaps using his cooking skills honed as a firefighter — or, more likely, learned at his previous restaurant in Washington, D.C. — Grant Lancaster is serving wings fried to order along with a full array of sides. City Wings is the opposite of a fast-food restaurant, though decor is minimal and the interior brightly lit. No sullen teenagers here! All the offerings except fries, onion rings and fried okra are made in-house, even the sweet potato pie.
Lancaster offers 14 versions of his wings — 28 if you count flats and drums separately (no tips are used). You can order all of one or the other for a buck more; otherwise each order is half of each.
Wing aficionados bicker about which is better, the meaty drum, shaped like a drumstick, or the two-boned flat, more or less the chicken's forearm (also called a clothespin). Flat fanciers like the higher skin to meat ratio — and chicken has got to be mostly about the skin, or it's too boring. Some even say they enjoy digging out the little strip of meat from between the two bones. But drum proponents like more meat, and note that a drum can be eaten one-handed.
Sensible and thrifty people, who waste not, want not, observe that God made the chicken with both drums and flats; they say you can't appreciate one without the other.
The City Wings wings don't seem abnormally fleshy, as one might expect from modern chickens kept deliberately unfit to maintain their plumpness. The restaurant serves only "Amish," but that's actually a marketing term that does not guarantee any running room, lack of hormones, or organic feed for the birds.
The word "Buffalo" doesn't appear anywhere on the menu. You're supposed to know that the mild, medium, hot and KO flavors are Buffalo-related. If I had known — and it does seem pretty obvious — I certainly would have tried them and reported on their authenticity, as I have bragging rights: I've visited the birthplace of Buffalo wings, Mammoser's in Hamburg, New York. My dining companion even grew up one town over. Lancaster says the mild and medium Buffalo wings are among his most-ordered — along with lemon pepper, Parmesan-garlic and all three of the BBQs. The KO (knockout) is way hot, he says.
The other flavors are teriyaki, teri-que, Cajun, honey mustard and curry.
City Wings uses sauce only on the barbecue flavors. The wings are first fried plain, then sprinkled with one of the various dry rubs made in-house. They're tossed in a wok with a bit of liquid to make the rub adhere.
I found the flavors yummy though subtle. Our server described "curry" as "not too hot and not too sweet," and that was correct, though it delivered the satisfaction that sweetness does. It doesn't resemble anything called curry that you'd order in an Indian restaurant except for the bright yellow color, but I would definitely order this again (after sampling the Buffalo varieties).
Teriyaki (this was not my choice, readers) is understated and again, not recognizable to a Japanese person, though perfectly fine. Parmesan-garlic is very sharp and cheesy, not garlicky. Hickory-smoked BBQ carries lots of sweet sauce. I would try "spicy BBQ" in search of a less-sweet taste.
Among the sides, I'll praise most the potato salad and the green beans with smoked turkey. The former is made with firm, not mushy, redskins and hard-boiled eggs (eggs are crucial to good potato salad) and is spiced just right, I believe with mustard seed. The beans are hotter than you think at first, and are pulled from the pot at just the right moment between crisp and mushy, that is, soft but still with some shape.
I found my mac and cheese inconsistent — cheesy in some bites, not in others. Always mix thoroughly, cooks! Sweet potato pie has a commendable crust, is not overly sweet, and comes in a compostable carryout container, as do all the dishes.
Eat in or take out? The music is very loud but the staff is super-friendly and welcoming, a treat to shoot the breeze with. It's a pleasure to be greeted with such smiles and enthusiasm. If you do carry out, call ahead, as the cooking takes some time.
Prices are inviting. Ten wings plus two sides are $10.49. At lunch, which stretches from 11 a.m. to 4 p.m., 10 pieces plus fries and a drink are just $7.99. There's a 10 percent discount for seniors, defined as ... just ask.
City Wings is open from 11 a.m. to 6 p.m. Monday through Thursday plus Saturday, and until 8 p.m. Friday. Lancaster is considering longer summer hours starting in June, till 8 during the week and till 9 or 10 on Fridays and Saturdays. Stop in and tell him you'll be there for that.