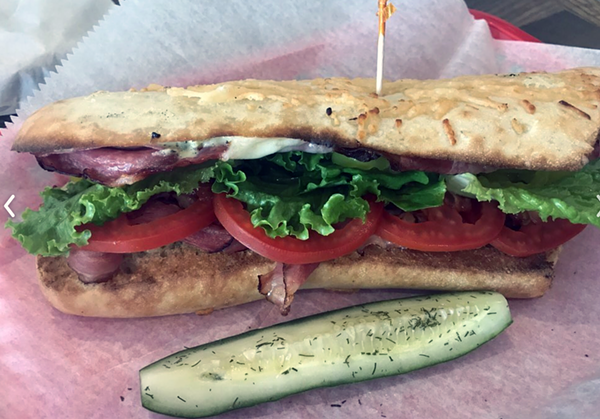 M.C. 'Wiches, a sandwich shop that offers house smoked/cured meats and breads made from scratch, celebrates its grand opening in downtown Ferndale tomorrow.
The restaurant recently held its soft opening in a 30-seat space at 172 W. Nine Mile Road just west of Woodward, and will offer half off its sandwiches during the grand opening from 2:30 p.m. to 5 p.m.
Its menu consists of around 40 sandwiches with options like the Kitchen Sink (corned beef, pastrami, brisket, roast beef, turkey, 'WICH Sauce - a roasted garlic and herb aioli - caramelized onions, and tomatoes) and Motown Philly (marinated, thin-sliced steak with house cheese sauce, provolone, red onion, and yellow peppers).
The store will be owner Pat Hingst's second location, and he notes that he'll be open until 3 a.m. on weekends to cater to the bar crowd. Hingst opened his first store in Oxford in 2009, and has since fine-tuned the operation.
"When we first opened, we prepared one meat in house, made two breads from scratch, two cookies, and three sauces. Now we roast, smoke, or cure nine different meats; make four types of bread; eight sauces; and my mom is still making the cookies. We hustle harder than a lot of full-service sit down restaurants all to make the best sandwiches possible," Hingst says.
"We really feel we are a great fit for Ferndale. Ferndale is a foodie town, and we are a foodie concept with the approachability of being a sandwich shop."