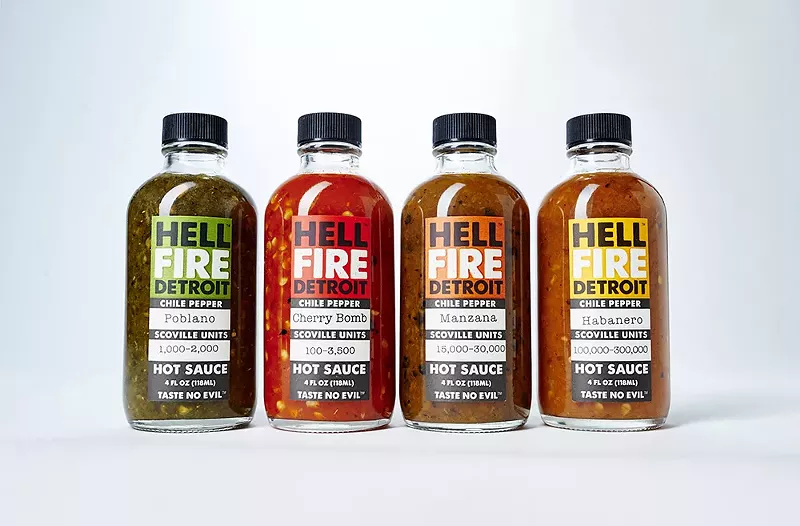 Chowhound is a bi-weekly column about what's trending in Detroit food culture. Tips: [email protected].
What's so hot about hot sauces? Developed by a pharmacist in 1912, The Scoville Scale's long since become the standard by which hot pepper potency is measured from varietal to varietal. The ubiquitous jalapeño, for example, rings in at an average of 5,000 Scoville units. This is a measure of dilution: It would take 5,000 cups of water to dilute one cup of pure jalapeño extract to a point where one's tongue couldn't detect the pepper spice. Climbing the ladder, more daunting habaneros can reach 150,000 units typically, while totally scary Ghost peppers and such top the scale's uppermost, million-plus measurements. And as anyone knows who's pushed the I-can-take-it envelope, drowning yourself in water doesn't always quench the fire.
As it happens, not all God's creatures are sensitive to capsaicin, the fiery component in chili peppers that's an irritant and neurotoxin to mammalian species. Others simply don't have taste buds that react to the chemical. I watched a parrot chomp Habaneros once, no problem. Polly want a milkshake?
According to Don Button, whose Hell Fire Detroit brand of hot sauces caters to the let-me-have-it crowd, heat and flavor can walk the coals together and render combinations that satisfy spice enthusiasts of all tastes and tolerances.
"We let the pepper's profile speak for itself," Hell Fire's founder insists. Button's bottles of liquid lightning let you know what they're about on the labels, complete with Scoville stats. A "sunny fresh with an easy demeanor" Anaheim sauce ($13) chimes in at the low-end, 500-2,500 range. Manzana ($15), meanwhile, with its "exotic nose… fiery smack" rises between 15 and 30k. Button's big-bottle sauces ($18), blended with beer, bourbon, or Cabernet Sauvignon, touch incendiary stratospheres (200-400k).
Hell Fire became a hot topic after being featured on YouTube's Hot Ones celebrity food challenge a few years ago. These days, its product placements range from local markets (Eastern, Westborn, et al.) to national purveyors of the particularly piquant like New York's exclusive Heatonist hot sauce shop and tasting bar.
Sadly, my days of downing virtual jet fuel and riding the next morning's regret rocket are done, after years of heat-seeking-missile eating habits out West. I'm passing that torch, along with the two-ply.
Sam I am a fan: Something about Sam's Place (33251 5 Mile Rd., Livonia; samsplacefamily.com) keeps me coming back. I love soaking in rainy or snowy mornings from its cozy, glassed-in sunroom space. Having breakfast there before dawn, my kitty-corner view of Bates' Burgers is as evocatively luminous as painter Edward Hopper's masterpiece "Nighthawks," which speaks to man's constant vigil in search of sustenance and social intercourse (so says me). More simply put: Sam's brightens every day I begin there, and that starts with Vicki, the waitress always on duty whenever I drop in. Professional and pleasant, she's a peach; one of those can't-help-but-like types who makes my experience taste better every time. Often eating out under an anonymous cloak, I've really let Sam's get to know me, as that guy who comes in twice a week or so, whose hot tea hits the table the minute after I do, along with ham or corned beef hash, eggs over easy, and rye toast. Though the food comes fast, I'm typically the last of the day's first customers to leave, lingering with my laptop that Vicki leaves me to for hours on end. There are places at the intersection of where our lives lead daily and where we find ourselves pleased to pause and take in some creature comforts. For me, Sam's has proven a poster boy for such places.
Expensive lessons: Tip money's too easy to spend. It's daily cash in hand that many learn is as hard to save as it is to earn. And we blow through wads of it after work; in bars and casinos, and on all manner of immediate gratification goods we seek out after our shift. After all, we tell ourselves, there's always more to make tomorrow.
Consider the parable of my $4,000 tip. Five minutes after a rich, drunken bar regular of mine stuffed forty C-notes in my pocket for Christmas one year, I made the quick call on how to spend it, phoning my wife from work to tell her something I was sure she'd love to hear. I let her in on my windfall, along with my vow to finally make good on getting her the wedding ring diamond she deserved, rather than the one I could afford when we wed.
"Just promise you'll come right home after close tonight," was all she really wanted from me — as per her usual — not nearly as excited over the news as I was. I told her I would, then — as per my usual — didn't, staying out with "friends" no good husband or father would keep. All I kept was that other promise, exchanging my wife's first solitaire, $4,000 and a few grand more from our savings for a bigger rock she and I could both be proud of.
Our marriage didn't last long after that. Rightly so, she let me know one morning that she'd had it. Guilty as sin, I still blamed the divorce on her once she told me about her relationship with our nextdoor neighbor. A month or so later, she called me at the restaurant to let me in on a little more.
"As for that ring of yours," she paused to punctuate the gut-punch, "We just sold it and bought a whole houseful of new furniture."
To this day, I still look back and see how I failed to furnish everything my ex-wife ever really needed but never got from me.
The moral of this story? Don't be dumb. A wise man once told me: "Beware the pitfalls of bar and restaurant work; the fast money and all the after-hours things you can spend it on. Go home with your cash and a clear conscience, and before it's too late, stop working nights. Therein lies the dark side of this business."
More on that later. Stay tuned.
Coming soon: Metro Times Daily newsletter. We'll send you a handful of interesting Detroit stories every morning. Subscribe now to not miss a thing.

Follow us: Google News | NewsBreak | Reddit | Instagram | Facebook | Twitter