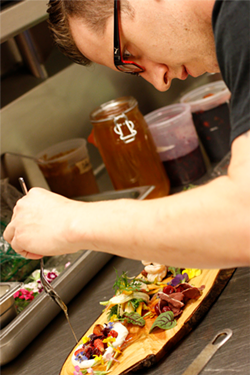 Among the many end-of-the-year pieces capping 2016, we noticed Eater Detroit's annual roundup of "food writers" sounding off on "
The Year's Most Disappointing Detroit Restaurant Meals
." With that sort of set-up, it seemed destined to be a rip-roaring read.
What we found, however, was a list of meager, often anonymous complaints that left us unsatisfied. Only slightly more than half of the writers had the nerve to name the actual restaurants that disappointed them. And one writer was apparently disappointed by nothing at all. (Really? Somebody dines for a paycheck and everything is great all the time? For real?)
This caused somebody at our editorial office to ask the question: "Are these people 'restaurant critics' or 'food writers'?" It's a fair question, one that was, in fact, voiced by a commenter on Eater Detroit's article:
Once again, Detroit restaurant "critics" (with a couple exceptions) refuse to offer specific negative feedback in response to a direct question asking about disappointing experiences. This has been a long-term issue, and without fair assessments (as opposed to blind cheerleading), diners and readers are ultimately losing out.
What is behind these tepid, safe, name-free statements of what needs improvement? Probably a lot of things.
Chief among them might be a phrase I've heard before: Detroit is a small town, and you should be nice to people on the way up so they'll be nice to you on the way down.
There's a certain logic to it: Why needlessly make enemies? Want to butt heads with people all day long? All you'll get is a headache.
But it has arguably gone beyond that in Detroit, where new restaurants have become almost synonymous with "urban regeneration." The pressure for discriminating fine-dining writers to trade their pommes frites for pom-poms has never been greater. After all, when you criticize a business owner who has invested tens of thousands of dollars in "a neighborhood on the upswing," aren't you just being a troublemaker?
Actually, no.
It always sounds ridiculous to state the obvious, but here it is:
Restaurant critics are supposed to be loyal to diners, to readers, to the people who want to spend their hard-earned money on a good meal.
In a way, it's one remaining vestige of what used to be called "consumer journalism." And here's how it works best:
• The critic isn't greeted by the manager upon arriving at the restaurant; the critic pretends to be just another customer.
• Real restaurant critics don't get special treatment or free food; they judge the experience as if spending their own money.
• A restaurant review is supposed to be something more than a fireside chat with a delighted business owner; if the food, service, drinks, or anything else need to be addressed, the critic needs to bring this up.
Where in the past we'd have restaurant reviews, we often instead have what are essentially development stories, keyed to a kind of entrepreneurial mythology. In this sort of atmosphere, genuine, constructive criticism can be regarded as "biting the hand that feeds you."
And so Detroit's overheated restaurant scene should probably be reminded of a few fundamentals.
First, most reviews aren't negative. Its difficult to justify writing a 1,200-word tear-down and printing 50,000 copies of it. If a restaurant is really that bad, a seasoned dining editor will generally pass on a review and let the dining public render its verdict in receipts.
Second, the most brittle reactions to any criticisms often come from owners of brand-new restaurants, especially from entrepreneurs making their first culinary endeavor, being more used to nodding business reporters than actual critics.
Most importantly, though, the people who've been (or will be) in this business a long, long time
welcome
criticism. We're reminded of Paul Grosz, who still patrols the rooms at his two restaurants, asking diners about their meals.
Grosz doesn't do it to bask in accolades or glad-hand big-shot diners. His ear is always cocked to any suggestions, any criticisms. He doesn't argue; he listens, and then acts on what he hears.
In an interview several years ago, on the subject of customer comments, Grosz told us, "I have to adhere to their needs. And that helps me think about menu design and combination of flavors. … You have to evolve. And you can't do that on your own; that would be selfish. You have to know what the customer likes."
That calls to mind a more recent chat we had with James Rigato, the outspoken chef behind the Root and Mabel Gray. He and a few other young chefs have sort of made it their mission to help make Michigan into an globally recognized food scene. They often pour a fortune into product, take staff on trips to farms and orchards, and fight a daily battle to preserve their scene's integrity. Rigato believes we need more criticism, not less.
"There needs to be more of a conversation of accountability," Rigato said. "Don't just open a restaurant because there's attention and activity in the dining scene. Like, go to San Francisco. You know what happens if a bad restaurant opens in San Francisco? It closes. Because people won't eat there! Go to Italy. You go to a town of 30,000 people in Abruzzo, and anywhere you eat is awesome. Because if you're not, people shun you. Somebody's going to pull you aside and say, 'You can't serve this bad food.'"
And who will help separate the restaurants that provide consistently excellent product from profiteers who saturate the market mystery meat from a bulk foods outlet? By what agency will diners know who's doing worthy work in our budding Michigan food scene?
That's the job of critics. As in naming names and offering criticism that restaurants ignore at their peril. Far from being "troublemakers," critics can help foster excellence by keeping watch over a dining scene's integrity.
"If we want to have a internationally relevant food scene, it's going to come from ethics," Rigato said. "It's not going to come from pats on the back and awards. There are some chefs and restaurants out there that need serious help. Once you're low on staff, once you're busy, and the rent's going up — ethics are the first thing to go out the door."