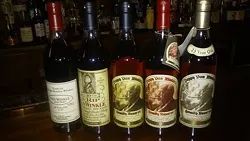 You might expect the exceedingly popular Pappy Van Winkle in pricey speakeasies like Sugar House, or from the whiskey lounge at Townhouse Detroit - not a neighborhood beer and a shot joint in Hamtramck.
But somehow the Painted Lady Lounge has managed to finagle not one, but five bottles of the stuff, including the Old Rip Van Winkle 10 Year, 12 Year Special Reserve, and the 15, 20, and 23 Year Family Reserves.
The coveted bourbons made their way into the bar earlier this week, with the 10 and 12 Years first to go on sale (1.5-ounce pours go for $20 and $25 respectively).
We've seen Pappy available elsewhere in metro Detroit, but for more dough. Earlier this
year
, for example, Ale Mary's Beer Hall in Royal Oak expanded its booze offerings with the addition of a whiskey list that included several PVW reserves available in 1-2 ounce pours (ranging from $35/$65 for 10 Year to $65/$120 for Family Reserve Rye).
The Van Winkle name evokes frenzy among its most devoted fans, so the Lady's scoring it is considered a relatively big win. Aficionados have been known to schmooze liquor store owners to be added to waiting lists, enter raffles,
and have even fallen victim of counterfeit Pappy scams
- all for a chance at nabbing the limited number of bottles that are released every year.
Now all loyal Pappy followers have to do is brave the raucous Painted Lady for a taste.
The Painted Lady is at 2930 Jacob St.