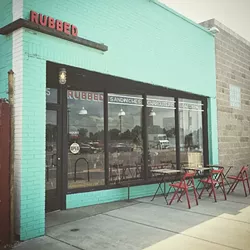 A week after Rubbed chef/owner Jason Frenkel announced a major overhaul in his sandwich shop concept, he's released his new lunch menu today, boasting lower prices and fewer Sammy options. His goal is that these tweaks will attract customers seeking more reasonable prices during lunch hours, while also bring in a new dinner crowd.
Frenkel is holding on to a number of popular sandwiches, like the Little Italy and Cuba, dropping others, while adding items that were once only one-off specials, like the Bahn Mi. In addition, he'll focus on also offering a steakhouse-style menu three nights a week.
Here's a peek at the new menu... We'll be sure to update you on what's in store for dinner, which he says will be up and running next week.