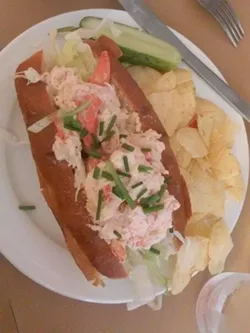 If you're looking to switch up your lunch routine,
Mudgie's
annual ode to the lobster is all this week, with his signature lobster rolls. Owner
Greg Mudge
tells us that he gets the crustaceans over-nighted daily from
Bailey Island
in Maine, making for the freshest seafood possible. "Tomorrow's catch will have been in the water today," he says on a busy Monday afternoon. That rapid delivery is evident in the succulent meat, which is accompanied with shredded lettuce, crunchy bits of celery, green onions, lemon Thyme, just a tad of mayo and salt and pepper to season - packed into a fresh, toasted roll that you have to work your way into in small bites, because it's just that big.
Lobster rolls, as with any chicken or tuna salad can often lose points, depending on the amount of mayo used. Too much, and it's a blobby mess and too little, the meat can come off dry. Mudge gets that and takes care not to drown out the lobster roll in it. Instead, flavor with a wedge of lemon and you're good to go. The roll itself goes for $16, or you want to make a
date
of it, you can get two rolls, plus some Rosé for $50.